If you are short on time in Melbourne (or Australia in general!) but still want to experience Victoria's amazing coastal road you are going to want to hop on a Great Ocean Road Day Trip. There are lots on the market but it can seem like a minefield when it comes to deciding which is the best Great Ocean Road Tour for you, and that's where we come in. We have reviewed the top Great Ocean Road Tours on the market – from 1 day trips through to 3 day adventures and some specialty Great Ocean Road day tours thrown in for good measure (think Trikes & Helicopters!)

Whatever the size of your group, if you are celebrating a special occasion or you simply want to get the best value for money in whatever time that you have, we are positive that you will find your perfect Great Ocean Road Day Tour (or longer adventure) from our list. So what are you waiting for – scroll down now!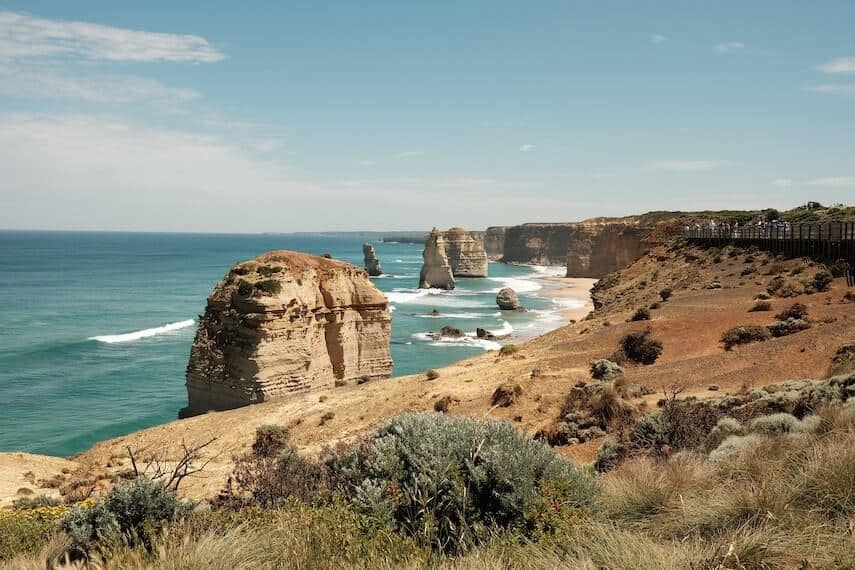 Disclaimer: Almost all posts on this site contain Affiliate links. This means that if you click on any of the links in this post about the BEST Great Ocean Road Tours & Great Ocean Road Day Trips (and make a booking) we may receive a small commission at absolutely no cost to you. And even better – the tour operators offer a best-price-guarantee so you know that you are getting the Best Great Ocean Road Tours and Day Trips for the best price. As such we thank you in advance should you decide to click, buy or book. Read my full Disclosure here.
10 BEST Great Ocean Road Tours & Day Trips
Great Ocean Road Day Trip from Melbourne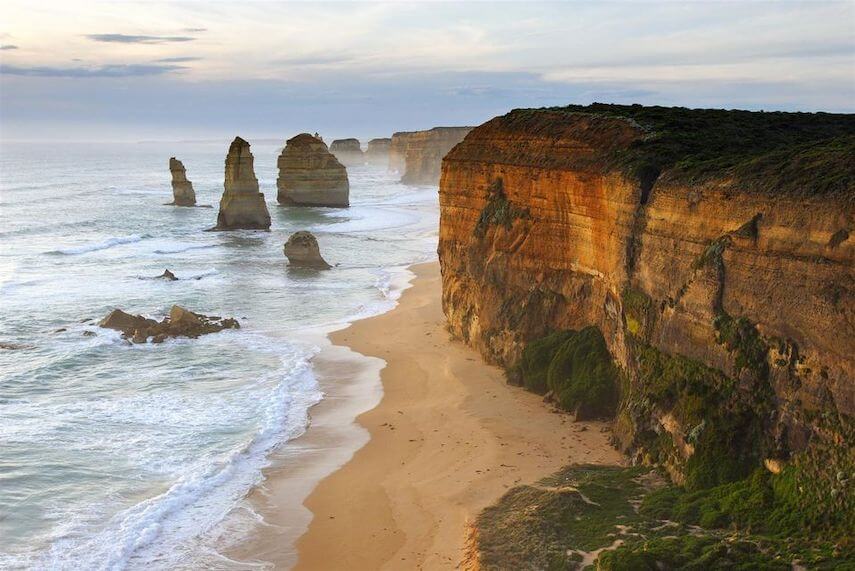 Rating: ★★★★★ (5/5)


Let the team at Bunyip Tours take you on their specially coordinated day tour of the Great Ocean Road from Melbourne, stopping off at some of the routes top highlights along the way, including the seaside town of Torquay, Bells beach, Lorne, Apollo Bay, Cape Otway Lighthouse, the Twelve Apostles, the limestone cliffs of the Gibson steps, Loch Ard Gorge and to top it off, a rainforest tours through the Otways, taking your back to Melbourne at the end of the day.
There's no wonder it's one of the top rated day tours from Melbourne.

.
Great Ocean Road Small Group EcoTour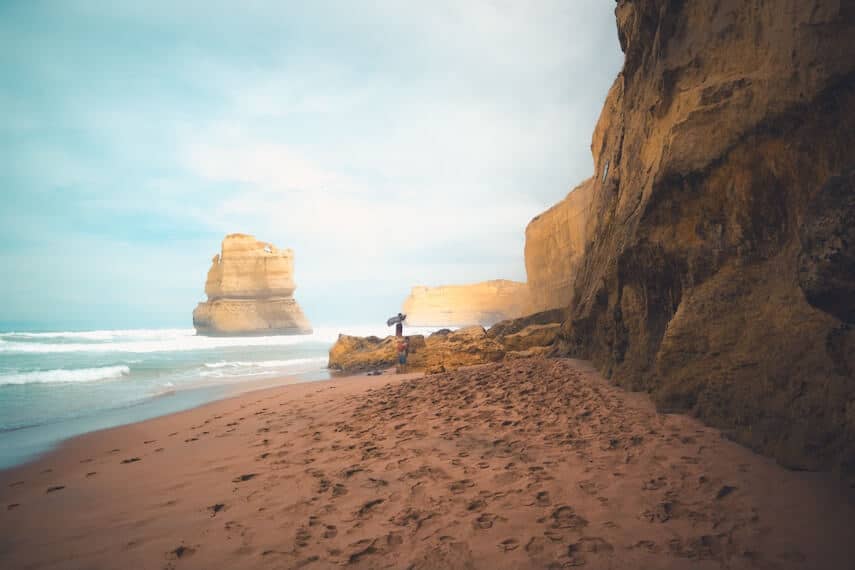 Rating: ★★★★★ (5/5)


For a personalised experience, choose a small group day tour along the Great Ocean Road from Melbourne, including a pickup directly from your hotel (or central pickup locations if you are staying outside the CBD) and refreshments, making a stop at Torquay for you to purchase you own lunch from the many eateries in the town.
From the sandy beaches to the rugged coastline view, you will also have the opportunity to see koala's in the wild along the Kennett River during this tour, along with the 12 Apostles Loch Ard Gorge (and more!) and the option to add on a helicopter ride over the amazing Twelve Apostles.

Great Ocean Road Sunset Tour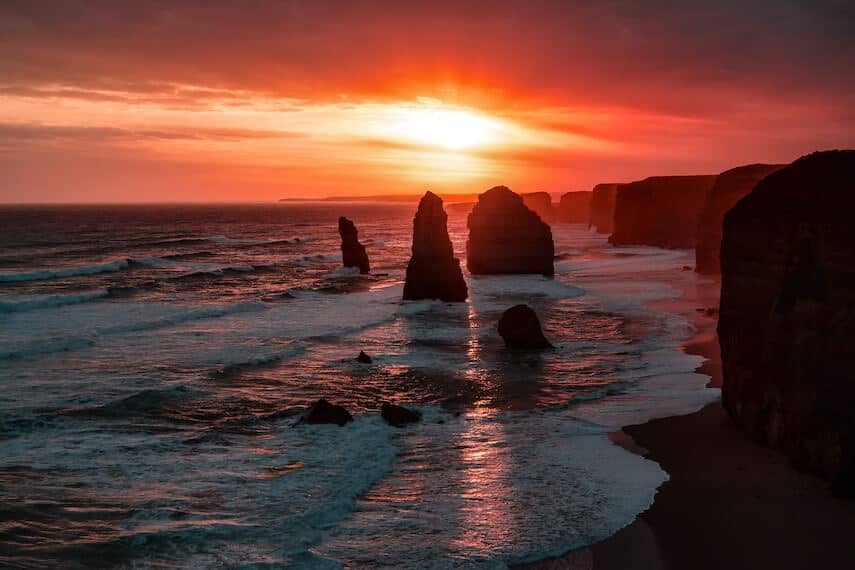 Rating: ★★★★★ (4.9/5)


Who said you had to blow your budget to enjoy a memorable sunset tour on your Great Ocean Road trip? Set off later during the day to avoid the crowds and visit the sites with your small tour group of up to just 24 people. This Great Ocean sunset tour will also help you gain an insight into the landscape and the area's history from your live tour guide. You will then reach the famous Twelve Apostles at sundown for the chance to watch a truly magnificent sunset.
Reverse Great Ocean Road Day Trip from Melbourne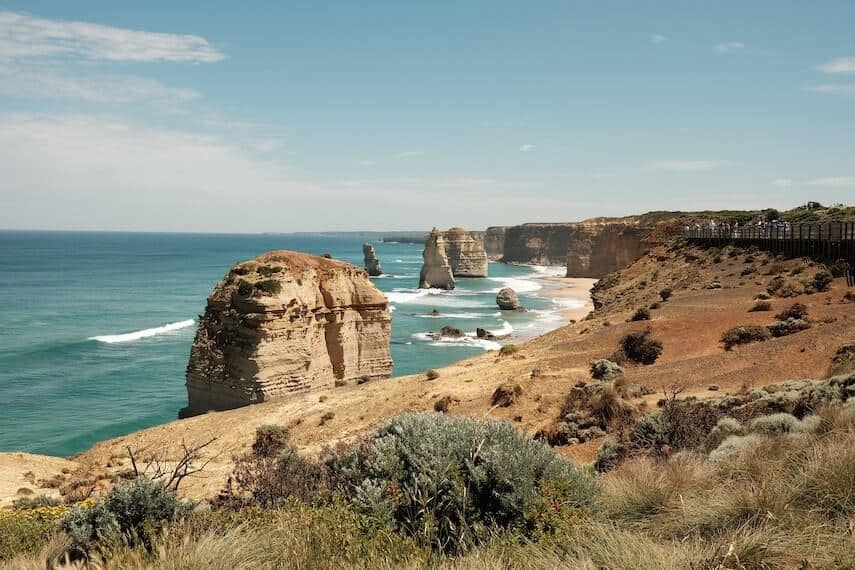 Rating: ★★★★★ (4.7/5)


Avoid the crowds along the Great Ocean Road by visiting some of its most popular attractions in reverse with Wildlife Tours. Start your reverse tour at the magnificent Twelve Apostles and work your way back along the shipwreck coast and the surf coast, visiting the beach towns of Lorne and Apollo Bay, the Cape Otway Rainforest for your chance to see some wild koalas and finally, get that iconic shot of the Great Ocean Road Memorial arch before returning to Melbourne. Included within this tour is a hotel pickup, morning tea and lunch. All in all, a fantastic day tour from Melbourne.

Small Group Great Ocean Road Day Trip in Reverse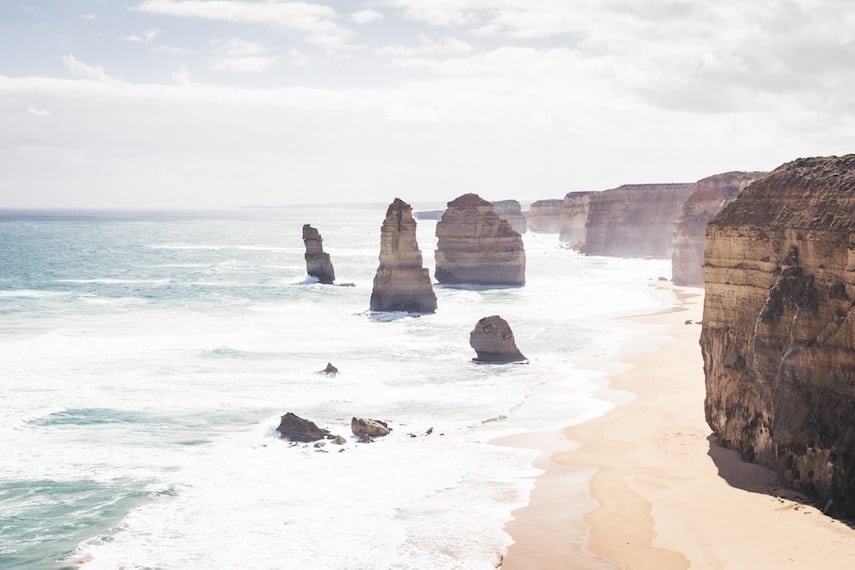 Rating: ★★★★½ (4.5/5)


For anyone wanting to make extra sure they experience the sites of the Great Ocean Road with as few tourists as possible, this tour is for you. Not only are you guaranteed a small group, to ensure a personalised experience but a luxury coach as transport too. You will set off on this Great Ocean Road tours from Melbourne and head straight into Colac and out towards Port Campbell National Park, travelling along this famous route in reverse to miss the crowds. Included within this Ocean Road reverse sightseeing tour is a hotel pickup, morning tea and lunch.
Specialty Great Ocean Road Tours
Great Ocean Road Trike Tour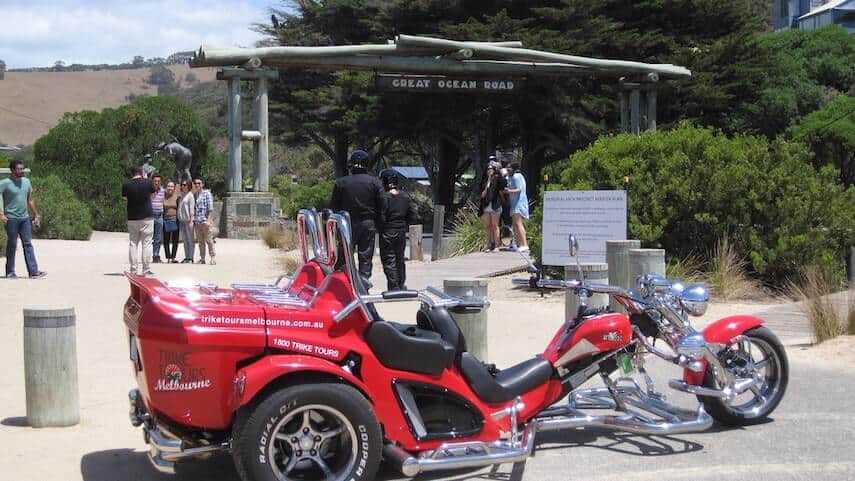 Rating: ★★★★★ (5/5)



The ultimate Great Ocean Road Day Tour for two with a difference. Climb on board your very own trike at Melbourne and travel this famous coastal route at your own pace. A drivers guide will help you decide how to customise your trip and which attractions to stop at along the way from the surf beaches at Airey's Inlet to Apollo Bay along with a whole heap of travel information. What better way to feel the wind on your face on this epic road trip – especially when you don't have a motorbike license! It really is one the most unique Great Ocean Road experiences!

Great Ocean Road Private Helicopter Tour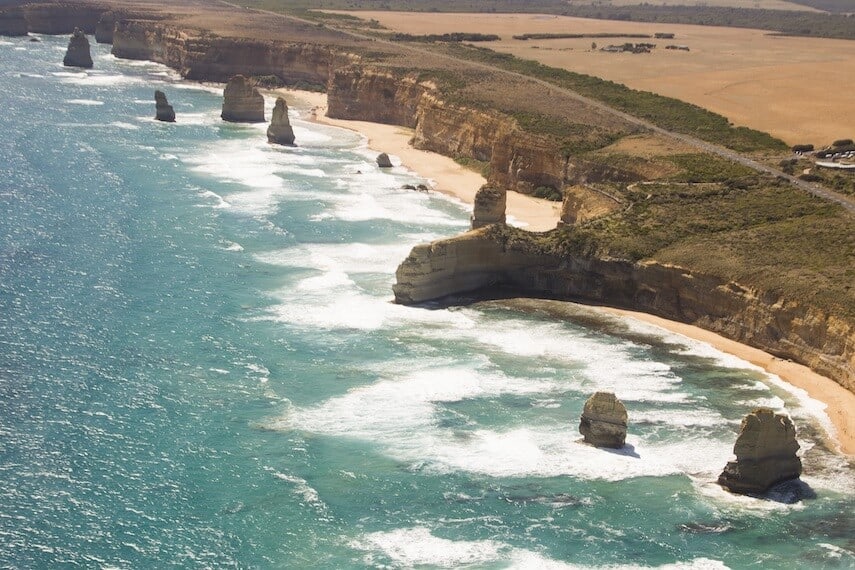 Rating: ★★★★★ (5/5)



Enjoy a breath-taking birds eye view of the Great Ocean Road on your very own luxury private helicopter tour. Learn about the many famous sites along this picturesque coastal route from your pilot and stop off at the Twelve Apostles for a gourmet cheese and fruit platter. Also included within the private tours are a VIP pickup and drop-off from your hotel in Melbourne. This one is by far the most expensive Great Ocean Road Day Tour in our list – but for that special occasion, it's an absolutely magical experience.

Great Ocean Road + Phillip Island Tours (2D1N)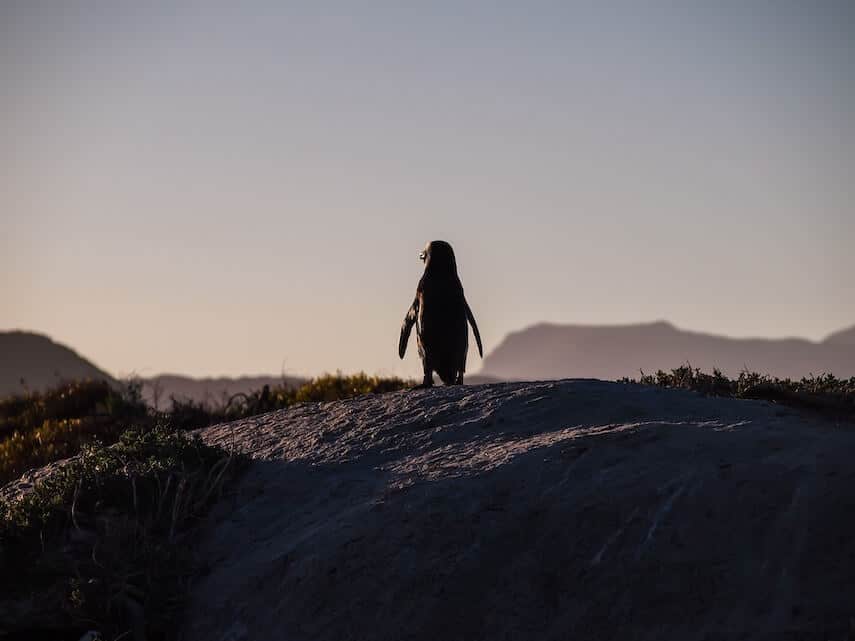 Rating: ★★★★★ (5/5)


Combine the Great Ocean Rd with the Mornington Peninsula and Philip Island for a fantastic couple of days in three of Victoria's favourite playgrounds. This two day one night tour includes accommodation, lunch and dinner on the first day and breakfast on the second. You'll visit some of the areas highlights such as the 12 Apostles, Gibson Steps and Great Otway National Park, as well as a bit of Koala spotting at Kennett River, hand feeding some iconic Aussie Wildlife and get a seat at the world famous Phillip Island Penguin Parade before heading back to Melbourne.
Great Ocean Road + Healesville Sanctuary Combo Tour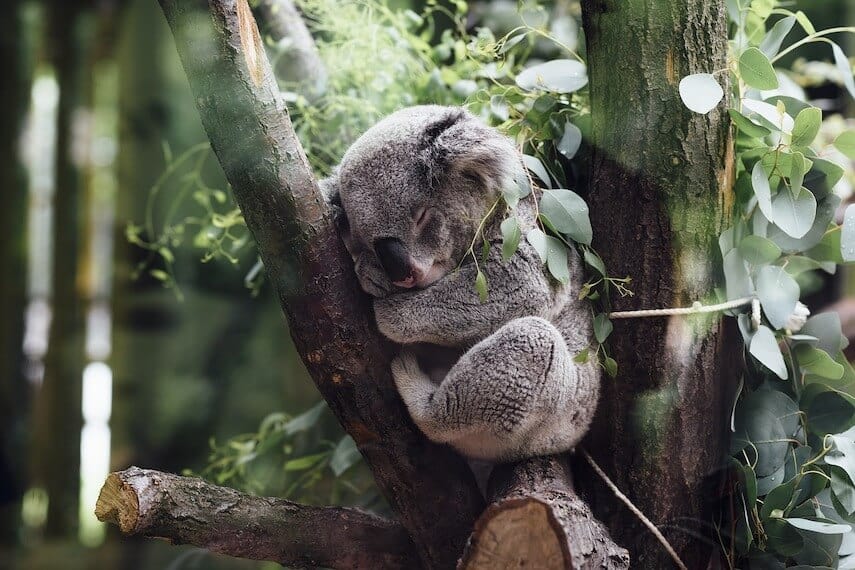 Rating: ★★★★½ (4.5/5)


A super saver combo of 2 different day tours. On 1 day, take a full day tour of Great Ocean Road where you'll visit a wide selection of the popular sites along the way and enjoy refreshments and a light lunch. Then within 7 days, take a day tour to Healesville Sanctuary, Dandenong Ranges and Puffing Billy for a day of wildlife and local history.
You will have the opportunity to get up close with kangaroos, koalas and wombats, ride the famous Puffing Billy steam train through lush fern gullies and Eucalyptus forests. Also included within your ticket is free entry to either the Melbourne Aquarium, Melbourne Observation Wheel or the Melbourne Zoo via the Melbourne Attraction Pass. It's fantastic value if you were planning to visit all these spots!

3 Day Great Ocean Road Tours
Great Ocean Road and Grampians Tour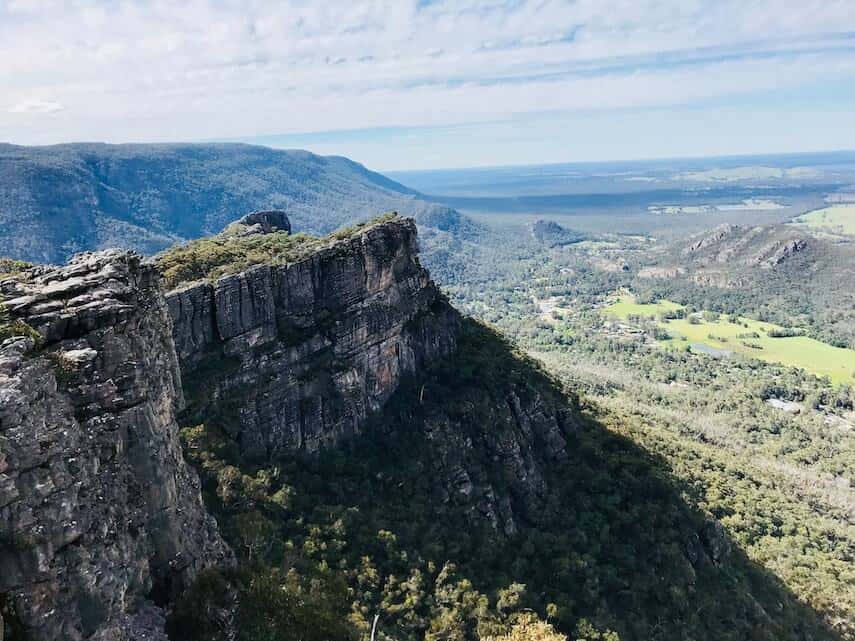 Rating: ★★★★¾ (4.8/5)


Take a 3-day road trip of a lifetime from Melbourne to Adelaide along the Great Ocean Road with Bunyip Tours. Spend the first part of the trip stopping off at the spectacular coastal attractions along the way and arrive at the Grampians National park on the second day, where you will have the opportunity to explore the area, its incredible rock formations and learn about its Aboriginal heritage, along with an overnight stay in the foothills of the Grampians. Included on this Great Ocean Road tour are entrance fees, accommodation and all meals.
As the world's most scenic coastal drive, we can say for certain that you will have a memorable trip no matter where you stop off along the way and we hope our selection of tours will make the perfect activities to look forward to and experience the Great Ocean Road in a unique and unforgettable way.
Which one of these Great Ocean Road day tours most appeals to you? We would love to hear from you in the comments below and if you know of anyone planning a trip to the Great Ocean Road, please be sure to share this post with them on social media: Facebook, Flipboard, Twitter or grab the image below for Pinterest. And remember – sharing is charing (and we thank you in advance!)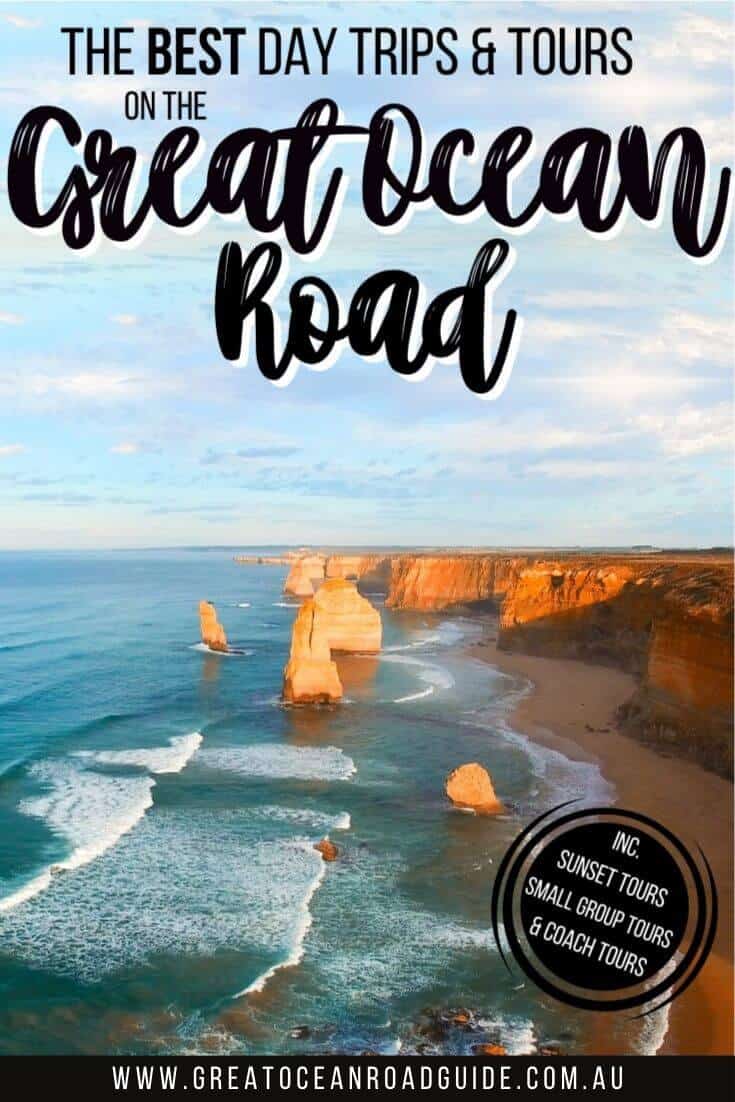 READY MORE GREAT OCEAN ROAD TRAVEL INSPIRATION? YOU MIGHT BE INTERESTED IN THESE TRAVEL TIPS, TRIPS & ITINERARIES, DESTINATION GUIDES AND RELATED POSTS ABOUT FABULOUS DESTINATIONS ON THE #GOR:
Read our Complete Guide to Driving the Great Ocean Road including tips, FAQs and a sample Great Ocean Road Touring Itinerary
Want to see more of Oz? We've got the Top 100 Bucket List Experiences in Australia including Alice Springs, The Great Barrier Reef, The Blue Mountains, Arnhem Land – and a little closer to home, several Yarra Valley tours for a spot of wine tasting!
The Ultimate Great Ocean Road Map – featuring waterfalls, viewpoints, campsites, petrol stations, beaches, spas and more!
Hi There! Thanks for reading our travel guide to the 10 Best Great Ocean Road Tours & Great Ocean Road Day Trips. I just wanted to let you know that this post may contain affiliate links, which means if you purchase something after clicking a link, I may get a small commission – which is at absolutely no cost to you. If you enjoyed this article and are going to be searching for some of the things I mention anyway, I would love it if you could click through from the links above & thank you in advance! Read my full disclosure here.