Driving the Great Ocean Road is one of the top tourist attractions in Australia and undoubtedly one of the most incredible road trips on the planet. But it's not one you can just hop in the car and drive (especially in the height of summer when seaside towns and campsites are likely to be booked out and the main tourist attractions such as the Twelve Apostles are overrun with snap-happy visitors!) And that's why it's great that you've found this page.
Our complete guide to Touring the Great Ocean Road Australia will help you every step of the way with planning your trip. From planning your route to example self-drive itineraries; the best times to visit to the best sights to see. Plus some all-important driving tips to help prepare you for driving this windy coastal road including a map to help nail down your perfect Great Ocean Road touring route. And in case you had any burning questions about the Great Ocean Road, we've answered a whole heap of FAQs at the bottom of this post to give you some quick wins to help with planning your tour from Melbourne.


Disclaimer: Almost all posts on this site contain affiliate links. This means that if you click on any of the links in our guide to Touring the Great Ocean Road – Itineraries for Driving the Great Ocean Road, Driving & Travel Tips & More (and make a booking) we may receive a small commission at absolutely no cost to you. Each post is carefully crafted to (hopefully!) answer all your questions and recommendations are made where we believe they will improve your trip and help with your planning. As such we thank you in advance should you decide to click, buy or book. Read our full Disclosure here.
Touring the Great Ocean Road:
Self Drive Itineraries, Routes, Tips & FAQs about the Great Ocean Road
Tips for Driving the Great Ocean Road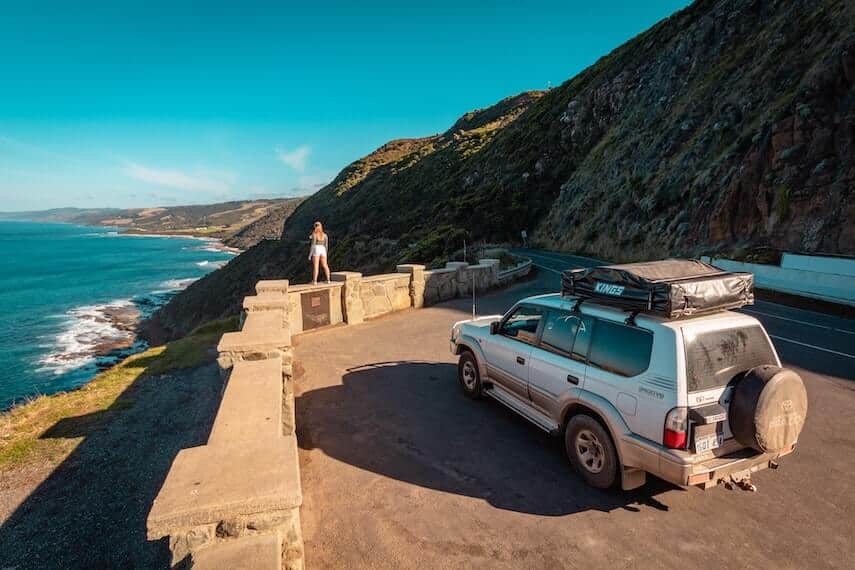 Plan your route + Book Accommodation in Advance
From the attractions you want to see, to the towns you plan to stop in and the places you hope to stay. Having your route planned will make sure you don't miss out on any of your must-sees; and pre-booking your accommodation means you won't have to scramble for a bed when you arrive in town (and is ABSOLUTELY necessary during busy periods.)
Give yourself plenty of time & Don't Rush
Timing provided by map apps may not be as accurate as you might think (although Google gets pretty close these days!). Take the estimated time and add and extra 20-30 minutes.
Respect the speed limit.
The official limit on the B100 (the Great Ocean Road) is between 80-100km per hour; in towns between 50-70km/h, and when there is traffic and during busy periods, as low as 30km/h. There are also speed traps to catch those not sticking to the limits with fines up to (and above) $300AUD. Don't be an idiot.
DRIVE ON THE LEFT 
Simple. All cars in Australia drive on the left and the Great Ocean Rd is no different.
Use the slow lane turnouts to allow faster drivers/vehicles to pass 
Unfortunately, not everyone on the Great Ocean Road is out for a leisurely drive, and some idiots think that it's a racetrack. If someone is tailgating you, stay calm, stick to the speed limit and use the slow lane turnouts to allow other vehicles to pass. Likewise, if you are travelling by campervan or with a caravan at a safe, but reduced, speed, please use the turnouts to allow regular vehicles to pass safely.
Know where the petrol stations are (see the map further down the page!)
Whilst there are several petrol stations on the Great Ocean Rd, they are often small and due to their remote location charge slightly higher prices than those in nearby cities. Try and start will a full tank from Torquay if you are watching the budget.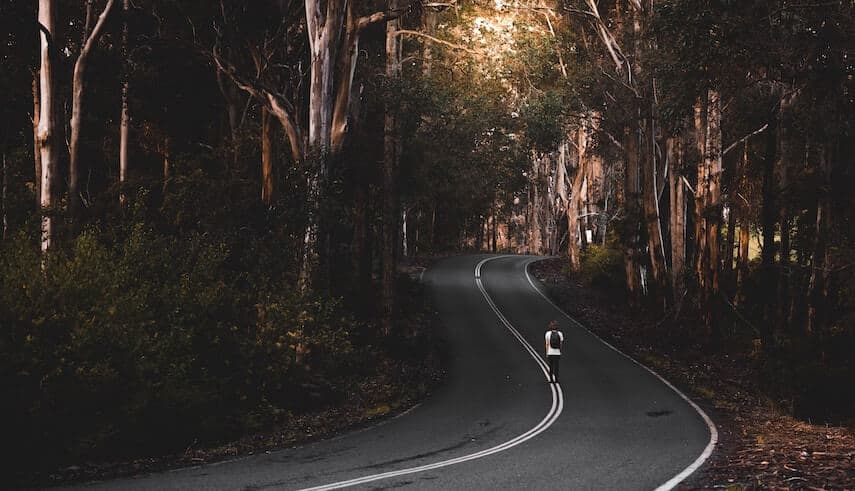 Prepare for the conditions
The Great Ocean Road winds along the Victorian coast with lots of twists & turns (which can be quite challenging to the uninitiated) before heading inland and through the Otway rainforest. During the winter, the Otways can be wet, foggy, and quite dark when you are beneath the canopy; and in summer, the light streaming through along with the twists and turns has been known to make some people (including me) carsick.
Pack for all 4 Seasons
Regardless of the time of year you decide to go touring the Great Ocean Road, be sure to pack for 4 seasons. The coastal drive is subject to a typically Melbourne phenomenon where you can see 4 seasons in one day due to how quickly weather systems move through the area. That means you need to be prepared for any weather – from bathers and beachwear through to fleeces and waterproofs.
Stay alert for Wildlife 
The Surf Coast, Cape Otway National Park and the Shipwreck Coast are home to an abundance of wildlife. From koala's to kookaburras, wombats to echidnas and of course, kangaroos – and they can appear at any time. (And if you want more 'guaranteed' wildlife sightings, we recommend Tower Hill Wildlife Reserve near Warrnambool)
Take your Trash With You 
This one shouldn't need to be said, but don't litter. Keep any trash you create (or even find) in your vehicle and get rid of it at an appropriate refuse point – which may be your accommodation, campsite or even your own home on your return.
The Ideal Great Ocean Road Route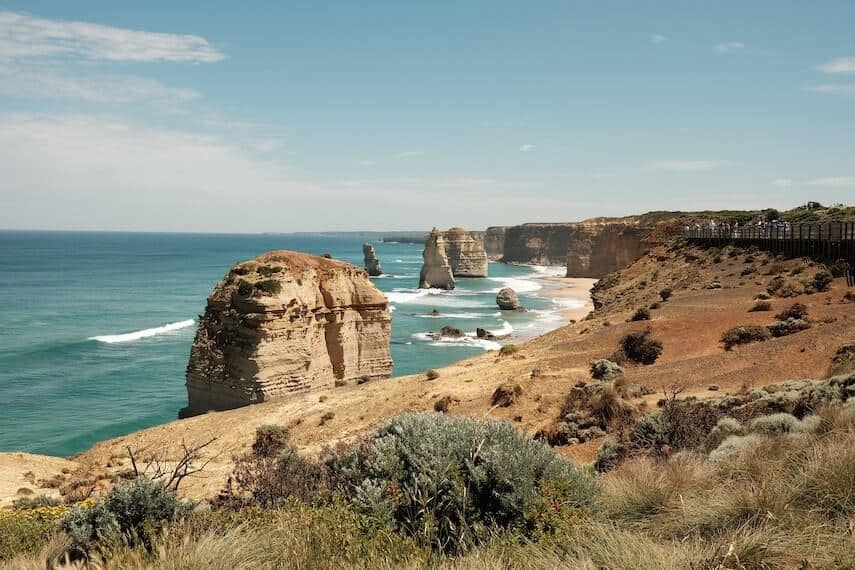 This will entirely depend on the time you have and your interests, but ultimately an ideal Great ocean Road Route will include Torquay, Bells Beach, the Memorial Arch, Lorne, Teddy's Lookout, Erskine Falls, see wild koalas on Grey Road in Kennett River, Apollo Bay, Maits Rest Rainforest Walk, Gibson Steps, the Twelve Apostles & Loch Ard Gorge.
Obviously, there are so many more Great Ocean Road Attractions and Things to Do (like the Otway Fly, Rainforest Tours and other outdoor activities); and plenty of seaside towns to stop and explore  – but every itinerary should include the above highlights as essential stops. See our Great Ocean Road Self Drive Trips and Itineraries below.
Great Ocean Road Self Drive Itineraries
1 Day Great Ocean Road Itinerary – for those who are very short on time, this is the Great Ocean Road touring route for you – although we caution against it due to the pressure it puts on people.
If you only have one day we recommend joining a Great Ocean Road day trip from Melbourne which will take away the stress of driving, and allow you to enjoy the best the Great Ocean Road has to offer with the help of a tour guide. There's Ocean Road sunset tours, reverse tours to avoid the crowds and more – read our guide to the 10 BEST Great Ocean Road Day Trips and find your perfect day tour.
2-3 Day Great Ocean Road Itinerary – the most popular choice for international tourists who are trying to pack a lot into their Australia vacation
4-5 Day Great Ocean Road Itinerary – for the traveller with a little more time and want's to have the most incredible road trip whilst hitting as many Great Ocean Road attractions as possible.
Petrol Stations on the Great Ocean Road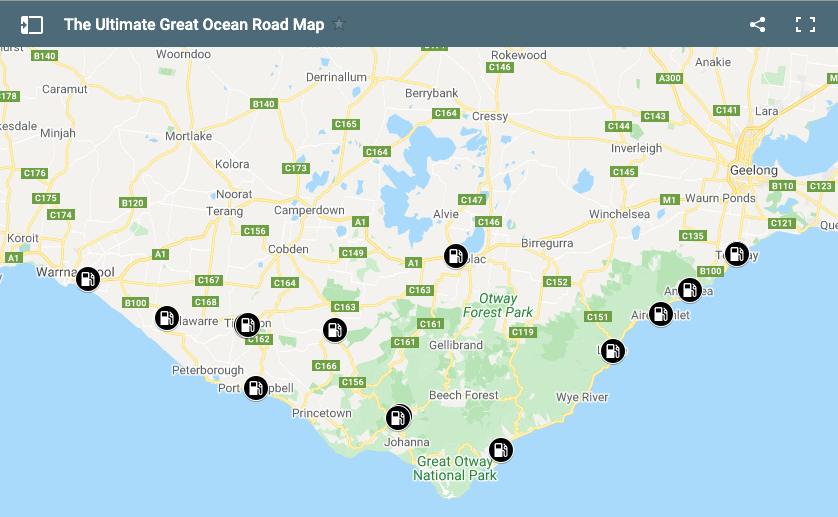 If you're planning a road trip, knowing where the petrol stations is vital for a smooth and stress-free journey. Click through to our Complete Great Ocean Road Map to access the full, interactive map which not only features the locations of petrol stations both along the Great Ocean Road and on the often driven, inland route for the return journey – but also campsites, viewpoints, spas, attractions, beaches and more. (There are over 150+ sites marked on the map, making it a great resource for your Great Ocean Road adventure – click the link and check it out!)
Great Ocean Road Frequently Asked Questions (FAQs)
Where does the Great Ocean Road Start & Where does the Great Ocean Road End?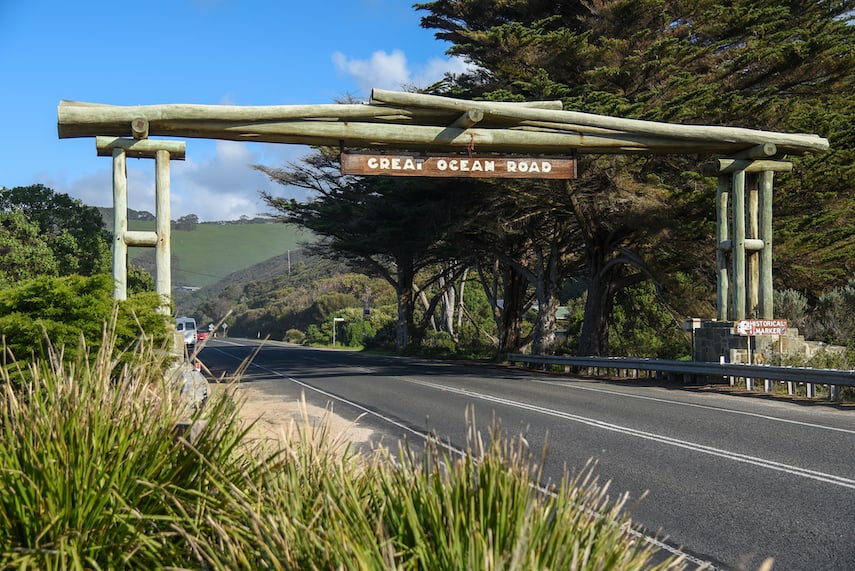 The Great Ocean Road officially starts at Torquay and travels westward to finish at Allansford (although some say, it stretches all the way to South Australia border!)
Most organised tours travel from Torquay westbound to Port Campbell (or slightly further to show guests The Grotto and London Arch – formerly London Bridge until it's collapse in 1990) and return to Melbourne inland via Colac; reverse tours take the inland route to Port Campbell and generally start at the 12 Apostles.
How long is the Great Ocean Road?
The Great Ocean Road is 243km (148 miles) long. It weaves along the coast for most of the distance, cutting through the Otway Rainforest Canopy and Great Otway National Park between Apollo Bay and Princetown.
How far is Melbourne to the Great Ocean Road?
The drive from Melbourne CBD to the beginning of the road at Torquay is 104.5km (65 miles) which takes around 1 hour 30 minutes to drive (depending on traffic).
How Long Does it Take to Drive The Great Ocean Road?
If you started in Torquay and drove all the way to Allensford in one hit with no breaks, it would take around 4 – 4.5 hours.
But please don't! There are so many beautiful places to see and fun things to do that you would completely miss if all you did was drive the Great Ocean Road as fast as you could!
Can you Drive the Great Ocean Road in One Day?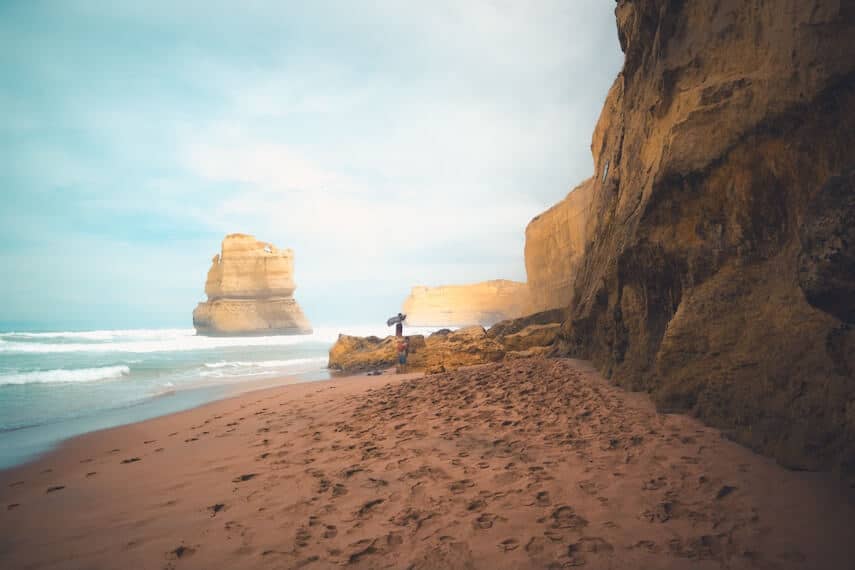 Technically yes – and most day trips and bus tours do so on a round trip from Melbourne – but if you are driving yourself, it's a big driving day which doesn't leave much time to experience almost any of the attractions on the Great Ocean Road. If you are dead set on a one-day self-drive tour, we recommend spending as much time as possible in Port Campbell National Park.
Also if you are planning to depart and return to Melbourne, that's an extra couple of hours travel time each way to add to the day. Be sure to set off as early as you can to miss as much city centre traffic as possible, take snacks, and be prepared to arrive back late.
We would also recommend you consider turning your sightseeing tour into a Great Ocean Road in reverse trip (driving the inland route and starting at Port Campbell) – that way you will see as much of incredible rock formations of Port Campbell National Park (12 Apostles, Loch Ard Gorge, The Grotto, The Arch (formerly London Bridge) etc) and the Bay of Islands in daylight and without having to worry about the sun going down.
How Many Days for the Great Ocean Road?
As the premier southern touring route in the country, most people take between 2-4 days to complete the coastal drive. In doing so they enjoy plenty of iconic Great Ocean Road experiences such as waterfall chasing, wild koala & kangaroo spotting, relaxing on beaches and dining out in cute holiday towns (to name a few!)
When is the Best Time to Visit the Great Ocean Road?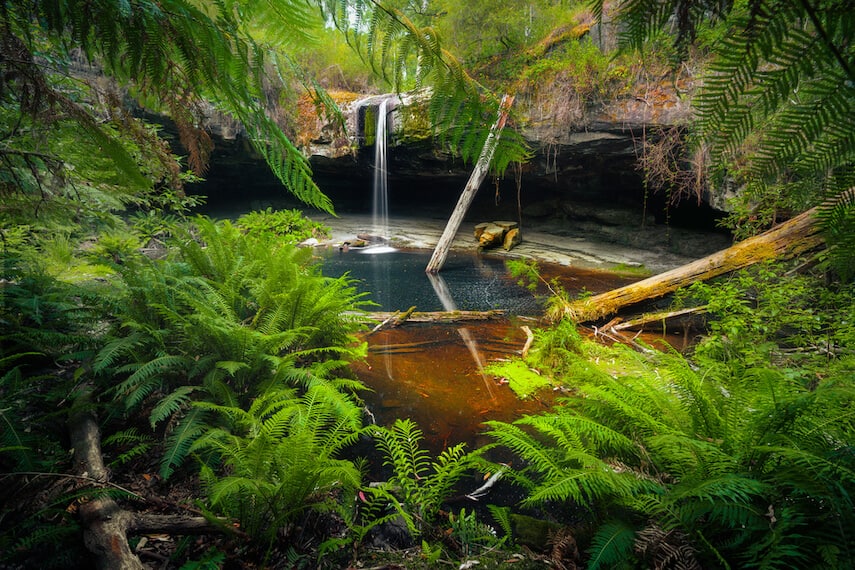 Peak Season: December – February
Summer is peak season with large volumes of traffic and big crowds but there is a reason why: first and foremost, it's Australian school holidays, but besides from that the views are stunning, the weather is generally great and laid back beachy vibes and rainforest hiking opportunities are everything summer is meant to be.
Shoulder Season: September – November & March – May
The crowds are smaller, the weather is fair to good and there is a higher chance of spotting wildlife with the reduced foot traffic.
Visiting between September and November is also the best time to experience the waterfalls in Otway National Park as they are typically in full flow and experiencing the run-off following the winter months.
Low season: June – August
During winter, the weather can be varied (much like Melbourne which is known for showcasing 4 seasons in day no matter the time of year!), the traffic is less chaotic and everything is less expensive.
This is also the only time of year that you have a chance to watch the southern right whales during their migration.
Logans Beach in Warrnambool is home to Victoria's southern right whale nursery, where Female southern right whales return to the nursery for weeks to calve and allow the young to feed and gather strength for their journey back to the sub-Antarctic waters. (June to October)
Portland is one Victoria's premier whale watching destinations, with southern right whales visible off the coast from Cape Bridgewater to Narrawong (June to August)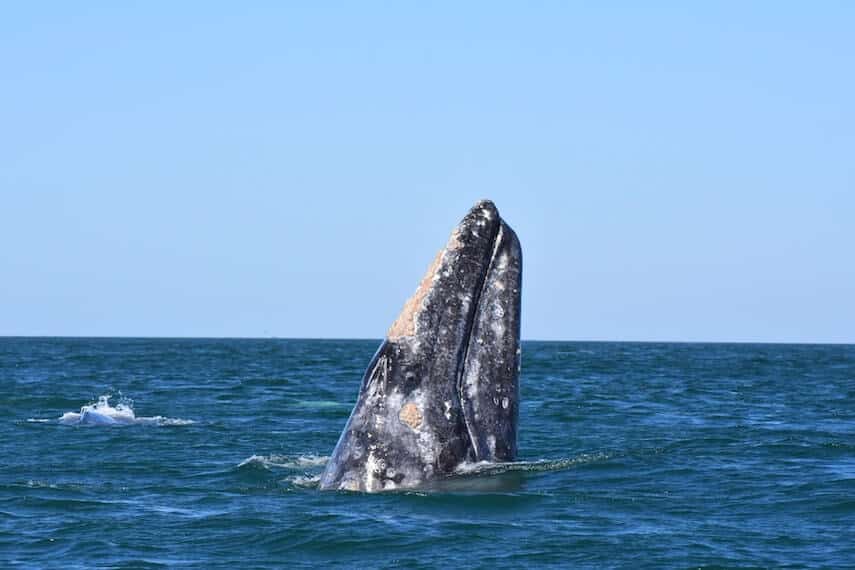 When Was The Great Ocean Road Built & Who Built the Great Ocean Road?
The Great Ocean Road Victoria was built between 1919 and 1932 by returned soldiers to remember those that gave their lives fighting for freedom in World War I.
Why is the Great Ocean Road So Famous?
Ultimately, when driving the Great Ocean Road, you are driving on the largest war memorial in the world.
The Great Ocean Road was first planned during the end of WW1 when Country Roads Board chairman William Calder wanted to create jobs for returning soldiers. Surveying for the southern ocean road (tentatively titled the South Coast Road) started in 1918 with construction beginning in 1919.
Built by hand by more than 3,000 soldiers as a memorial to fellow soldiers and servicemen who had died in the war, the road took more than 10 years to complete and because of the dangerous nature of the work, which involved working with explosives, several workers were killed during its construction and the road has gone down in history as one of the most perilous projects of the 20th Century.

And that's a wrap! We hope our guide to touring the Great Ocean Road – complete with driving tips, self drive itineraries and FAQs – will come in super handy when planning your trip.
READY MORE GREAT OCEAN ROAD TRAVEL INFORMATION? YOU MIGHT BE INTERESTED IN THESE TRAVEL TIPS, TRAVEL ARTICLES, DESTINATION GUIDES, TRAVELER RESOURCES, TRAVEL GEAR GUIDES AND RELATED POSTS ABOUT OUR AMAZING COAST ROAD:
Pet-Friendly Accommodation on the Great Ocean Road
Beyond the Great Ocean Road: Things to do in Melbourne including day trips to Phillip Island for the family friendly Penguin Parade and some great Yarra Valley Tours for wine tasting!
Foodie Finds: The Best Restaurants in Lorne
The Top 100 Things to do in Australia featuring Queensland's Great Barrier Reef, New South Wales' Blue Mountains, Victorias' Grampians national park, The Northern Territory's' Arnhem Land & more!
Hi There! Thanks for reading our Complete Guide to Touring The Great Ocean Road Australia – Self Drive Itineraries, Routes, Tips & FAQs about the Great Ocean Road. I just wanted to let you know that this post contains affiliate links, which means if you purchase something after clicking a link, I may get a small commission – which is at absolutely no cost to you. If you enjoyed this article and are going to be searching for some of the things I mention anyway, I would love it if you could click through from the links above & thank you in advance! Read my full Disclosure here.