Whether you are a leisurely rambler, cyclist, road tripper or hiker, nothing comes close to the rewarding feeling of stumbling upon a waterfall in the wilderness. The epitome of natural beauty, these natural cascades are known to evoke an overwhelming and exhilarating feeling, with a roaring volume which often forces the beholder to be present, appreciating nothing but their beautiful surroundings.
So contrary to the advice of popular 90s band TLC, we implore you; definitely DO go chasing waterfalls. We've even come up with a handy list of our favourite Great Ocean Road Waterfalls which can be found at points along the way of your Great Ocean Road adventure.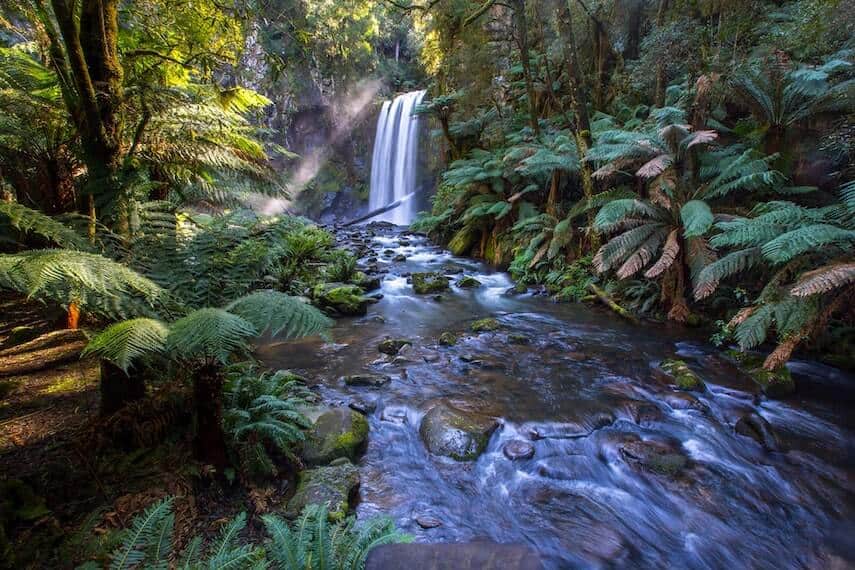 Disclaimer: Almost all posts on this site contain affiliate links. This means that if you click on any of the links in our Guide to all the Beautiful Waterfalls on the Great Ocean Road (and make a booking) we may receive a small commission at absolutely no cost to you. Each post is carefully crafted to (hopefully!) answer all your questions and recommendations are made where we believe they will improve your trip and help with your planning. As such we thank you in advance should you decide to click, buy or book. Read our full Disclosure here.
10+ Stunning Waterfalls on the Great Ocean Road
– and how to find them!
Great Ocean Road Waterfalls Map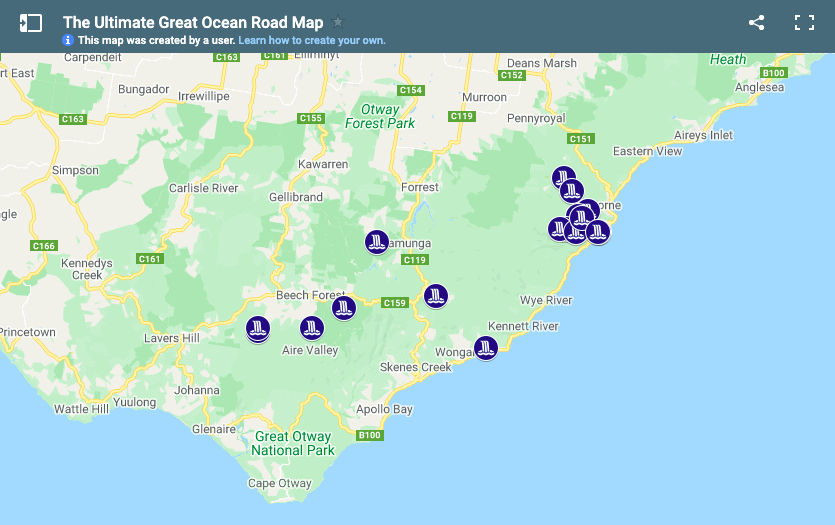 As you can see from this Great Ocean Road Waterfalls Map, there is a high concentration of waterfalls (10) around Lorne, with another 7 dotted through the Otway Ranges, Great Otway National Park and Beech Forrest. This is a screenshot of our Interactive Great Ocean Road Map – with the main map not only showcasing where all the waterfalls are hiding (including Hopkins Falls, Carisbrook Falls & Cumberland Falls that are not in this guide (yet!), but also has over 150 over attractions and things to do to help you make the most of your stay in the region.
Beauchamp Falls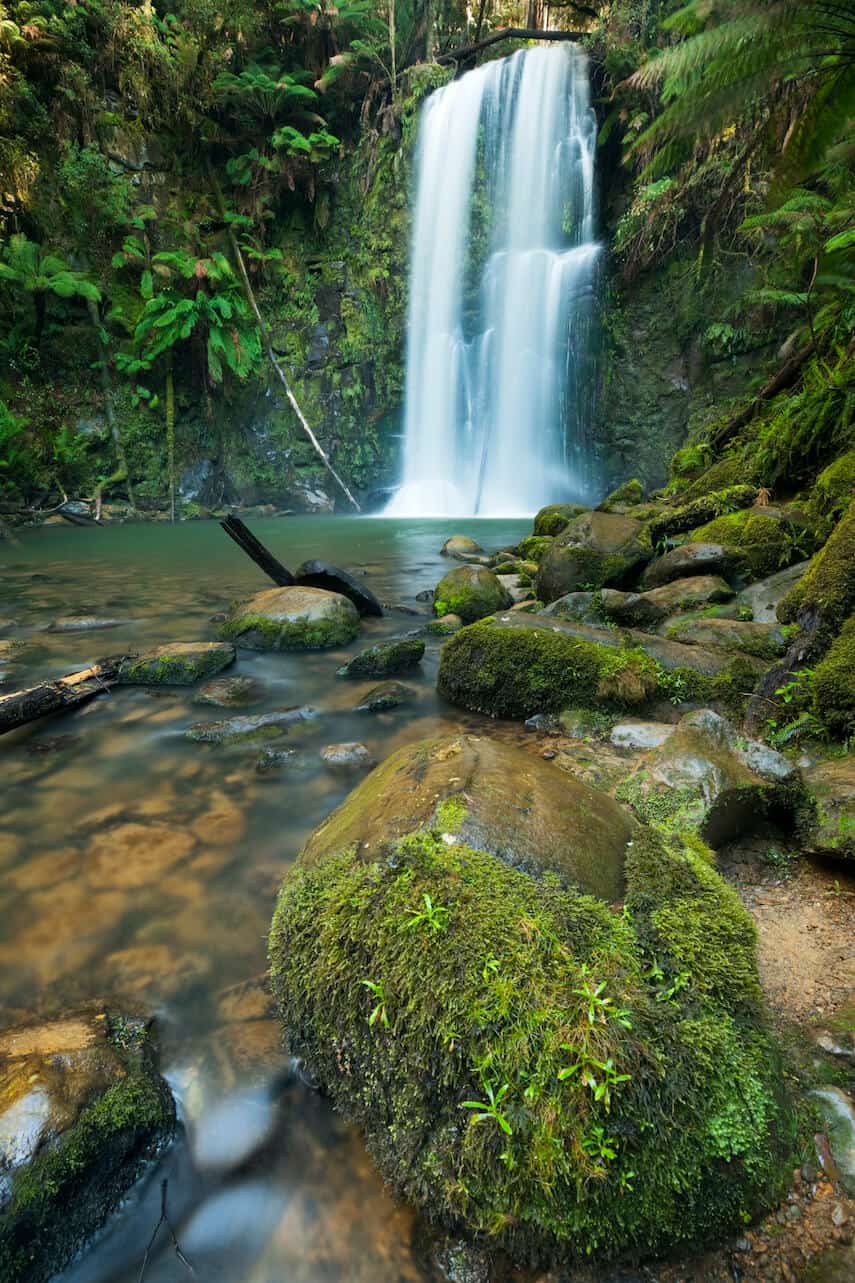 Nestled in the jungle-like surroundings, concealed in amongst the thick ferns of the Otway National Park, you'll find the beguiling Beauchamp Falls. Just a short way inland from the Great Ocean Road, this 20-metre cascade can be found. A rewarding incentive for a somewhat challenging 3km trek from the stopping point on the Aire Valley Road, you'll soak up its pleasingly rectangular and symmetrical ledge and peaceful rocky shallows of the stream below.
How to get there: Follow signs to the C159, then follow Beech Forest Road, turning onto Aire Valley Road where you'll spot a parking and picnic area where the path will be signposted.
Cora Lynn Cascades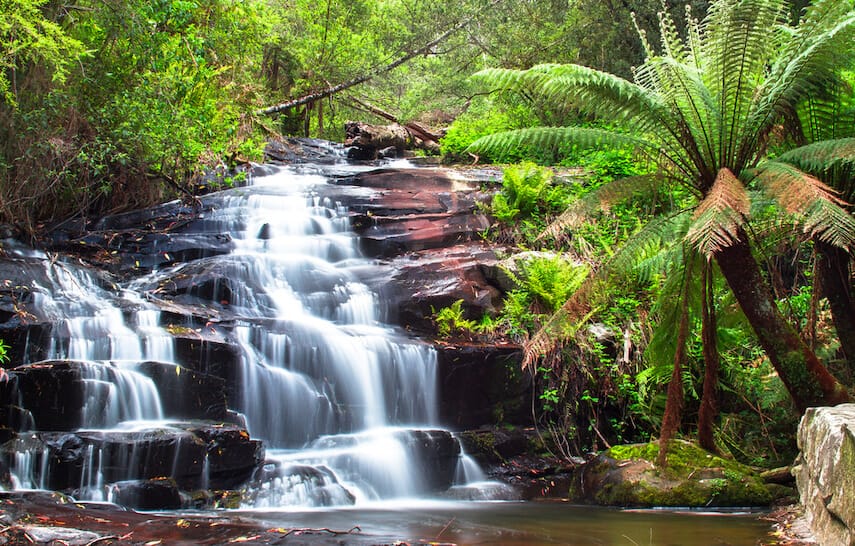 An easy distance from the vibrant artsy community of Lorne lies the calm natural haven of the Cora Lynn Cascades. Formed by a collection of rocky steps in the riverbed, this small but perfectly formed waterfall really packs a punch when it comes to organic, untouched natural beauty. Why not rest here a while and get lost in its mesmerising, soothing sounds.
How to get there: Near Lorne, Follow Erskine Falls Road to Blanket Leaf car park where you'll find the Cascades just a 2.2km distance by foot along the nature trail.
Erskine Falls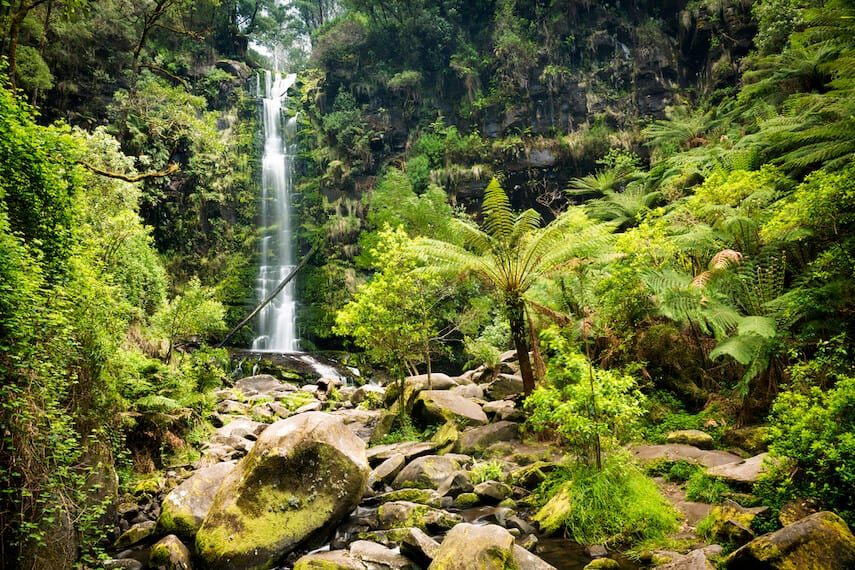 Erskine Falls, Cora Lynn Cascades larger, more imposing sibling is just a short distance away in the Angahook-Lorne State Park. Towering 30 metres above its lower grounds, this impressive fall is slender but powerful, and one of the most famous natural attractions in the area.
Similar to the nearby smaller cascades, its waters fall over an impressive structure of ridges which form steps carved into the rock face. The viewpoint which can be reached by the lower falls footpath is arguably the most rewarding (if you're happy to brave the journey back up!). Take in the stunning surroundings of mossy stones, thick ferns and the magnificent towering canopies above.
How to get there: Just a nine-kilometre drive from Lorne, the falls carpark can be found off Erskine Falls Road. Alternatively, avid hikers might want to venture out from Lorne on a waterfall-filled day trip on foot. The 7.5-kilometre Erskine River Track also passes by the popular nearby sites of Straw Falls and Splitter Falls.
Henderson Falls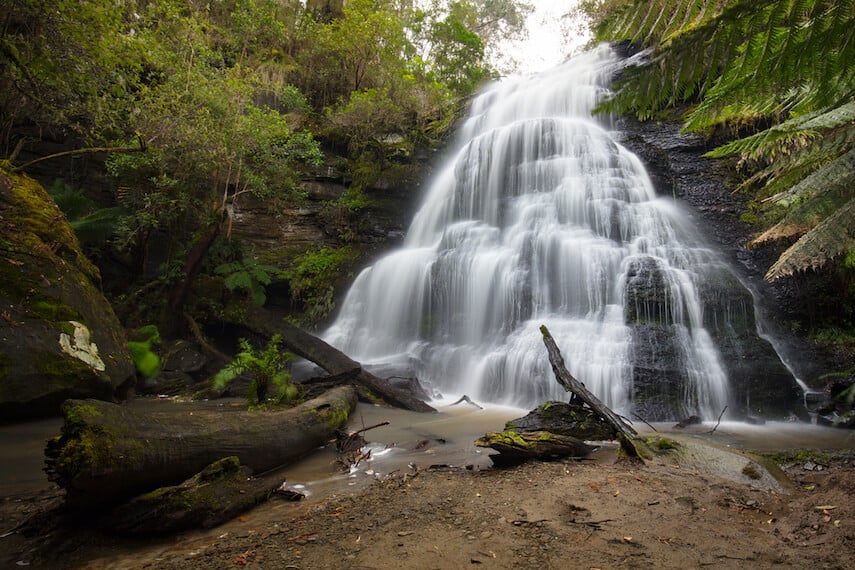 Sheltered in a beautiful fern gully in the Great Otway National Park is the stunning Henderson Falls. This one is a two for the price of one waterfall extravaganza as you'll amble past the popular Won Wondah Falls on the easy 1.8km walk from the Sheoak picnic area car park. The Henderson Falls is easier to view than its neighbouring counterpart with access from the path right up to the base of the falls. Its beautiful rugged structure, impressive width and flat upper ridge make it a true sight for sore eyes.
How to get there: Just south-west of the town of Lorne, Henderson Falls can be found along the Allenvale Road, where you'll find signs to the Sheoak picnic area car park.
Hopetoun Falls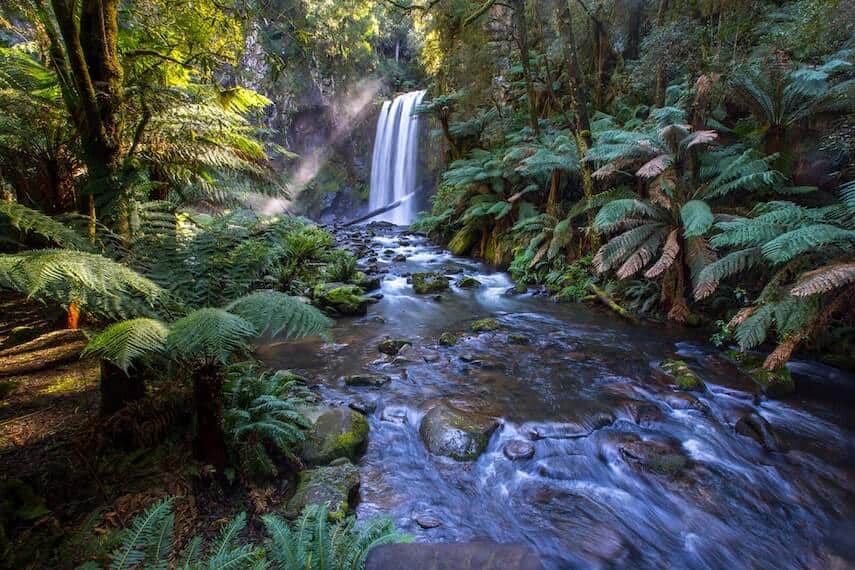 Hopetoun Falls is a true beauty. Its smooth yet turbulent 30m cascade mossy rocks in amongst the shallow stream and surrounded by jagged rockface punctuated with fern scattered rocky outcrops captivate its visitors, making it very easy to while away the hours here just listening to the sounds and soaking up the refreshing spray. The walking track leads to both lower and upper viewing platforms affording great views of the Falls.
How to get there: Not far from Skenes Creek and Wongarra, follow signs to the C159, turn off at Binns Rd. Turn off at Hopetoun Falls Rd where you will find signs for the car park.
Little Aire Falls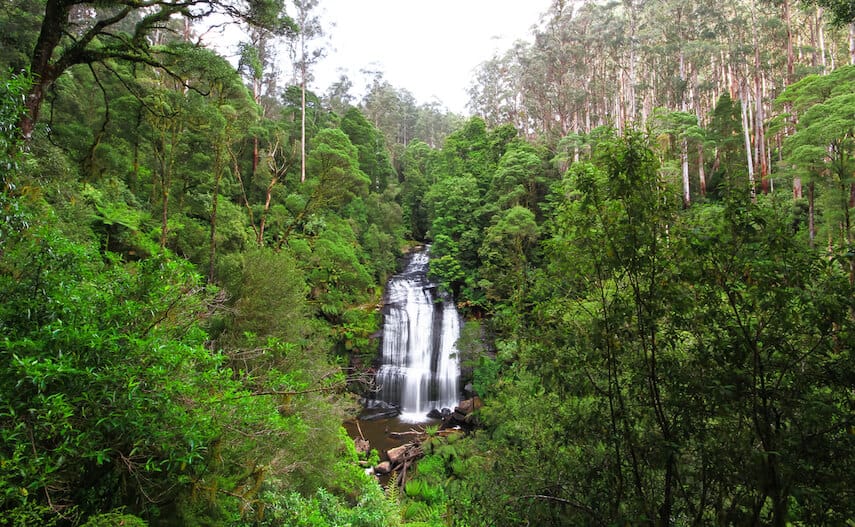 Starting as gentle rapids and then tumbling into a violent vertical cascade, the Little Aire Falls is a stunning natural beauty. Accompanied by a lovely, if slightly strenuous 2.5km (each way) walk through the Great Otway forest, you'll reach a number of viewing platforms which afford some great vantage points for the falls, but there is no up-close access available, so be prepared for some undulating terrain and take a camera with a good zoom if you're looking Instagram-fodder!
How to get there:  From Skenes Creek follow signs to the C159 and Beech Forest. Continue on to Colac Lavers Hill Road, turning off onto Brown Town Track and follow signs for Triplet Falls and Little Aire Falls.
Upper Kalimna Falls & Lower Kalimna Falls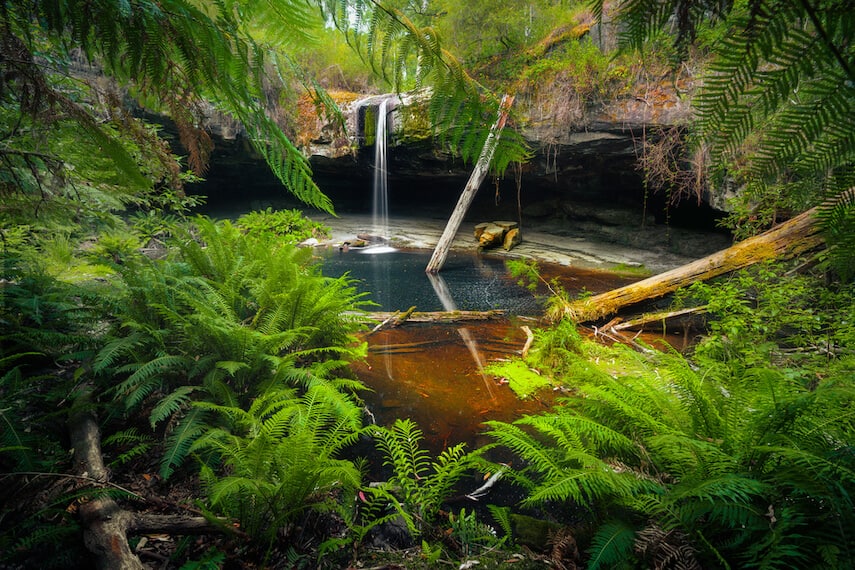 Allow at least half a day for the full Kalimna Falls trail. It's more of a hike, at around 8km,  but it's well worth the exertion to see these two uniquely magnificent falls. The trail passes through an old timber tramway, through scenic creek valleys and towering canopies making it a wonderful day excursion.
Upper Kalimna Falls stands at around 25m tall and can be accessed from a nearby viewing deck. Lower Kalimna Falls (pictured) is the more petite, but arguably prettier of the two, looking as if straight out of a classic shampoo ad! Set around a serene plunge pool surrounded by tree ferns, the water tumbles from a rocky ledge with a cavernous alcove beneath making for a very peaceful and scenic spot to while away the hours.
How to get there:  Take the Allenvale Rd from Lorne, where you'll find signs for the falls and Sheoak picnic area, where the trail starts.
Phantom Falls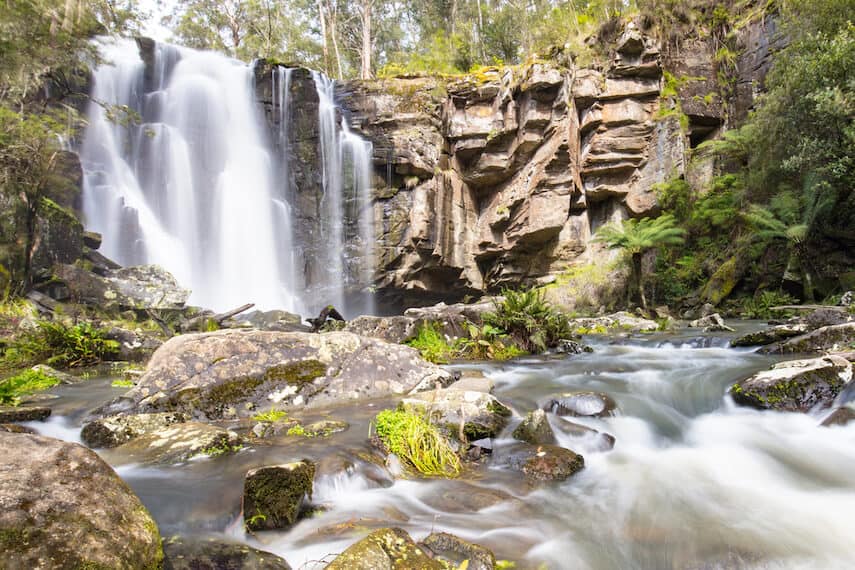 A pretty 15m waterfall along the St George River, the Phantom Falls is another great waterfall to visit during a stay in Lorne or passing through the nearby villages. The falls can be reached via a 3.5km, 1.5 hours return round trip starting at the Allenvale Mill car park, passing through attractive scenery including an old orchard. Phantom Falls is a pretty waterfall which cascades over uneven jagged rocks down to a serene plunge pool area which creates beautiful reflections from the waters below.
How to get there:  An easy distance from Lorne, simply follow signs to the Allenvale Mill car park along the Allenvale Rd.
Sheoak Falls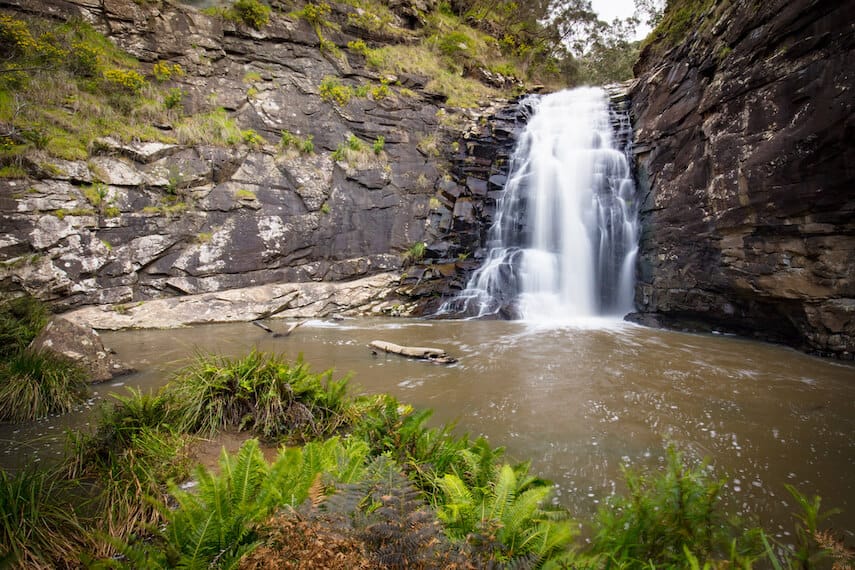 Cutting into a curving, horseshoe-shaped rocky ridge, Sheoak Falls' beautiful surroundings make for the perfect amphitheatre of watery drama. With a roaring sound which echoes from the surrounding rocky outcrops, this 15m cascade is one of the few which can be reached almost directly from the Great Ocean Road. A brilliantly refreshing break and stretch of the legs after a long stint behind the wheel – especially if you take a detour to nearby Swallow Cave too. The fall sits just south of the town of Lorne and can be reached via a pleasant 1.3km trail from the Sheoak Falls car park.
How to get there: From Lorne, head south along The Great Ocean Road until you reach the signs for the Sheoak Falls car park.
Stevenson Falls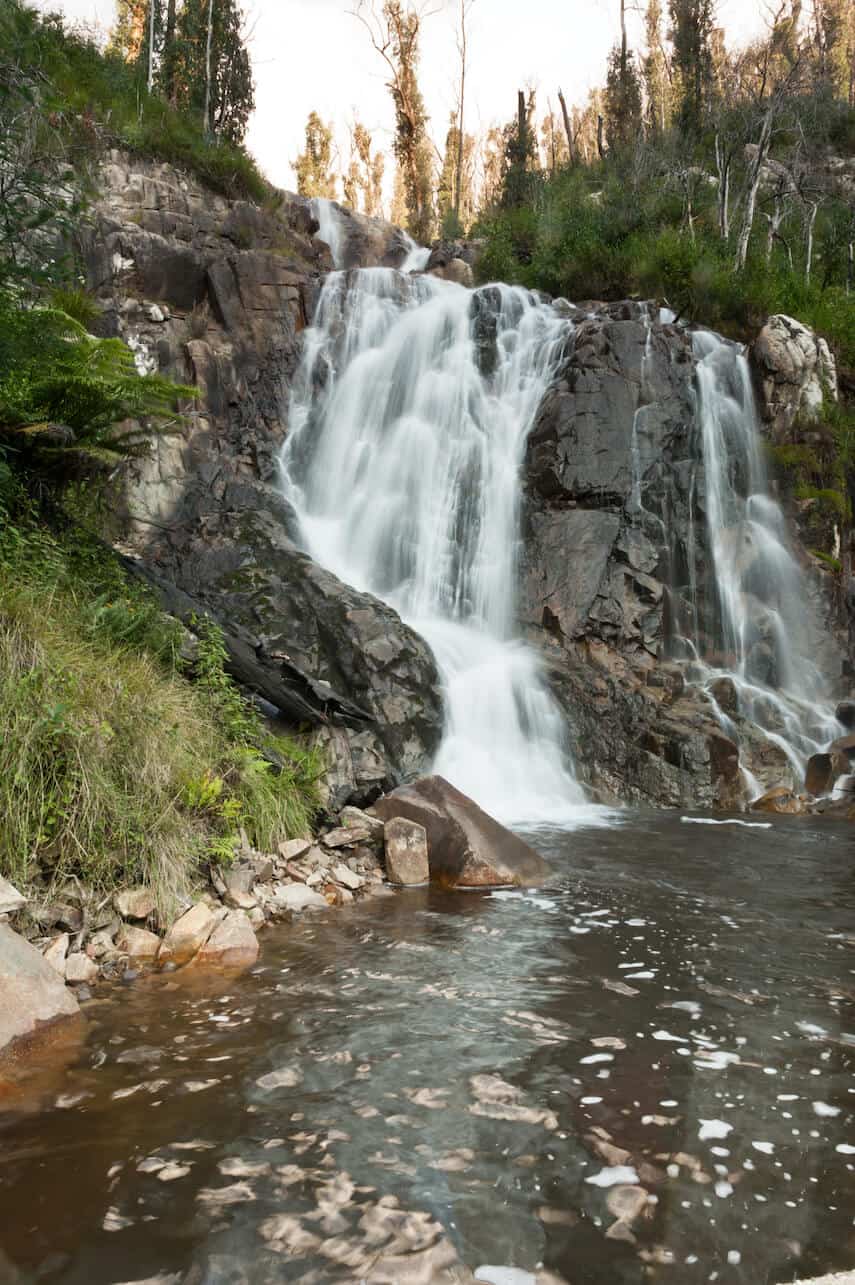 Forming part of the Gellibrand River, the Stevenson Falls is another great waterfall to visit after a day exploring those in the Beech Forest region such as Hopetoun, Beauchamp and Triplet Falls (below). Set a little further north in the Barramunga Plantation forestland Cutting into the rockface, this double cascade falls 15m into a plunge pool below and is surrounded by an open space in amongst the tall canopies, making it pleasingly photogenic.
How to get there: From the direction of Lorne, follow the C119 and turn off at Upper Gellibrand Road, from which the Stevenson Falls Campground will be signposted.
Triplet Falls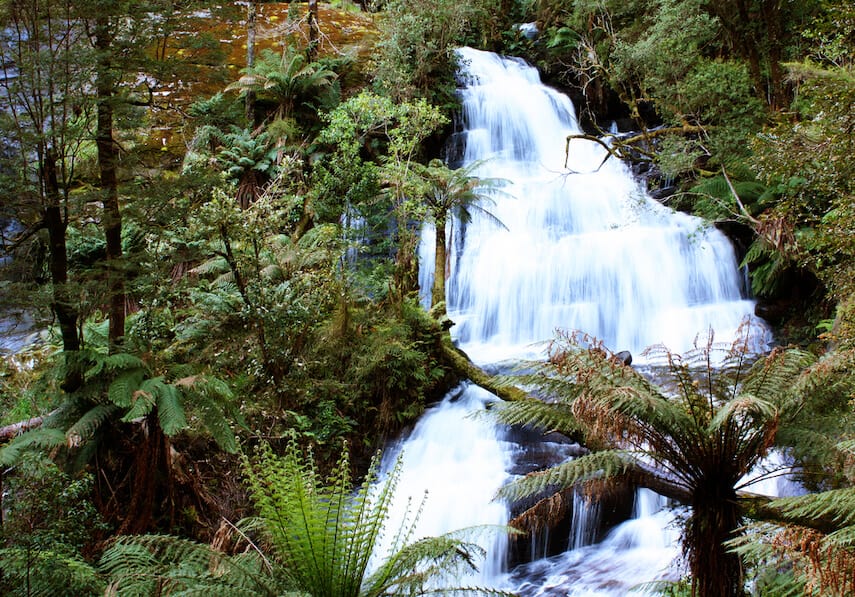 Another Beech Forest beauty, the Triplet Falls is formed by a segmented triple cascade of Young Creek. Nestled in amongst the stunning flora and fauna of Mountain Ash, Myrtle Beech and fringed with tree ferns, the falls can be accessed via a 2km circular walk along Phillips Track where you will stop at various viewpoints to take in the three flowing cascades.
Little Aire Falls can also be reached via the same trail, but be sure to add extra time to appreciate both. The walk also features intriguing remnants of the original Otways timber mill, adding a little historical discovery to the excursion.
 How to get there: From Skenes Creek follow signs to the C159 and Beech Forest. Continue on to Colac Lavers Hill Road, turning off onto Brown Town Track and follow signs for Triplet Falls Carpark.
So whether you're stopping in Lorne or nearby villages or simply wanting to stretch the legs after a long stint on the road, these magical, wondrous waterfalls offer up the perfect pit stop and chasing them makes for great family activities!
For intrepid waterfall chasers looking for a longer day out- many of these are within close proximity, so can be done in the same day. Be prepared for a serious step count and some thigh-burn to boot, but it is so worth it for the spectacular sights when you reach each and any of these stunning falls.
If you found our Great Ocean Road waterfalls guide helpful, please share this post (and others!) with them using the share boxes below. Sharing is caring and we very much appreciate everyone who helps spread the word about how great the Great Ocean Road – and the region around it – actually is!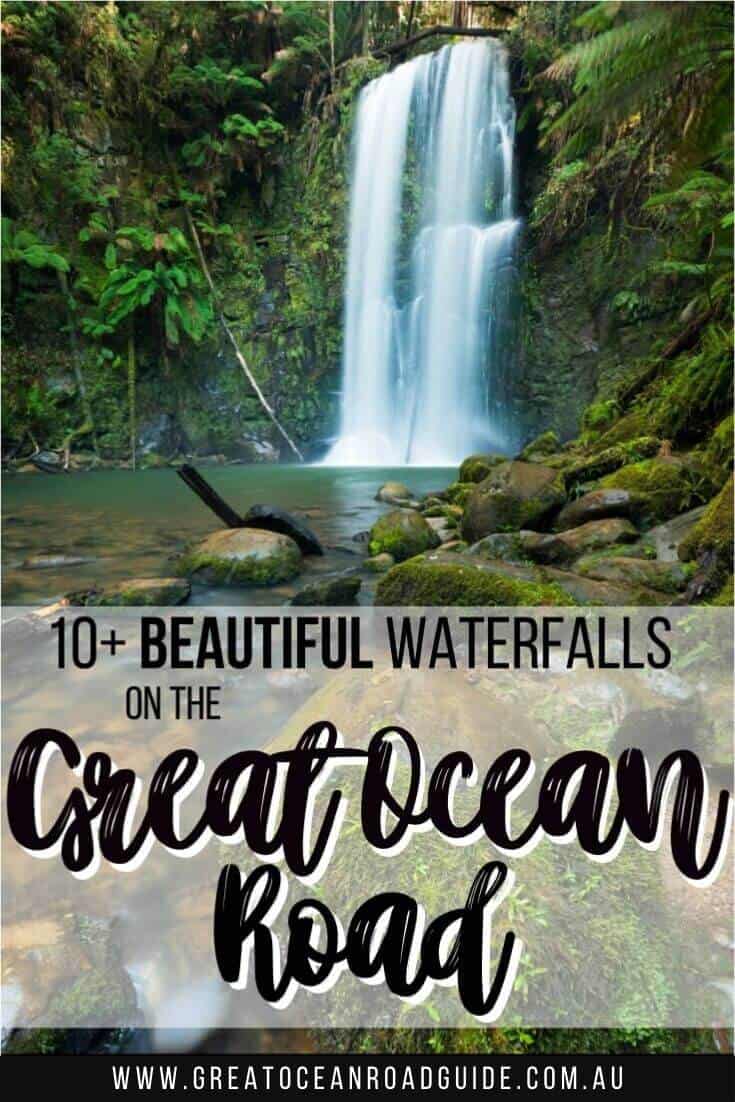 READY MORE GREAT OCEAN ROAD VICTORIA AUSTRALIA TRAVEL INSPIRATION? YOU MIGHT BE INTERESTED IN THESE TRAVEL TIPS, TRAVEL ARTICLES, TRAVEL STORIES AND RELATED POSTS ABOUT OUR AMAZING COAST ROAD:
Hi There! Thanks for reading our travel guide to 12 Beautiful Great Ocean Road Waterfalls – and how to find them. I just wanted to let you know that this post may contain affiliate links, which means if you purchase something after clicking a link, I may get a small commission – which is at absolutely no cost to you. If you enjoyed this article and are going to be searching for some of the things I mention anyway, I would love it if you could click through from the links above & thank you in advance! Read my full disclosure here.