The 243 kilometres of the Great Ocean Road touring route is one of the most scenic stretches of road and coastal drives in all of Australia. Listed as one of Australia's National Heritage sites, The Great Ocean Road's enigmatic allure pulls in thousands of visitors every year. With every twist and turn of this winding coastal road, a new breath-taking view or attraction appears upon the horizon.
This, along with some of Victoria's most charming seaside towns, puts the road between Torquay and Allansford high of the list of must-do road trips from all over the globe. Whether you seek the best of Australia's natural beauty, culinary prowess, or deep and rich history (the road itself being the world's largest war memorial) a journey along the Great Ocean Road is where you will find it all.
This Self Drive 3 Day Great Ocean Road itinerary will ensure you get the most out of your time spent along the Surf and Shipwreck Coasts! (and if you are planning to spend a little longer along in the region, take a look at our 5 Day Itinerary)
Great Ocean Road 3 Day Itinerary (Self Drive)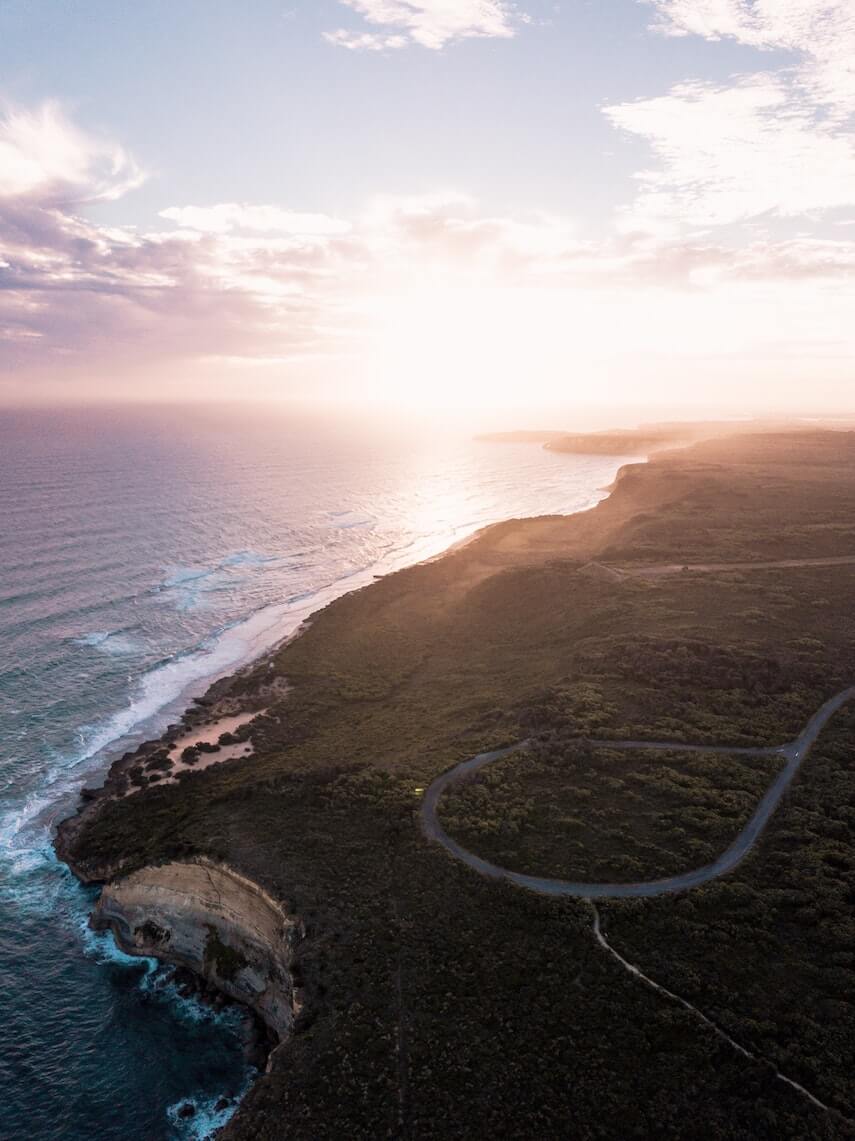 Disclaimer: Almost all posts on this site contain affiliate links. This means that if you click on any of the links in our Self Drive 3 Day Great Ocean Road Itinerary (and make a booking) we may receive a small commission at absolutely no cost to you. Each post is carefully crafted to (hopefully!) answer all your questions and recommendations are made where we believe they will improve your trip and help with your planning. As such we thank you in advance should you decide to click, buy or book. Read our full Disclosure here.
SHORT ON TIME?
If you only have a limited amount of time in Melbourne and want to see the Great Ocean Road in all her glory without having to hire a car, we've researched the
10 BEST Great Ocean Road Tours & Day Trips
to help you find the perfect tour (with options for small groups, reverse, sunset, multi-day tours and more!)
3 Day Great Ocean Road Itinerary: Day 1 – Melbourne to Apollo Bay
The first stretch of your Great Ocean Road adventure will take you from Victoria's capital Melbourne right down to the seaside town of Apollo Bay. Driving time should only amount to around three hours, as the journey between the two is about 195km. Along this first leg of the journey, you'll stop off at iconic spots along the surf coast, all of which have their own eye-catching spots, making road trippers eager to pull over and enjoy the sights.
Torquay: Known as the gateway to the Great Ocean Road, Torquay is the perfect place to pull over after the long drive from Melbourne Victoria. Along with its quaint small seaside town charm, Torquay is known as Australia's surfing capital and has spectacular beaches to match.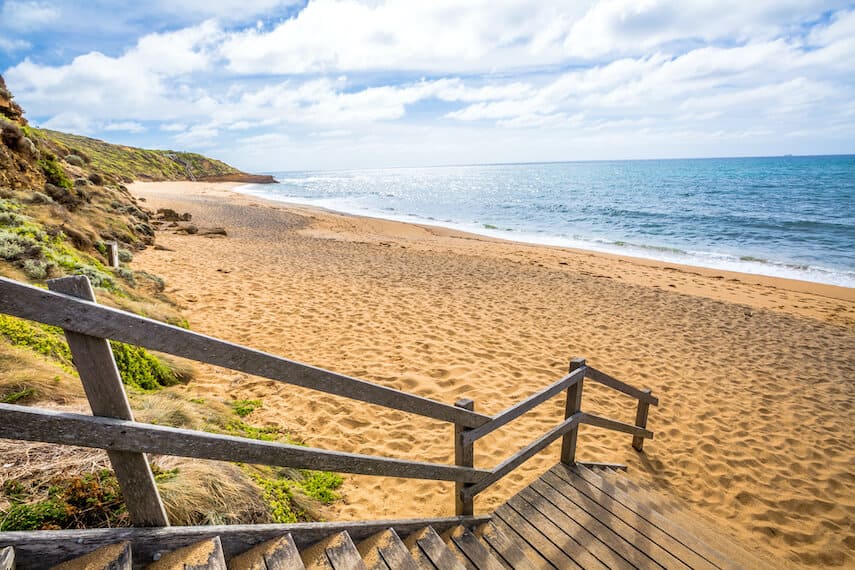 Bells Beach: A little further down the Great Ocean Road from Torquay is one of Australia's most famous surf beaches, Bells Beach – home of the Rip Curl Pro. Those looking for a slice of surf culture but who do not have their surfboard in tow can simply enjoy the breath-taking beach views and film fans can walk the setting of the famous action film Point Break.
Anglesea: A mere seven miles further down the coast will take you to the charming Great Ocean Road town of Anglesea, a well-worth stop along the route. Along with its spectacular lookout points such as Point Roadknight, Anglesea is a great place to stop for a bite to eat. Its cafes, restaurants and fresh seafood fish and chip shops make the ideal rest stop for lunch on your first day.
Aireys Inlet: After lunch, take the short ten-minute drive to Aireys Inlet, home to one of the most iconic symbols of the Great Ocean Road – Split Point Lighthouse. This historic working lighthouse can be explored from top to bottom and offers fantastic views of the ocean and surrounding coastline from its topmost lookout.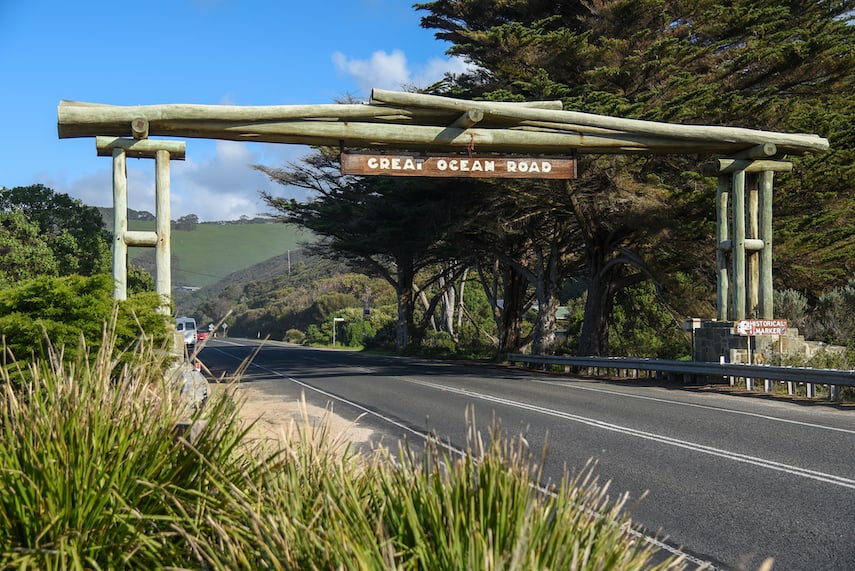 *Extra* Between Airey's Inlet and Lorne, you'll drive under the Great Ocean Road Memorial Arch. A favourite stop for all tourists. Grab that iconic photo and read about the history and building of the road from the informative plaques around the site.
Lorne: Using the town of Lorne Victoria as a base, it's easy to make your way to must-see sights such as Erskine Falls – a majestic waterfall a few miles inland. Teddy's Lookout is also not to be missed when in the Lorne area, this scenic spot looking out into the Southern Ocean is one the Great Ocean Road's best.
Apollo Bay: Day one's final drive between Lorne and Apollo Bay is one of the most scenic. The shoreline near the Wye River is known to attract whales during the latter half of the year and lookouts such as Cape Patton are not to be overlooked. Apollo Bay itself is worth a look around before you settle for your first night, whether that entails a visit to the Great Ocean Road Brewhouse for an evening tipple or dining at the town's top restaurant La Bimba.
Where to stay in Apollo Bay 
Apollo Bay Waterfront Inn: This is an ideal place for families who are staying in Apollo Bay. Rooms here come fully furnished with a kitchenette, refrigerator and television.
Apollo Bay Eco YHA: Backpackers looking for value and comfort will be more than happy at Apollo Bay Eco YHA.
Seafarers Getaway: Couples looking for that touch of style and ambience should make for the Seafarers Getaway.
For more accommodation options, check out our full guide to Accommodation in Apollo Bay + for those with fur-babies, our guide to Pet-Friendly Accommodation on the Great Ocean Road is just what you need.
3 Day Great Ocean Road Itinerary: Day 2 – Apollo Bay to Port Campbell
Day two of your three-day journey will take you from Apollo Bay to the western town of Port Campbell. Not taking in scenic stops and detours, the 96km journey should take around 1.5 hours driving. This section stage will include journeying through the half way points of Otway National Park, Lavers Hill, Great Ocean Road Wildlife Park (to get up close to koalas emus and other Aussie native animals), the Twelve Apostles and finally Port Campbell.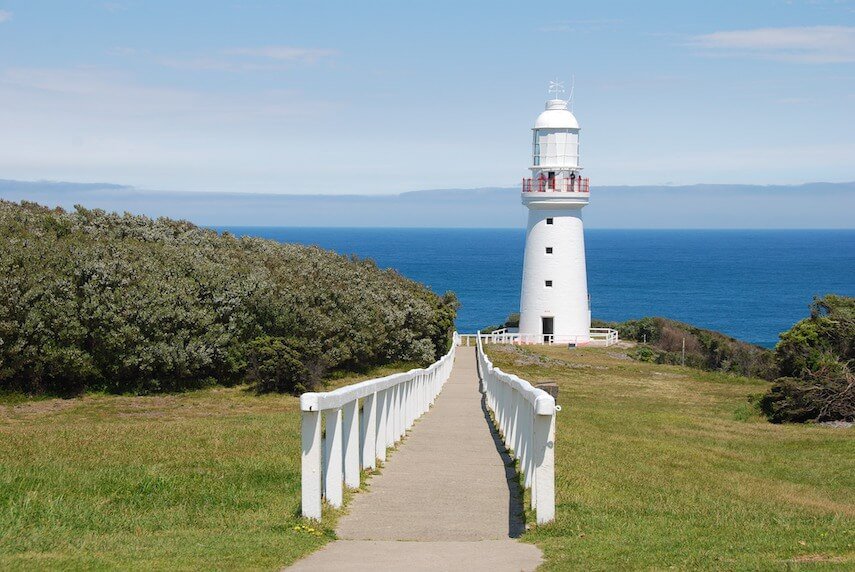 Otway National Park: Journeying west from Apollo Bay, road-trippers will past the halfway point of the Great Ocean Road and come to one of Australia's southernmost points, the Cape Otway Lighthouse and the Otway National Park.
Driving through this scenic park, there are many opportunities to pull over and enjoy the lush rainforest greenery and natural beauty surrounding the road – and for those that want to soar through the trees, a little further inland there is the Otway Fly Tree Top Adventure.
The Otways – and more specifically Kennett River – is also an ideal place to spot wild koalas, one of the countries most beloved symbols.
Lavers Hill: A visit to Lavers Hill is perfect for breaking up the journey between the Otways and the 12 Apostles. This small yet charming town is unassuming in itself but worth the stop for the views from Crowes Lookout. Being on such a tight schedule, Lavers Hill is also a great place to stock up previsions for the rest of the journey.
Great Ocean Road Wildlife Park: For lovers of wildlife, the Great Ocean Road Wildlife Park is must when on the route from Lavers Hill. This small yet vibrant park is home to kangaroos, wallabies, wombats, dingos, emus and much more. Surrounding by the idyllic greenery of Victoria Australia, the Great Ocean Road Wildlife Park will provide an immersive experience with some of the countries most beloved animals.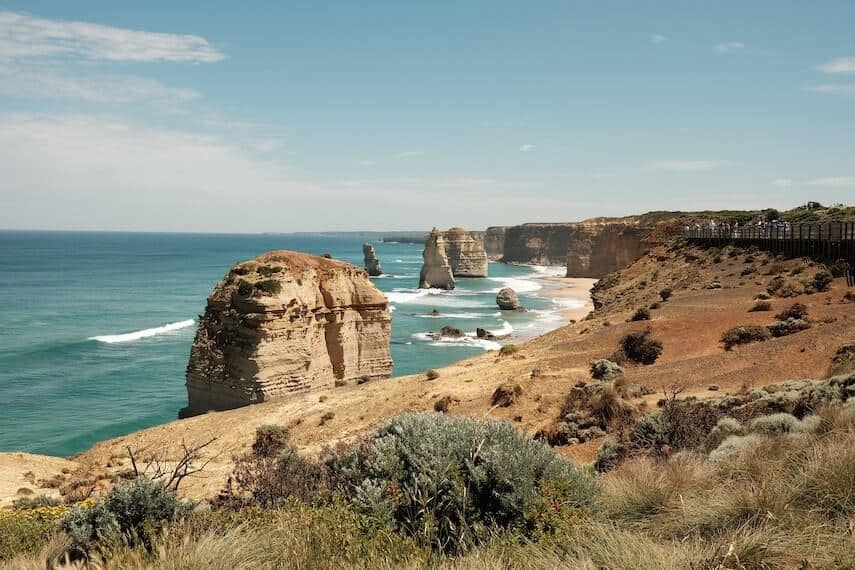 The Twelve Apostles: Up there as one of the Great Ocean Road's most iconic and famous sites, no road trip would be complete without a visit to the Twelve Apostles. This collection of limestone stacks have become the tourist hotspot on the Victoria coast and with good reason. The designated viewing platform and walking trail is the ideal place to get the best view of the amazing rock formations of the world famous natural wonder.
*Insider Tip* Just before you get to the 12 Apostles, be sure to pull over and take in the magnificent rock stack at the Gibson Steps. Whether you stay at the top of the cliff, or take the steep steps down to the beach, the views are amazing!
Port Campbell: The final stretch of the day two journey will take you to the quintessential coastal village of Port Campbell. With its charming bars and Seaview restaurants, Port Campbell is the perfect place to settle down for the evening and rest for the next day's adventures. Read our guide to Where to Eat in Port Campbell for the best dining options.
Where to stay in Port Campbell
Port Campbell Motor Inn: Ideal for both budget travellers and families, Port Campbell Motor Inn offers value and comfort. With outdoor seating provided, guest can enjoy the seaward views.
The Port O Call Inn: The perfect Port Campbell stay of couples. With an intimate and cosy setting along the main street of this fishing village.
Or read out complete Port Campbell Accommodation Guide for more options – or our Caravan & Campsite Guides if you're packing your own swag!
3 Day Great Ocean Road Itinerary: Day Three – Port Campbell to Allansford
The final stretch of the Great Ocean Road will take you from Port Campbell to the official ending town of Allansford. This 55km trip should take drivers around 50 minutes directly. Yet with many interesting stops and wild beaches along the way, the journey will be considerably longer. Leaving Port Campbell stops include the London Arch, Loch Ard Gorge, the Grotto, the bay of islands and the final destination of Allansford.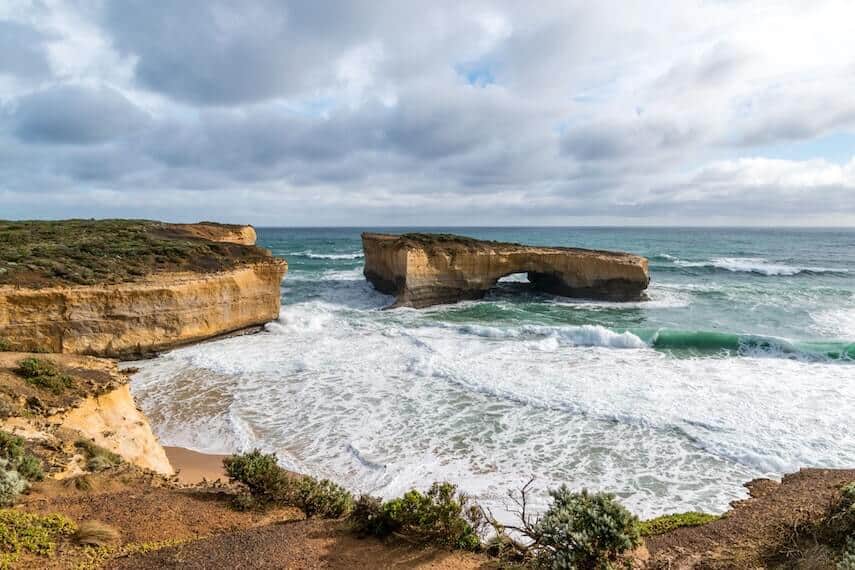 London Arch: This last few miles of the Great Ocean Road are peppered with natural rock formations and beauty stops, all worth pulling over for, the first of these is the London Arch. Once named the London Bridge, this single arch of rock juts out into the blue ocean, creating a picturesque seascape. This is also a great place to catch sight of penguins heading out to sea.
Loch Ard Gorge: Loch Ard Gorge is a little further down from the London Arch and is also a natural wonder. Named after a ship that wrecked here in 1878, it is now a site of undeniable beauty and well worth a roadside stop for the view.
The Grotto: At first sight, a roadside car park is the only unassuming feature here. Venturing down the steep stairs of the shoreline cliffs, a fairy-tale sight of a hollowed-out cave provides yet another natural feature of ocean and rock. Sit and listen as the waves surge through the cave, bringing a sense of contentment and peace.
The Bay of Islands: Coming to the final stretches of the official Great Ocean Road may be a sombre moment, yet with the Bay of Islands ahead of you, your spirits are instantly lifted. With numerous lookouts sporadically located along this stretch of cliff road, it could be argued that the best views are left until last.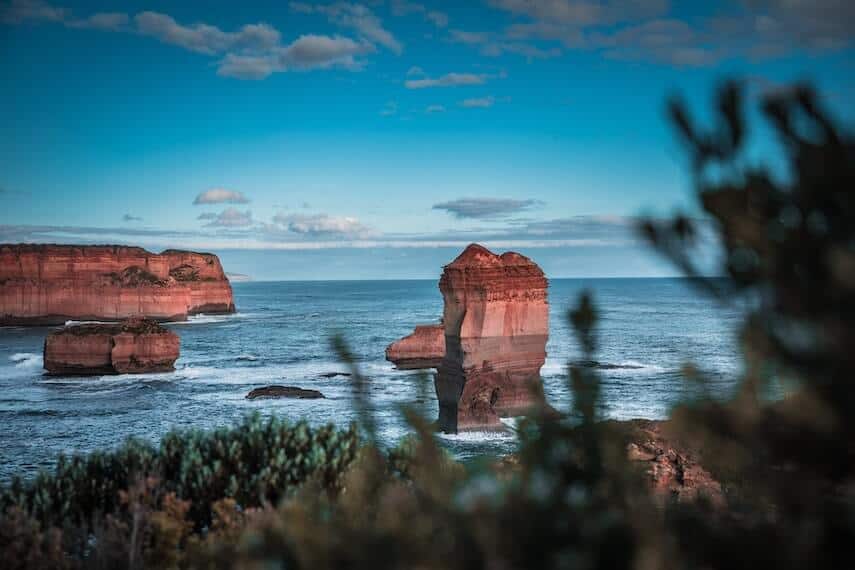 Allansford: Reaching the official final destination of the Great Ocean Road doesn't mean an end to the fun. If you seek more in the way of natural beauty, head a little north to Hopkins Falls, a picturesque waterfall noted for its wideness. If rest and refreshment are on your mind, then venture into Allansford itself is a must. The town is renowned for its cheese-making expertise, complete with its own 'cheese world & museum'. And if you're around at the right time of year, you can head out onto the water for a spot of whale watching (blue whales and southern right whales)!
Where to next? – The quickest way back to Melbourne from Australias Great Ocean Road is to take the inland route via Colac and will take around 3 hours to drive. But if you're looking to extend your trip – why not consider extending your trip and driving on to the Grampians National Park (a 1.5-hour drive).
We hope our self-drive 3 Day Great Ocean Road Itinerary has helped you plan your own perfect Great Ocean Road Trip, and out accommodation options have helped you find the perfect places to stay along the way – whether you're a family, couple or a solo travel lover.
If you found our 3 Day Great Ocean Road Itinerary helpful, please share this post (and others!) with them using the share boxes below. Sharing is caring and we very much appreciate everyone who helps spread the word about how great the Great Ocean Road – and the region around it – actually is!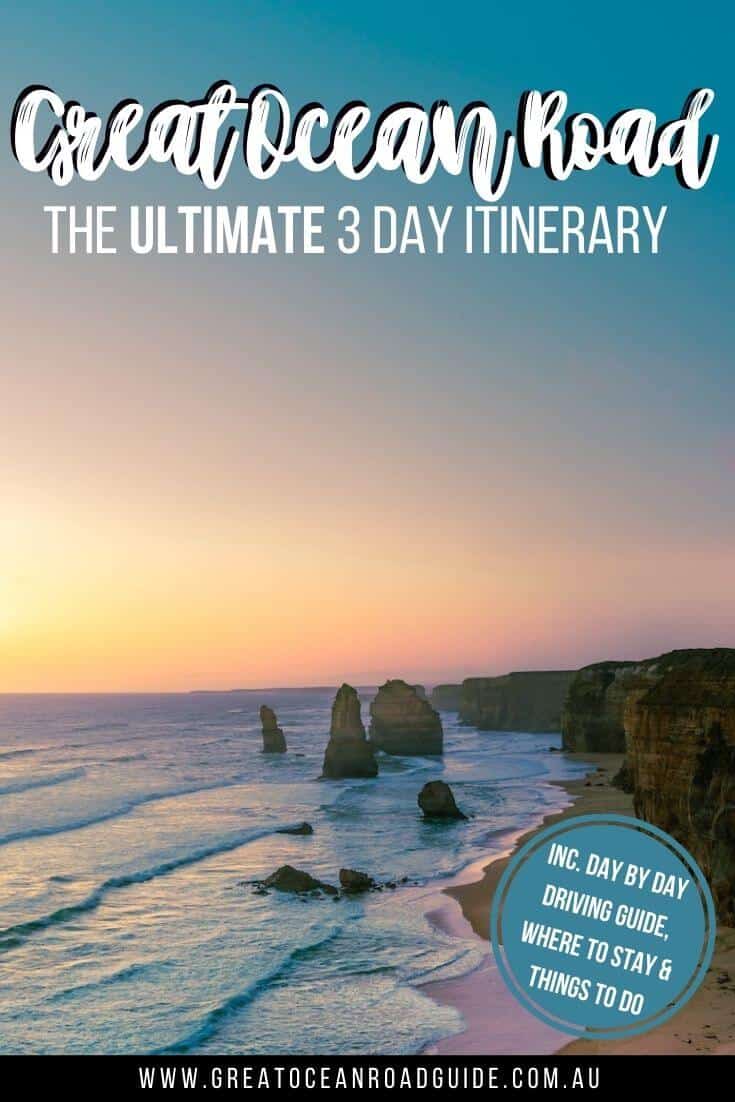 READY MORE GREAT OCEAN ROAD VICTORIA AUSTRALIA TRAVEL INSPIRATION? YOU MIGHT BE INTERESTED IN THESE TRAVEL TIPS, TRAVEL ARTICLES, TRAVEL STORIES AND RELATED POSTS ABOUT OUR AMAZING SOUTHERN TOURING ROUTE:
Hi There! Thanks for reading our travel guide to Self Drive 3 Day Great Ocean Road Itinerary. I just wanted to let you know that this post may contain affiliate links, which means if you purchase something after clicking a link, I may get a small commission – which is at absolutely no cost to you. If you enjoyed this article and are going to be searching for some of the things I mention anyway, I would love it if you could click through from the links above & thank you in advance! Read my full disclosure here.