The beautiful beachside village of Wye River, just south of the vibrant and creative town of Lorne, is the perfect place for a pitstop or a longer stay if you have time to linger a while, taking in the spectacular sights of this incredible paradise. Hiking, a friendly local community, fishing, surfing, dog friendly and spectacularly unspoiled beaches, are just a few of Wye River's best features. This small, but perfectly formed settlement, nestled into the hillside is the ideal place for a little respite and a little adventure as you take a break from life on the road with it's delightful combination of bush and beach.
While motels and hotels here are hard to come by here, the best way to experience the authentic charms of Wye River is by renting one of the many beautiful and well-maintained holiday homes. With self-catering apartments and spacious multi-story houses available for couples, families and groups to rent, there is something for every budget in Wye River VIC, or alternatively, the neighbouring villages of Separation Creek and Kennett River are equally charming.
We've put together a short selection of the top Wye River Accommodation options – with each having incredible views to die for – in and around Wye River, Kennett River & Separation Creek.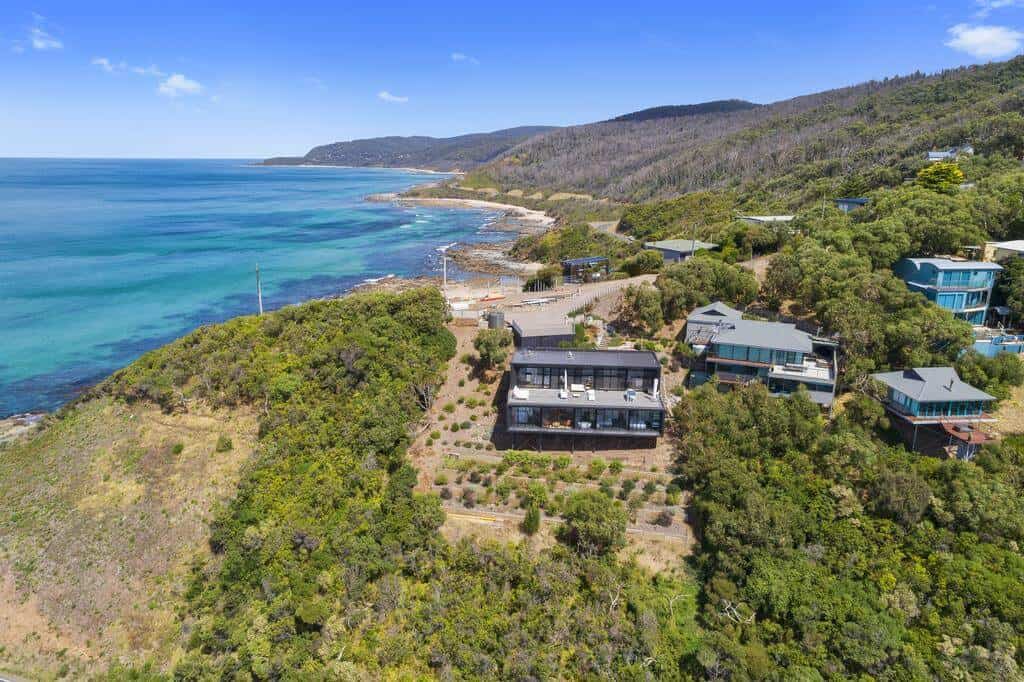 Disclaimer: Almost all posts on this site contain Affiliate links. This means that if you click on any of the links in our Wye River Accommodation Guide (and make a booking) we may receive a small commission at absolutely no cost to you. Each post is carefully crafted to (hopefully!) answer all your questions and recommendations are made where we believe they will improve your trip and help with your planning. As such we thank you in advance should you decide to click, buy or book. Read our full Disclosure here.
Where to Stay in Wye River (and surrounds):
Your Complete Wye River Accommodation Guide
Cape Wye (5

★)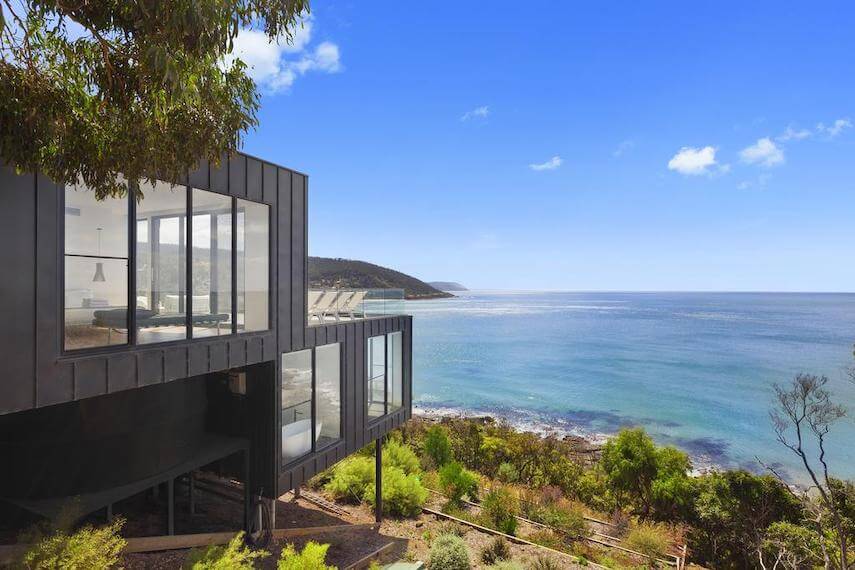 Suitable for: Families or groups with pets in tow (sleeps max 10)
Average Price Per Night: $1,150
Guests love staying here because: This stunning holiday house boasts seriously striking architecture, stylish interiors and a bathtub of dreams with amazing views to die for.

Think clean lines and luxurious modern living, the floor to ceiling windows, which afford unrivalled panoramic views over the ocean, are enough of a selling point alone. This self-catering, but luxurious accommodation allows for the ultimate flexibility for families and group travellers looking for beachfront indulgence. For four-legged and furry members of the family, it's great news too as pets go free!
BIG4 Wye River Holiday Park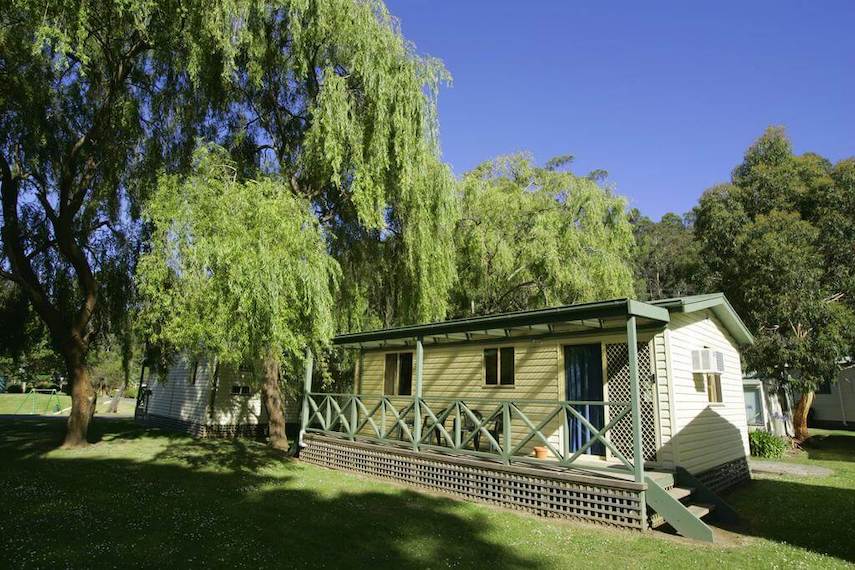 Suitable for: Nature lovers or couples and families on a budget
Average Price Per Night: $134
Guests love staying here because: BIG4 Wye River Holiday Park boasts a spectacular, relaxing location and green scenery all just opposite the beach and close to the Wye Beach Hotel (also called Wye River Hotel) – either way, its a Wye River Icon!


BIG4 Wye River offers a range of accommodation types all within a 25-acre site in amongst the Otway Ranges. The perfect spot for fishing lovers, hikers or families who love the great outdoors, the BIG4 Wye River Holiday Park boast elegant interiors in their deluxe accommodation or more budget-friendly options for the happy campers among you. And access to the beach is unrivalled due to its sea-level location.
WYE UP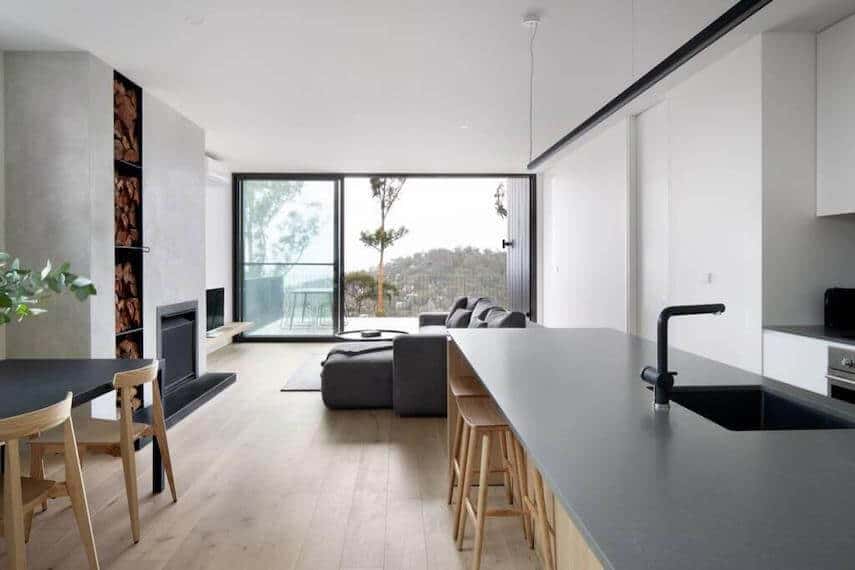 Suitable for: Adult groups looking for luxury (sleeps 8)
Average Price Per Night: $598
Guests love staying here because of its stylish treehouse vibes, incredible ocean vistas and a short walk to the beach.


With interiors which ooze Scandinavian wood cabin vibes, this treehouse-style villa boasts real wow-factor. It's minimalist, yet cosy spaces can accommodate up to 8 adults in its four large double bedrooms. Its elevated position overlooking the beach and the ocean beyond afford incredible vistas, the balcony offers the perfect spot for a sophisticated dinner party or two. And with a fully equipped kitchen including a washing machine, you can really make yourself at home.
Saisun (4

★)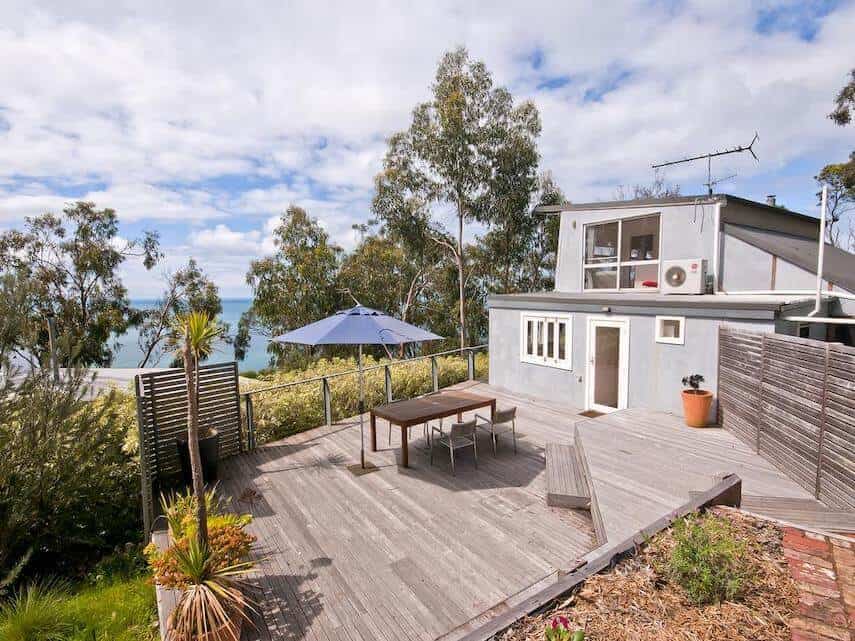 Suitable for: Small families or couples (sleeps 6)
Average Price Per Night: $362
Guests love staying here because of its super peaceful location surrounded by gum trees and cosy family friendly interiors

Saisun's open plan, yet cosy interiors make it the ideal spot for curling up and admiring the incredible ocean views. A romantic spot overlooking the sea, the house is well equipped within short walking distance to the beach (1km/0.6 miles). Its 2 bedrooms contain a set of bunk beds, and two double beds, making it perfect for couples or younger families.
Wye Escape (4

★)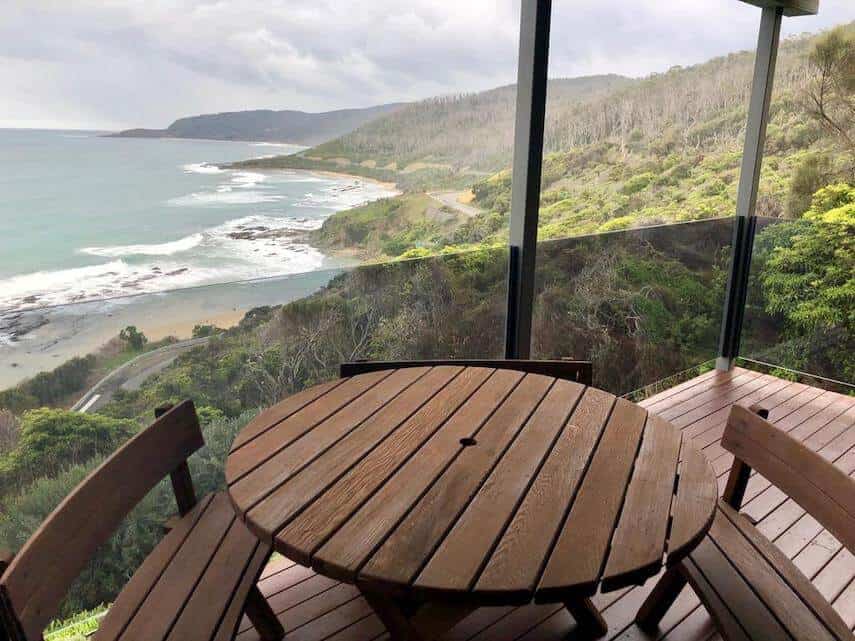 Suitable for: Families (+ pets welcome) (sleeps 6)
Average Price Per Night: $390
Guests love staying here because: Wye Escape is a favourite for its enviable beachfront location, wild sea views and friendly family of Koalas nearby!

With an arguably unrivalled view, Wye Escape boasts an incredible location, elevated on the hillside overlooking the waves of Wye River. An extremely popular option for those with furry friends in tow, the beach houses is set within a range of great hiking routes of the Otway National Park, encouraging visitors to get out and about. This well-equipped self-catered holiday home is genuinely great for families, with three bedrooms including one twin bedroom.
Wye's Choice (4

★)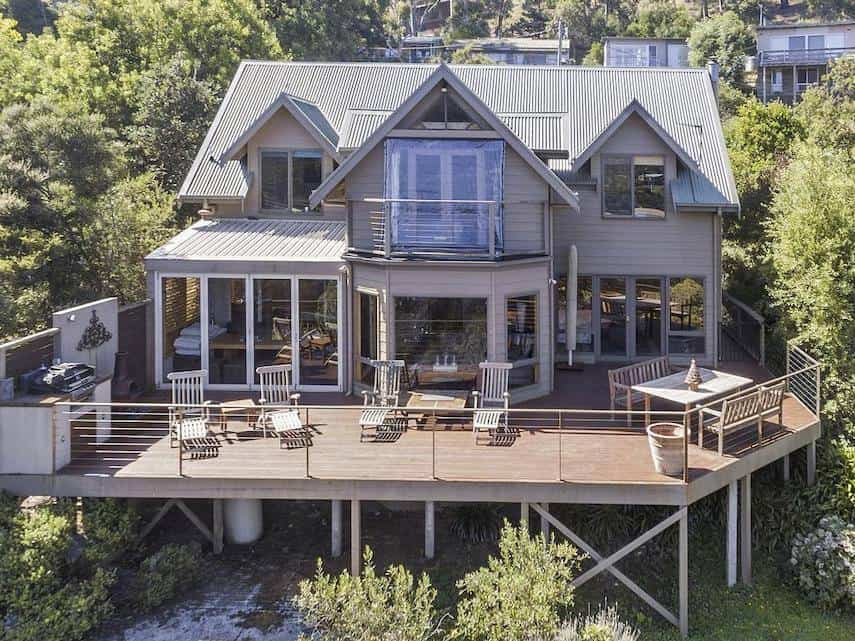 Suitable for: Large groups with pets (sleeps 10-12)
Average Price Per Night: $564
Guests love staying at this holiday rental because of its log cabin vibes, panoramic windows with ocean views and sociable open plan kitchen area.

Wye's Choice holiday home is not only strong in its wordplay game, but it's also a super popular bolthole for large groups, multigenerational groups and families travelling the Great Ocean Road. Offering access to a garden as well as barbecue facilities it is a great social space while being big enough to escape when you need to! Its tranquil, log cabin style interior also boasts a well-equipped kitchen as well as DVD player and a flat-screen TV for those wanting to relax after a day on the road. It's easily one of the most beautiful houses in Wye River Australia.
Accommodation in Separation Creek
Iluka Blue (4

★)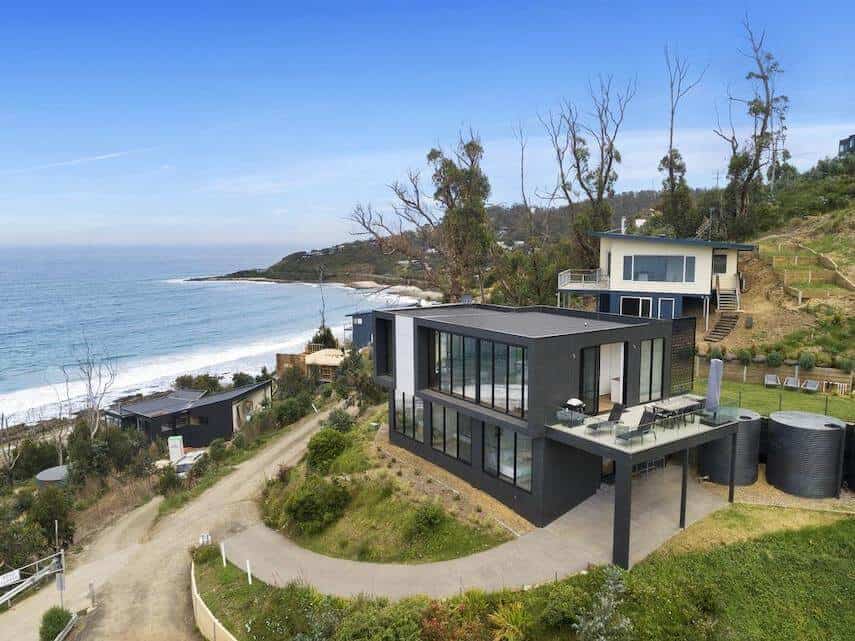 Suitable for: Groups and families with pets (sleeps 8)
Average Price Per Night: $889
Guests love staying here because.. well what's not to love about the floor to ceiling windows in the luxurious beach house near Wye River – and it is close to the beach!


With three stylish bedrooms including one with bunks, this stylish architectural gem is ideal for families looking for a sophisticated stopping point along the Great Ocean Road. With a balcony boasting garden views, wood fire in the spacious open plan living area and sizeable master bedroom with spectacular views over the azure ocean beyond, this is a luxurious haven in Wye River's neighbouring village of Separation Creek.
The Surf Shack (4

★)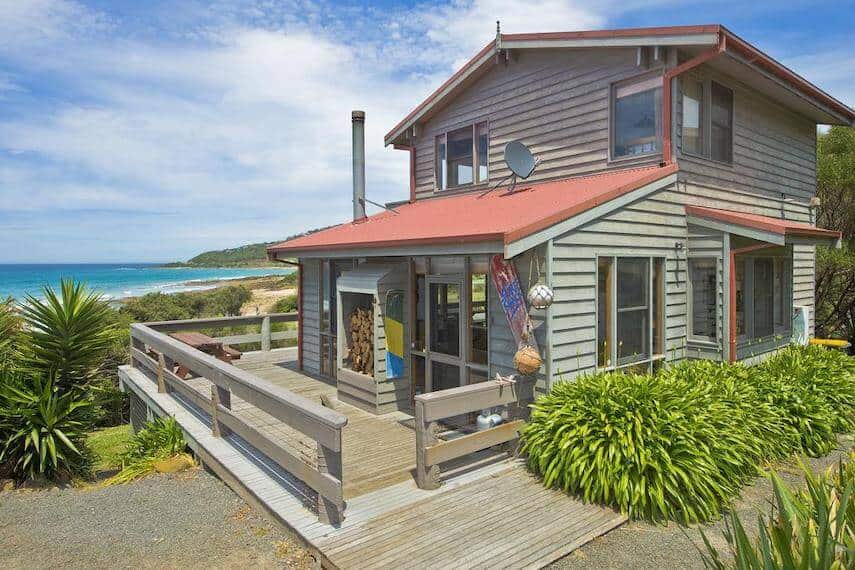 Suitable for: Beach lovers (sleeps 8)
Average Price Per Night: $322
Guests love staying here because: Easy access to the beach (a two minute walk!) and you can listen to the waves from the house!

The Surf Shack deck house offers the perfect cosy haven after a long day in the ocean, or on the Great Ocean Road. With its enviable location where the bush greets the sea, the Surf Shack boasts self-catering kitchen facilities and accommodation for up to 8 across its three bedrooms, all at a price which won't break the bank, making it the ideal for any beach-loving bargain seekers.
Accommodation in Kennett River
Louvres (4

★)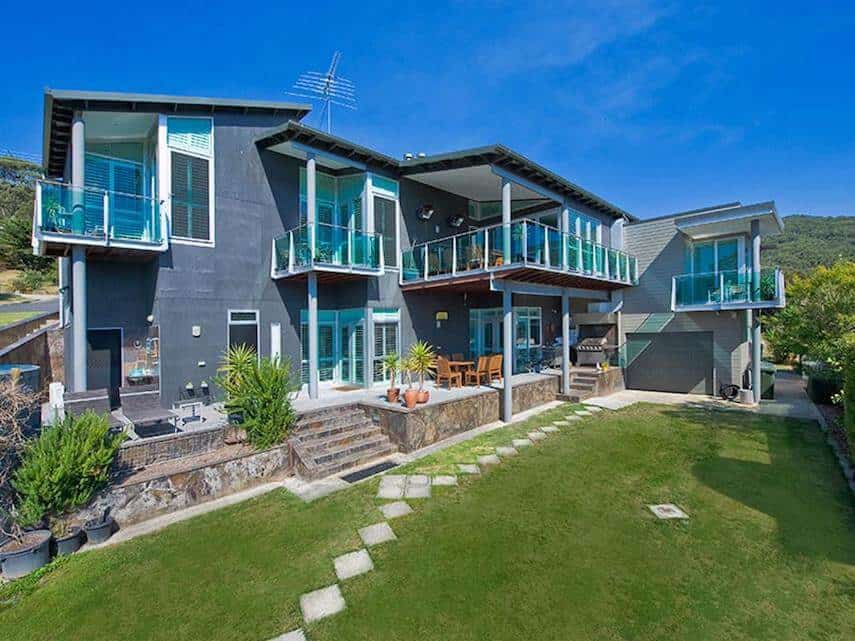 Suitable for: Groups (sleeps 9)
Average Price Per Night: $511
Guests love staying here because of its beautiful green spaces, ocean magic and social vibes.

In a beautiful location, with stunning views over Kennett River's lush green landscape and the ocean beyond, Louvres balcony is a great place for a beverage in the sunshine. With four bedrooms and a spacious lounge area as well as access to the garden area, this apartment-style, self-catering accommodation is an ideal choice for multigenerational groups or groups of adults looking for a cosy bolthole along Great Ocean Road.
Cara (4

★)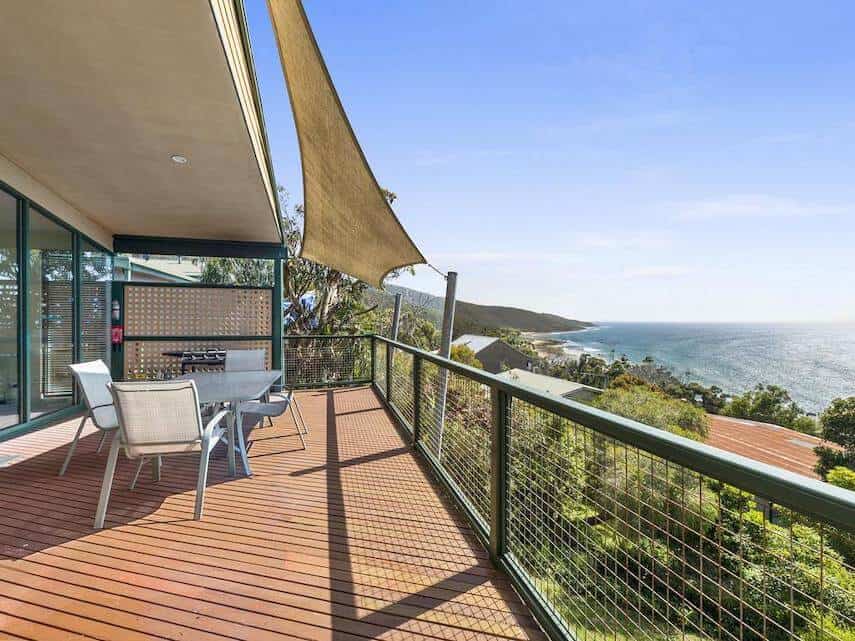 Suitable for: Groups (sleeps 9)
Average Price Per Night: $430
Guests love staying here because of its beautifully serene location.

Sleeping up to 9, this homely abode has 4 bedrooms, one of which is a bunk room, perfect for little ones! Situated in the lush green surroundings of the Kennett River hillside, the house boasts stunning views over the sparkling sea from its balcony and living area. With comfortable furnishings and a well-equipped open plan kitchen/diner, the holiday home offers garden and barbeque facilities so families and groups can make the most of the evening sunshine.
Whether it's a romantic holiday home you are hoping to book or a place big enough for all your family during your visit to Wye River VIC, we hope our guide has covered some of the best options available.
And if you have stayed somewhere great in Wye River, Kennett River or Separation Creek that we haven't mentioned, get in touch! We want to know about it.
READY MORE GREAT OCEAN ROAD TRAVEL INSPIRATION? YOU MIGHT BE INTERESTED IN THESE TRAVEL TIPS, TRAVEL ARTICLES, DESTINATION GUIDES AND RELATED POSTS ABOUT OUR AMAZING COAST ROAD:
Hi There! Thanks for reading our travel guide to the Best Wye River Accommodation, Kennett River Accommodation & Separation Creek Accommodation. I just wanted to let you know that this post may contain affiliate links, which means if you purchase something after clicking a link, I may get a small commission – which is at absolutely no cost to you. If you enjoyed this article and are going to be searching for some of the things I mention anyway, I would love it if you could click through from the links above & thank you in advance! Read my full disclosure here.