Lorne, a once peaceful seaside village, is now one of the most popular tourist destination for travellers along the Great Ocean Road. And whilst it is true that a large number of tourists simply stop in Lorne for lunch as part of a day trip from Melbourne, or overnight on a self-drive road trip – more and more of them are extending their stay to discover all the wonderful things to do in Lorne – and rightly so!
Lorne is not only blessed with beautiful scenery and stunning natural landscapes, but it is also a creative hub with an incredible community spirit and has been a home to Victorian family holidays and weekend getaways for years. So from waves to waterfalls, lookouts to epic lunches (and dinners, and desserts!), let us help you discover all the incredible things there are to see, do and experience in this laid back beachside town.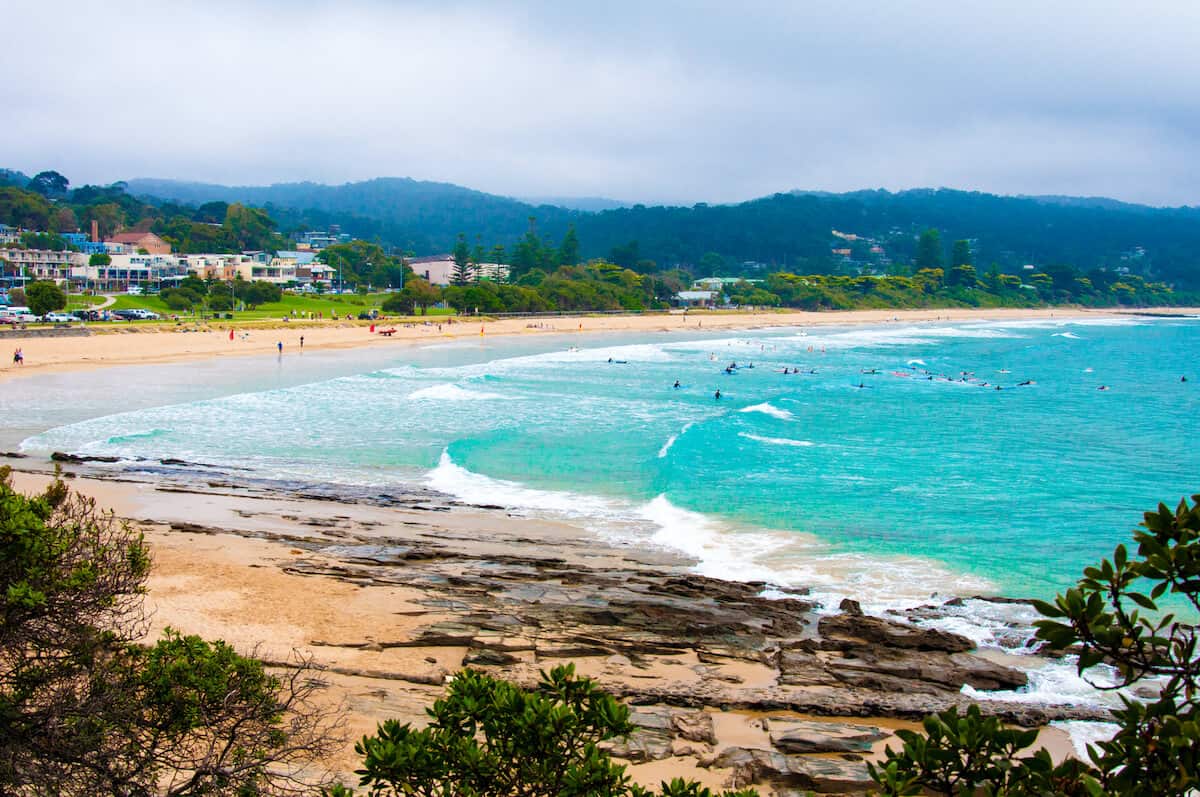 Disclaimer: Almost all posts on this site contain affiliate links. This means that if you click on any of the links in our Guide to the Top Things to do in Lorne (and make a booking) we may receive a small commission at absolutely no cost to you. Each post is carefully crafted to (hopefully!) answer all your questions and recommendations are made where we believe they will improve your trip and help with your planning. As such we thank you in advance should you decide to click, buy or book. Read our full Disclosure here.
Top 15+ Things to do in Lorne on the Great Ocean Road
Chase Waterfalls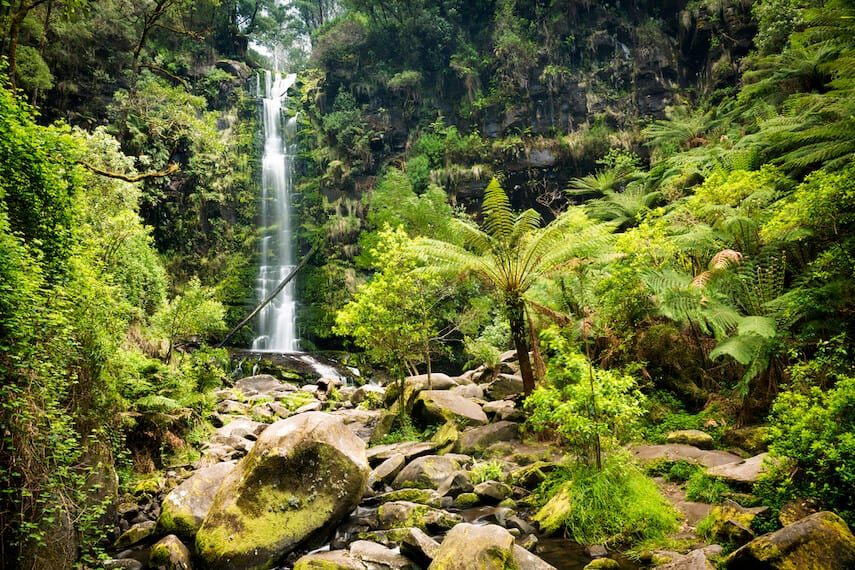 If you love hearing the crashing roar of waterfalls interrupting nature's serenity, you'll have a great time exploring the multitude of waterfalls and hiking trails around Lorne. Wander the Rainforest Trail to arrive at the beautiful Phantom Falls; or marvel at the towering Erskine Waterfall hidden within the Great Otway National Park – which is unique in as much as you can view it both from the bottom and the top of this 30m cascade!
If you're up for the challenge, consider making the trek through stunning bushland out to the Cumberland Falls (and adding Sheoak Falls & Kalimna Falls to your waterfall wish list!) Read about all the incredible waterfalls on the Great Ocean Road here.
      PLAN THE REST OF YOUR STAY IN LORNE
with our
Lorne Accommodation Guide
(with the best Lorne Hotels, B&Bs and Holiday Homes for solo travellers, couples, families & groups)
Dine Out Along Mountjoy Parade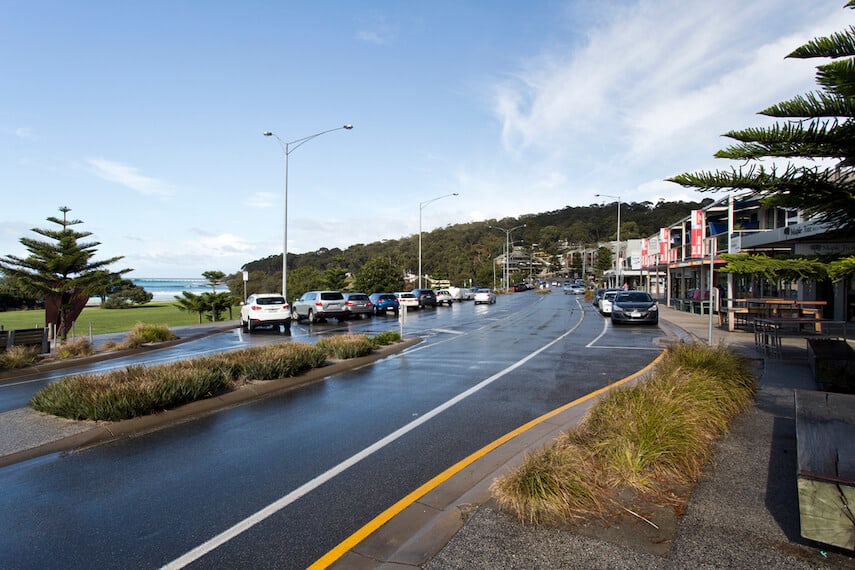 Get your tastebuds at the ready for a stroll along Mountjoy Pde, the main street in Lorne which is a favourite destination for locals and visitors alike. Packed with shops, restaurants and cafes, the street runs alongside the coast, giving you fantastic views while you enjoy some of Lorne's local flavours.
Some of our favourite eateries include Chopstix Noodle Bar, the Salty Dog Fish & Chippery and Swing Bridge Café – and you can read all about them and more in our complete guide to the Tastiest Restaurants in Lorne. I'm sure there will be something on our list to satisfy any of your cravings!
Lorne Visitor Information Centre and Great Ocean Road Heritage Centre
The Lorne Visitor Information Centre is a great place to drop in while in Lorne. The centre is a hub for information, both past, and present, about the town; and lists all the local events and festivals happening within the region. There is also a permanent exhibit curated by the Great Ocean Road historical society to help you learn more about how the road came to be, why it was built and the historical figures who made it possible.
Take in the View from Teddy's Lookout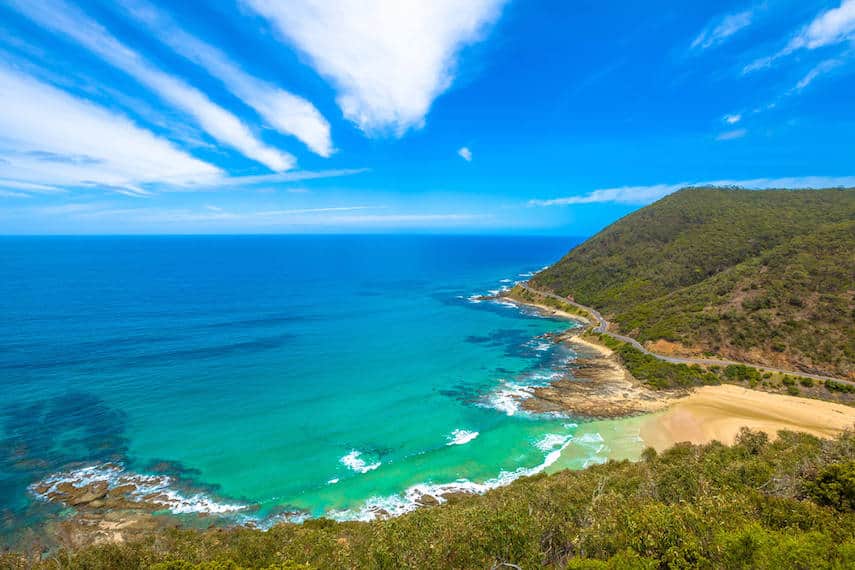 Take a leisure drive along George Street to reach the famous Teddy's Lookout. As if Lorne isn't scenic enough, the lookout gives you one of the best views overlooking the Great Ocean Road. There is plenty of room to relax and take in the views on one of the two lookout platforms – be sure to check out both levels to find your favourite view!
If you've been waiting for the perfect photo opp, now is the time to get out your phone (or camera!) for your social media – and don't forget to tag #gorguide to be featured on our Instagram!
Go Surfing at Lorne Beach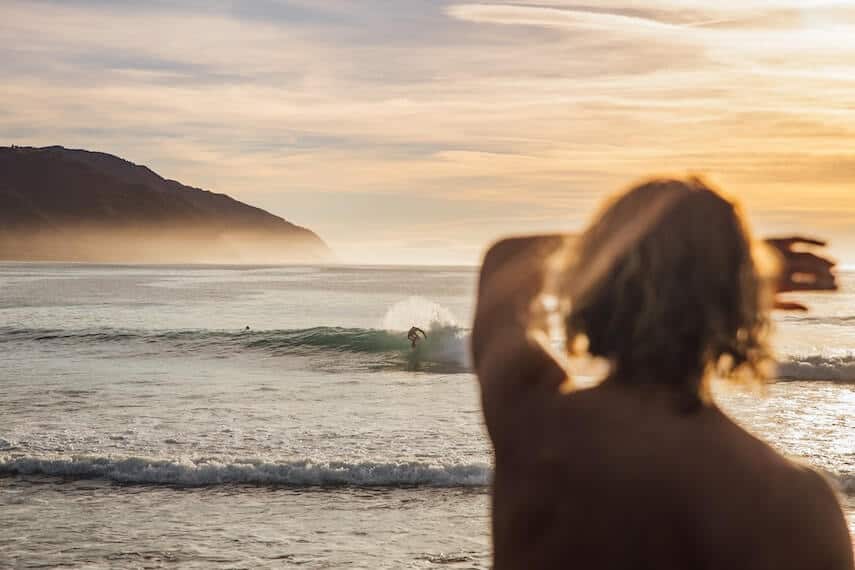 As you can imagine for a coastal town, there are several beaches to choose from. Lorne Beach (or Main Beach) is a local favourite for lounging around or catching some of the best waves off the coast. Running parallel to the Great Ocean Road, extending for approximately two kilometres there is plenty of pristine beach sand to stretch out, whether travelling as a family or with your pet.
Lorne Beach is an ideal surfing location for everyone, from beginners to experts. It seems like the waves are always just right to make any day great for a surf. Bring your own gear or stop by one of the beachside equipment rental spots to suit up and hit the waves. You can even sign up for surf lessons at one of the local beach clubs so you'll be hanging 10 in no time. And with the surf lifesaving club patrolling in summer, you know you're in the best hands as you enjoy the Southern Ocean.
Enjoy a Picnic at Louttit Bay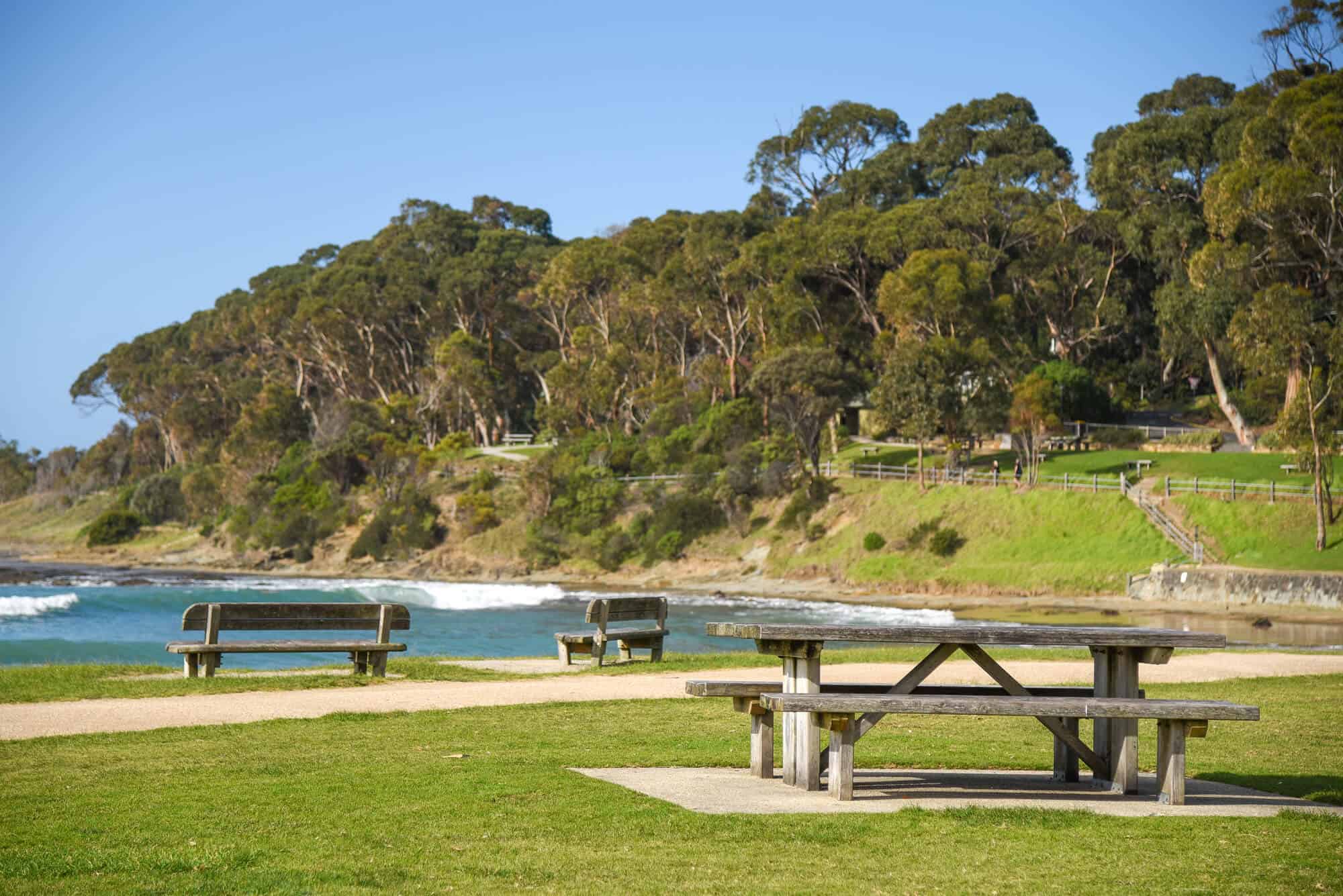 Nobody wants to stay indoors in a place as beautiful as Lorne – especially when it's time to eat and relax. Besides, there's plenty of fantastic spots around Louttit Bay designed for the perfect picnic. With Yasin Hill picnic area near to the pier and Teddy's Lookout overlooking the Bay, or one of the many picnic areas right on the shorefront – you just need to decide which incredible view of the ocean you want to dine next to!
Wine Tasting at St. Anne's Winery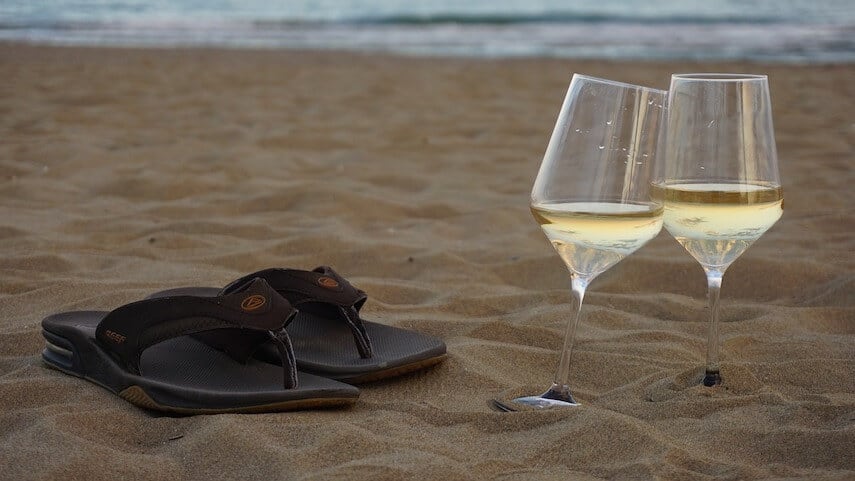 All of the wine enthusiasts will be glad to know that the Great Ocean Road is increasingly becoming known as one of the premier wine regions of Victoria. And while the vineyards themselves are more inland and in the Otway Ranges, St. Anne's Winery cellar door is right in the heart of the action on Mountjoy Parade Lorne and can deliver a vineyard-to-table experience for the discerning foodie. Tasting award-winning wines while enjoying magnificent views of Lorne Beach – what's not to love?!
Go fishing on Lorne Pier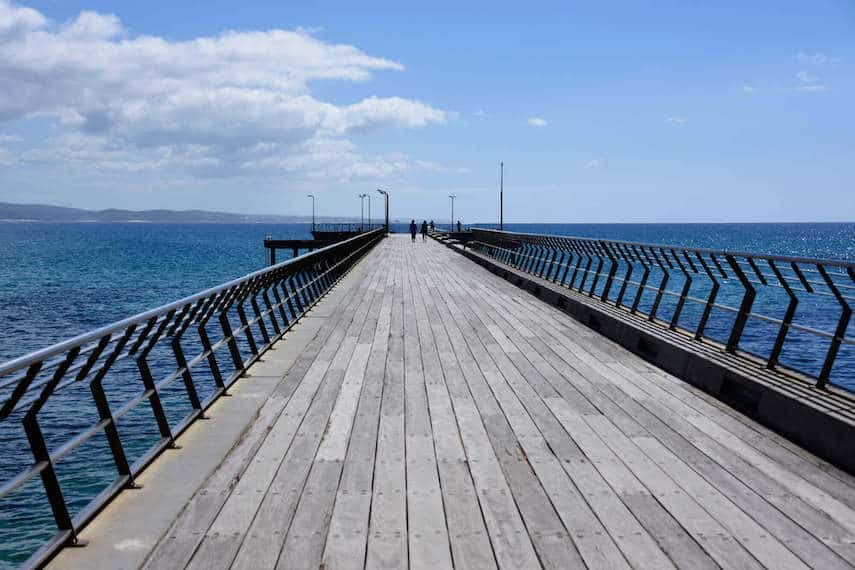 Lorne Pier allows a glimpse into the seaside town's history, while enjoying modern-day pleasures. Head down to the pier to discover part of the roots of Lorne, and hear stories from the local fisherman (if they're in the right mood for a yarn!)
The original Lorne Pier was built in 1879, primarily used for unloading supplies for the town. It became a popular fishing site with the booming local fishing industry. Today, locals enjoy leisure fishing and always welcome visitors to join in on the fun. Morning or evening for the best times to catch, with common fish like salmon and snapper on the menu alongside more exotic creatures like squid or gummy sharks.
Explore the Great Otway National Park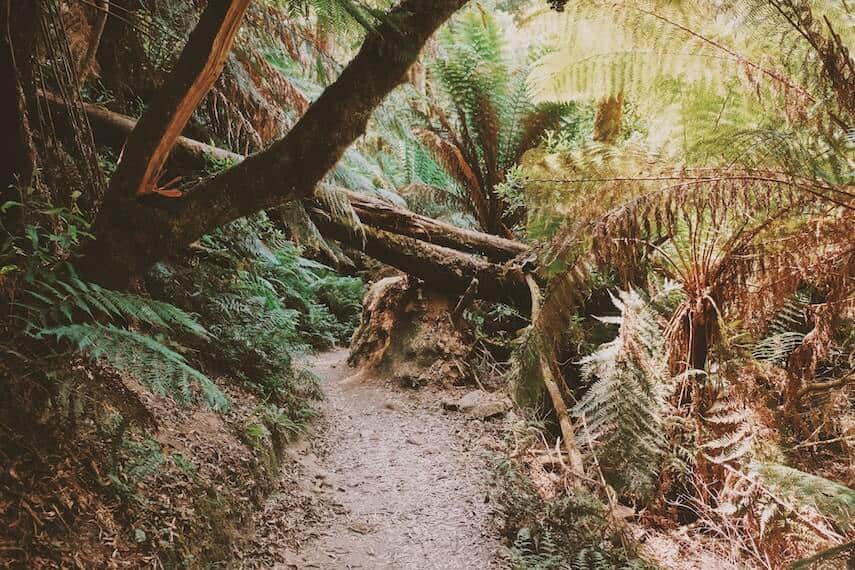 Whilst chasing waterfalls is one of the great outdoor activities to explore the Great Otway National Park as we mentioned above, there are plenty of other wonderful reasons to grab your hiking boots and explore the region's best national park. Ever since it was established in 2005, it's become a favourite with hikers and lovers of the outdoors, while all the time preserving a delightful slice of Australian nature.
If hiking isn't your thing, the trails are also perfect for horseback riding or biking, and if you want to fully immerse yourself in the park, there are a couple of campsites where you can spend a night (or two, or three!) to surround yourself with nature.
Lorne Sea Baths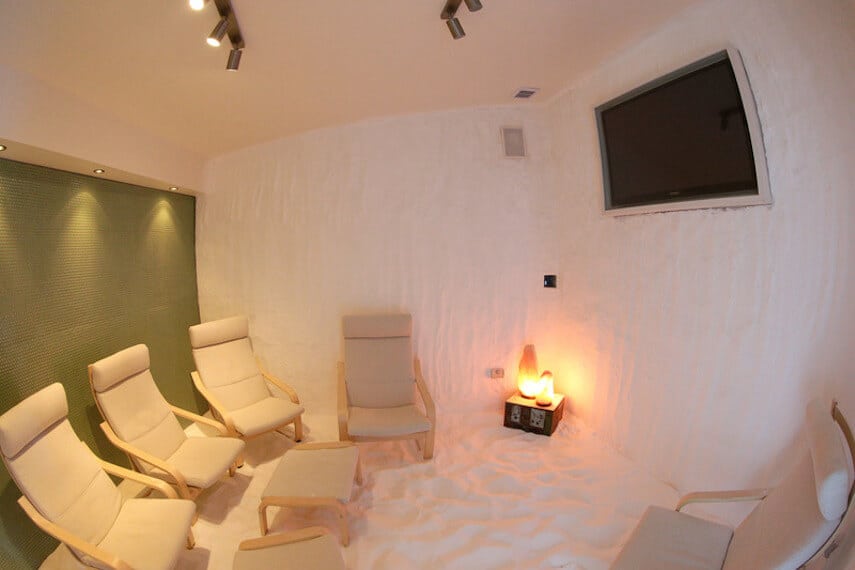 Lorne Sea Baths is a seaside haven for Wellness and relaxation of your Great Ocean Road adventure. Besides the main swimming pool and gym, they also offer Hydrotherapy, Salt Therapy, Yoga & Massage. With all the things you need for an afternoon of relaxing – it's easy to see why It's one of the top activities in Lorne for stressed and overworked visitors!
Memorial Arch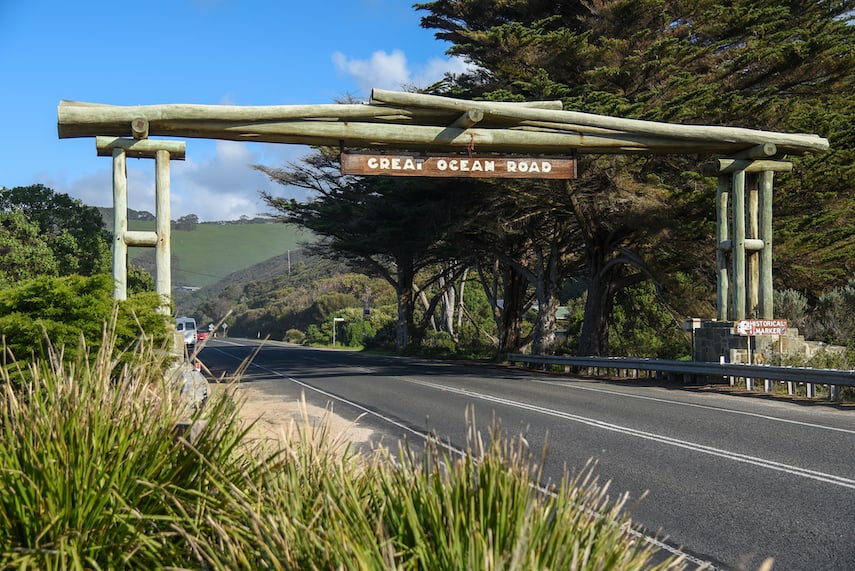 Just a short 15-minute drive along the Great Ocean Road (back towards Aireys Inlet and Anglesea) is the Great Ocean Road Memorial Arch. One of the most photographed points on the whole 243km stretch, the arch was built to honour those soldiers who fought and gave their lives in service of their country during World War I. It is, in fact, the world's largest war memorial.
It was built by approximately 3,000 returned soldiers who worked on the road following their involvement in World War I and was started in 1919 and completed in 1932. Although due to the perilous nature of the work, several workers lost their lives during the road's construction.
The Great Ocean Road story is featured on boards around the site, and there is also a sculpture of two returned soldiers working on the road that was commissioned to mark the 75th anniversary. As advised, it is one of the most popular spots on the road – be sure to try and avoid it mid-morning when you will have to share the area with the bus tour buses that arrive from Melbourne (especially during the school holidays!)
QDOS Arts
View this post on Instagram
QDOS Arts encompasses curated art spaces including a gallery, cafe and sculpture park. The QDOS Fine Art Gallery hosts 10 solo exhibitions annually and is not only a calming space above Lorne on Allenvale Road, but is also the epicentre of Lorne's vibrant art and culture scene.
Things to do in Lorne with Kids
Rockpools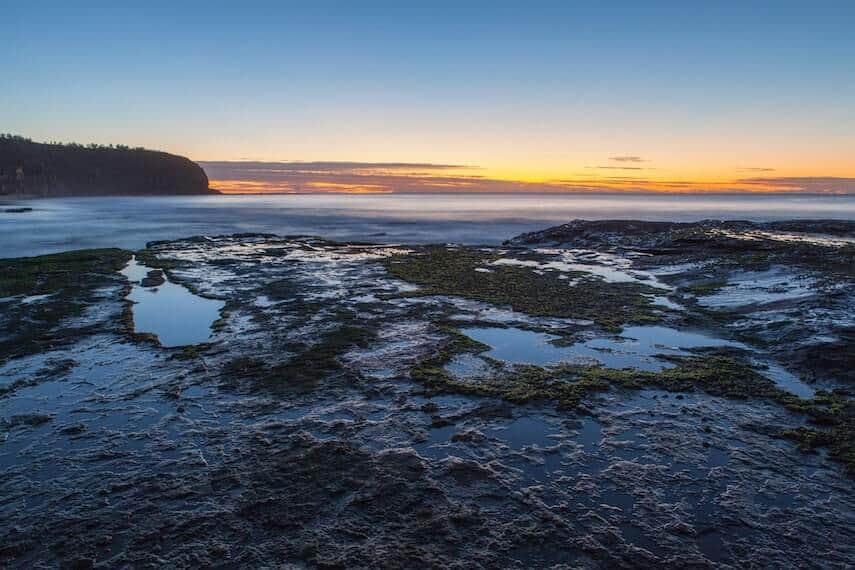 At the end of Lorne Main Beach, there are plenty of rockpools for kids to scramble about in in search of sea creatures. Just remember to remind your children to wear appropriate footwear to avoid cuts and scrapes, and if they pick anything up, it should be replaced once they've had a quick look. In the case of crabs (for example), they will have picked out that particular spot and it's not fair to inadvertently remove them from their home.
Gentle Annie Berry Gardens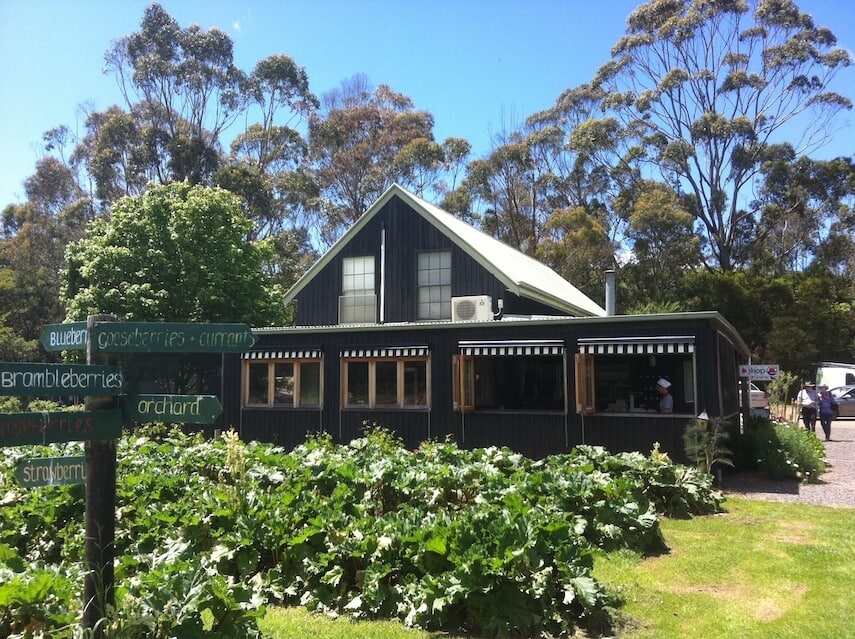 Just behind the hustle and bustle of Lorne, the Gentle Annie Berry Farm is a pick-your-own berry farm nestled in the midst of the picturesque Pennyroyal Valley. Kids will enjoy filling up their baskets with fresh fruit – and have even more fun helping you cook them up in the kitchen later! – plus there's a farmhouse style cafe for an array of berry themed treats and local cheeses to snack on after all your hard work.
Skate Park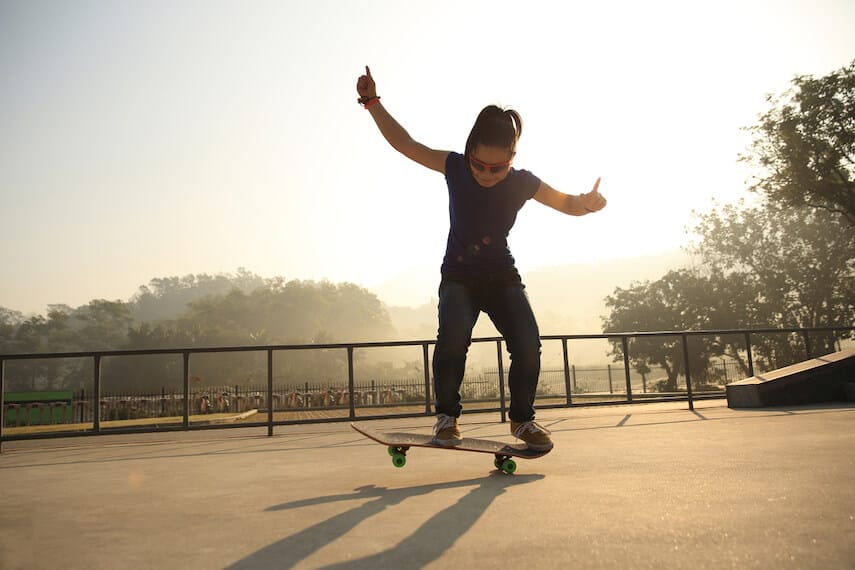 Lorne Skate Park is a community lead initiative which officially opened in June of 2005 and is sponsored by the Lions Club of Lorne. With a street course and both a deep and shallow bowl, the Skate Park in Lorne Victoria a great area for kids to let off some steam and is suitable for skaters of all abilities.
Lorne Sea Baths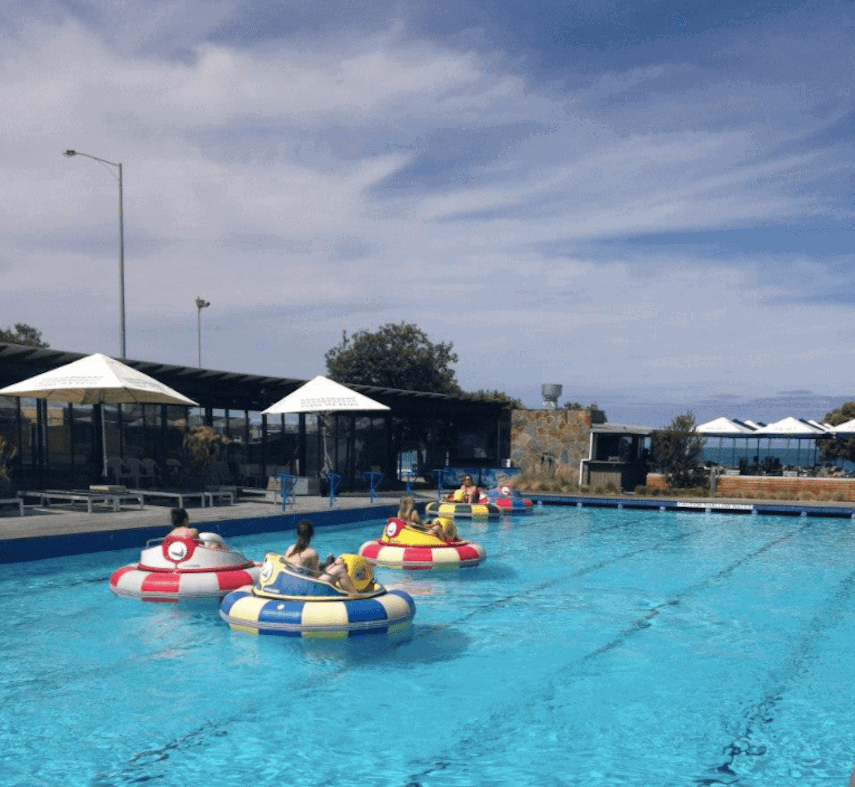 Whilst we highlighted what a great spot Lorne Sea Baths are for a spot of relaxing, they are also a great place to keep the kids entertained. With trampolines, bumper boats and mini-golf, there's hours of entertainment to be had.
Adventure Fun at Live Wire Park
View this post on Instagram
Get your adrenaline pumping when you check out the Live Wire Park, an amusement park in nature. Live Wire Park blends the thrill of rides while letting you enjoy the outdoors in a series of obstacle courses. As soon as you enter the park, the friendly staff will get you set up on the course of your choice. Choose between easy to more difficult courses to test your agility. Each course will take you through a variety of obstacles such as treetop climbing, a rock climbing wall, free fall, and a speedy zip line experience to end it.
You can spend a few hours testing your skills and the kids (big and small!) will surely enjoy themselves.
Glow worms @ Kennett River
Just a short drive from Lorne, the Grey River Picnic Area is the least well known of the four glow worm hotspots on the Great Ocean Road (because it offers slightly less chance of a glow-worm show) but, it is worth checking out if you have an evening free in Lorne and don't mind a 30-minute drive.
From Kennett River (on the Great Ocean Road), turn off on Grey River Road and drive for around 6 km, keeping an eye out for koalas on the way, until you reach the Grey River Picnic Area. Once it gets dark enough, walk back along the road you came in on and cross the bridge. If conditions are right, you'll see thousands of tiny glowing dots emerge on the embankments surrounding the bridge.
We hope you enjoyed our guide to The Best Things to do in Lorne! Let us know which ones you have added to your holiday to-do list, or if know of a place that should be added to this guide, let us know in the comments below.
And if you know someone planning on visiting Lorne, or just needs a little push to organise a holiday on the Great Ocean Road, be sure to share this post (and others!) with them using the share boxes below. Sharing is caring and we very much appreciate everyone who helps spread the word about how great the Great Ocean Road – and the towns along it – actually are!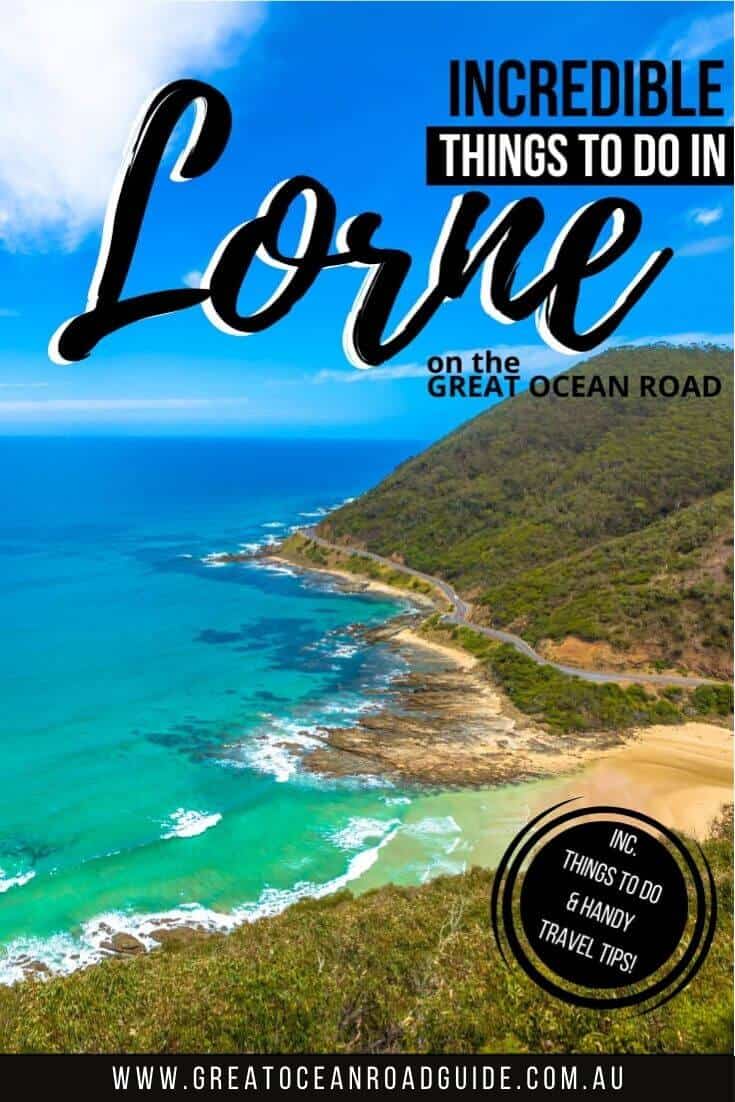 READY MORE GREAT OCEAN ROAD TRAVEL INSPIRATION? YOU MIGHT BE INTERESTED IN THESE TRAVEL TIPS, TRAVEL ARTICLES, DESTINATION GUIDES AND RELATED POSTS ABOUT OUR AMAZING COAST ROAD:
Hi There! Thanks for reading our travel guide to the Top 15+ Things to do in Lorne Great Ocean Road Victoria. I just wanted to let you know that this post may contain affiliate links, which means if you purchase something after clicking a link, I may get a small commission – which is at absolutely no cost to you. If you enjoyed this article and are going to be searching for some of the things I mention anyway, I would love it if you could click through from the links above & thank you in advance! Read my full disclosure here.