If you are looking for an Amazing Great Ocean Road AirBnB to stay at during your Great Ocean Road adventure, you have come to the right place!
As one of the world's most scenic drives with plenty of places to stop off along the way, including magical waterfalls, some of the best surfing beaches in Australia and a host of breathtaking attractions, a visit to the Great Ocean Road is an experience you want to remember forever.
With so many unique things to see and do on your road trip, we know you are not going to want those special memories to end with your accommodation. Which is why we have compiled a guide to our top 20 Airbnb's to stay at right the way along the Great Ocean Road. From stylish beach houses to unique cottages, you are going to want book one, if not more of these extra special Great Ocean Road AirBnB holiday homes.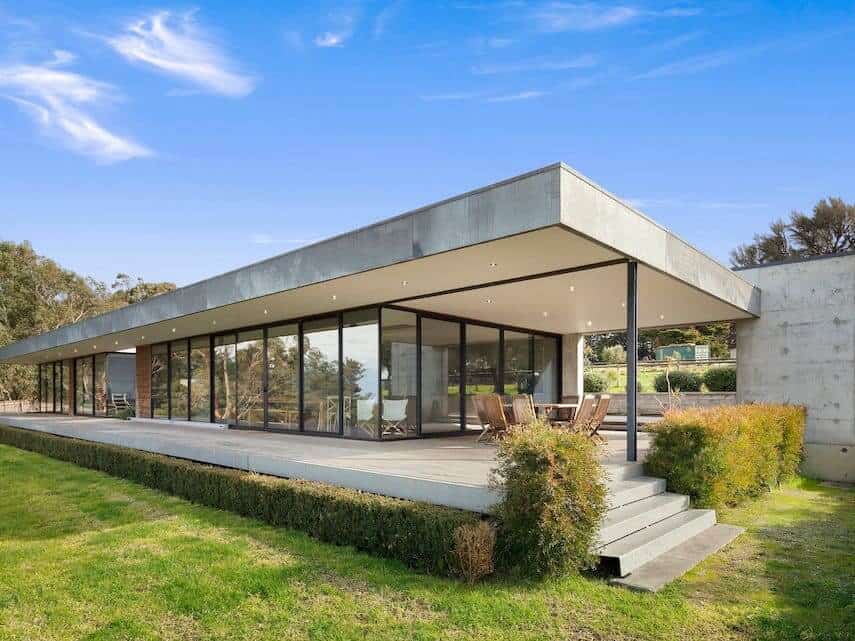 Disclaimer: Almost all posts on this site contain affiliate links. This means that if you click on any of the links in our travel guide to the BEST Great Ocean Road AirBnBs (and make a booking) we may receive a small commission at absolutely no cost to you. Each post is carefully crafted to (hopefully!) answer all your questions and recommendations are made where we believe they will improve your trip and help with your planning. As such we thank you in advance should you decide to click, buy or book. Read our full Disclosure here.
20 of the Very Best Great Ocean Road Airbnb's
*We are AirBnB Associates. All images are used with their permission & we may get a small commission if you book through our links (at no cost to you).

South Beach Hideaway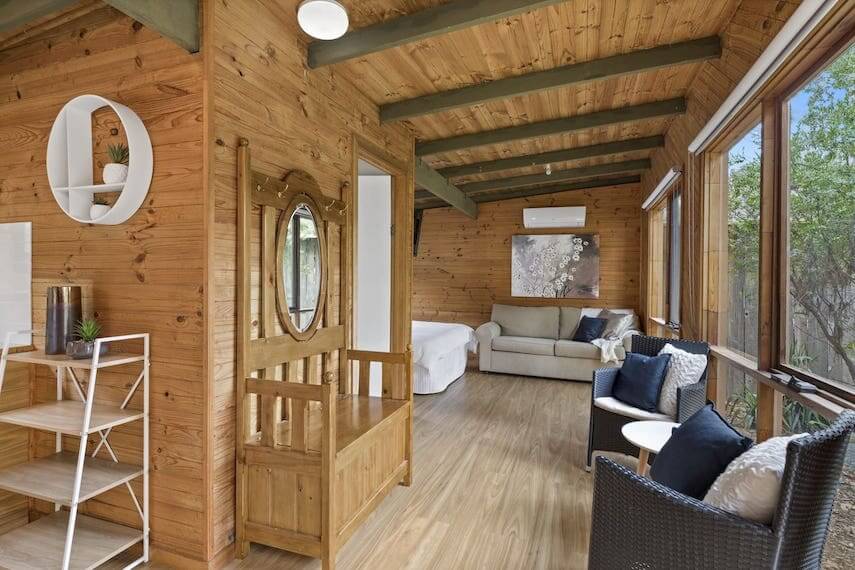 Location: Torquay | Sleeps: 2-3
Best for: Romance; pet friendly
Facilities: Kitchen, Air-Conditioning, Wifi, Free Parking
The perfect place to escape the crowds, the South Beach Hideaway in Torquay an ideal accommodation choice for couples (and their dog) who want to explore the local area but also the benefit from their own private haven. This property is beautifully styled and boasts a large deck with outdoor seating and BBQ area and is just a short distance from the iconic Bells Beach. Book South Beach Hideaway here.
Surfers Shack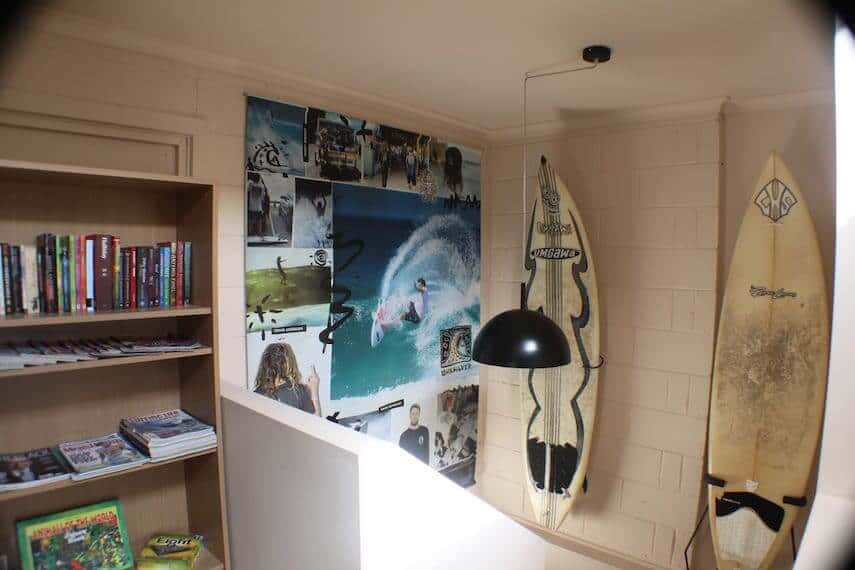 Location: Jan Juc | Sleeps: 4
Best for: Couples, family-friendly
Facilities: Kitchen, Air-conditioning, Linen, Free Parking
The Surfers Shack in Jan Juc, along the "golden mile", is the dream place to stay for surfing fanatics. Featuring two bedrooms, a fully-equipped kitchen and private deck, this cozy apartment is just a short walk to the beach and has been lovingly decorated with surfing memorabilia for a truly unique touch. Book the Surfers Shack here.
Beachside Round House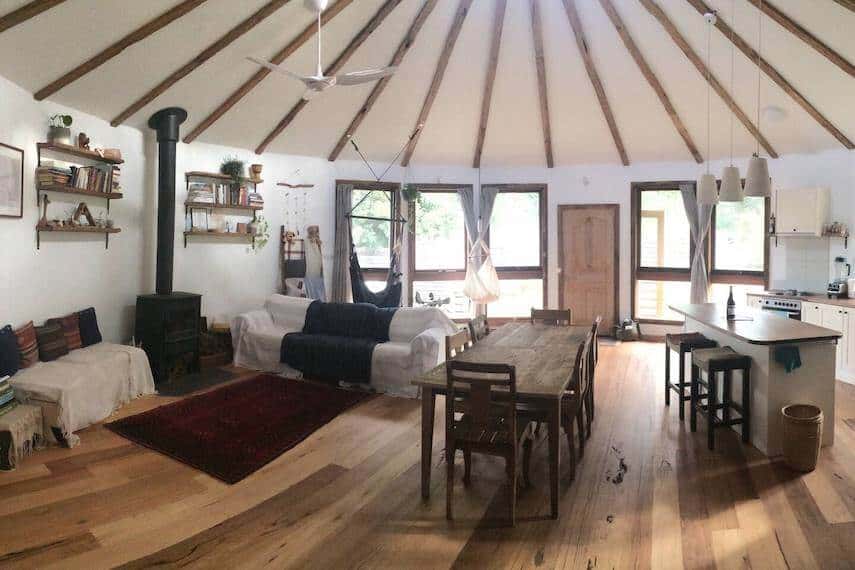 Location: Anglesea | Sleeps: 4
Best for: Unique stays, family-friendly
Facilities: Kitchen, Fireplace, Linen
This stunning beachside round house is a wonderful opportunity for those looking to experience an exclusive eco-retreat in Anglesea. Built entirely from recycled materials, this yurt was constructed with families in mind, featuring three bedrooms and an open plan living area, making it a wonderful space to enjoy a family meal and cozy up around the log burner. Book this Beachside Yurt here.
Hallidays Anglesea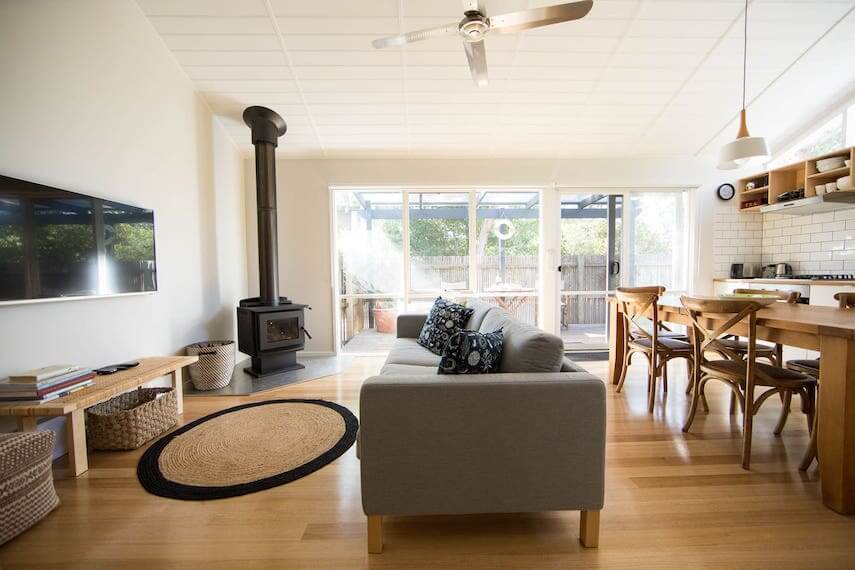 Location: Anglesea | Sleeps: 2
Best for: Romantic; Wood Burner
Facilities: Kitchen, Air-Con, Wifi, Free Parking, Linen
Tastefully styled throughout with modern pieces and decor that is sparkling clean, Hallidays Anglesea is a great escape for couples. Featuring a private recently renovated apartment with an outdoor shower that's walking distance to the beach, local attractions and Anglesea's Best Cafes, Bars and Restaurants, you will have everything you need for a relaxing break. Book Hallidays Anglesea here.
Isabel's Cabin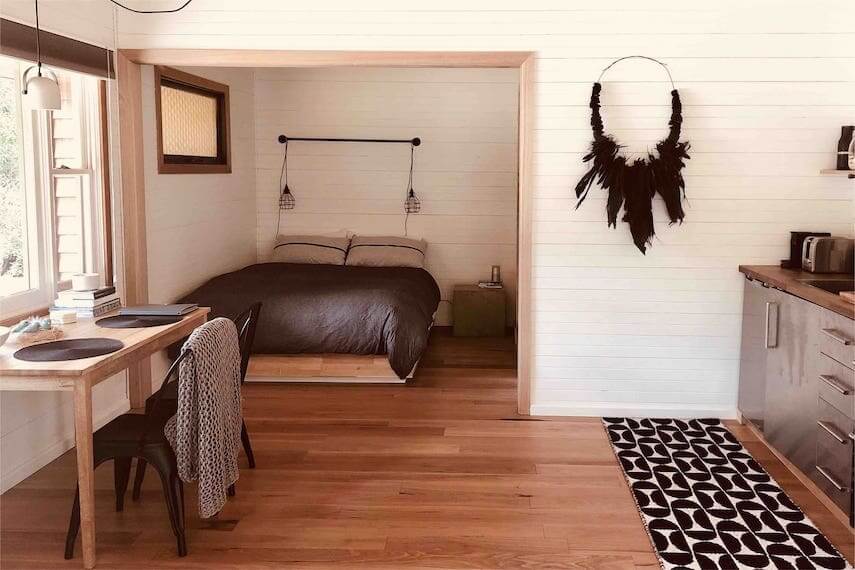 Location: Aireys Inlet | Sleeps:  2-3
Best for: Pet friendly; Romantic
Facilities: Wi-fi, Indoor Fireplace, Linen, BBQ
A beautifully styled open plan cabin for you to experience the peace and calm of Aireys Inlet. Featuring a fire pit and BBQ area outside, enjoy the sound of the waves and call of the kookaburras. All within easy reach of local restaurants and attractions, your four-legged friends are welcome too at Isabel's Cabin (but are counted as a guest).
The Deck House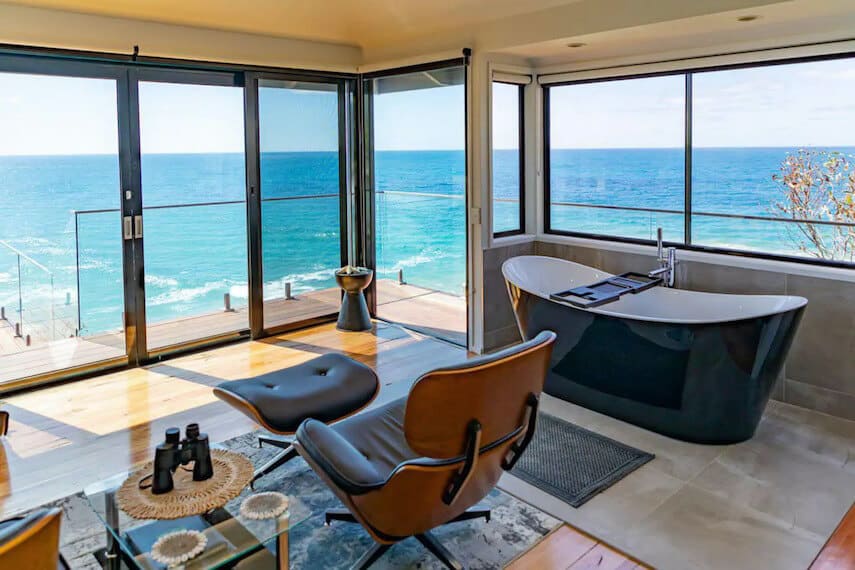 Location: Wye River | Sleeps: 2
Best for: Couples, Luxury.
Facilities: Kitchenette, Linen, Air-Conditioning
Perched above the tranquil waters of Wye bay, The Deck House boasts the most exhilarating, uninterrupted, stunning views along the entire South West Victorian coastline. As much an experience as it is a place to rest your head, guests are treated to a combination of natural wonder, modern amenities, romance and above all, privacy. It's easy to see why it's one of the most incredible vacation rentals on the Great Ocean Road. Book The Deck House here.
Family Bush House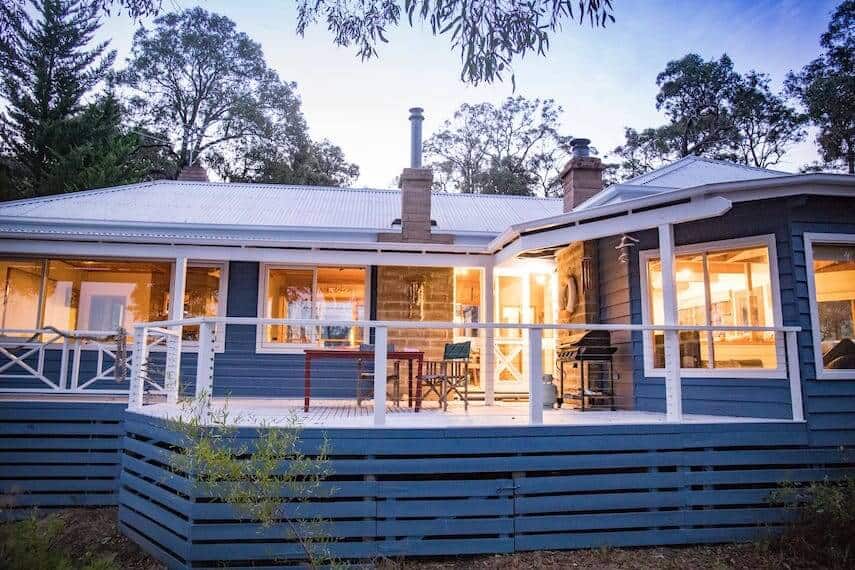 Location: Fairhaven | Sleeps: 8
Best for: Groups; family-friendly; views; pet friendly
Facilities: Wi-fi, Kitchen, Wood fireplaces, Linen & Free Parking
Grab your friends and family for a chance to get back to nature at the Family Bush Home in Fairhaven. What could be more relaxing than being surrounded by the Australian bush, coupled with stunning views of the ocean and Split Point Lighthouse? Offering an entire guest suite and sleeping up to eight guests in king beds + one set of bunks, there is plenty of space for everyone to enjoy. Add in Netflix, Foxtel and a speaker set up just begging for your favourite Spotify playlist and the Family Bush Home is a great opportunity for a fun-filled group gathering.
Blue Wren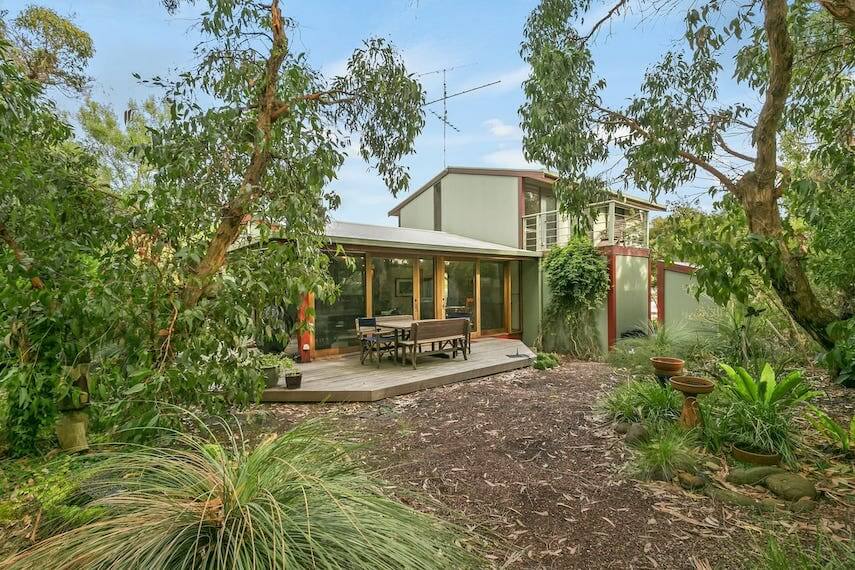 Location: Moggs Creek | Sleeps: 8
Best for: Family friendly; nature lovers
Facilities: Kitchen, Indoor Fireplace, Heating & Air Conditioning, Nespresso Mini (BYO Pods)
This isn't just any ordinary beach house. Nestled in Moggs Creek and a 5 minute walk to Moggs Creek Beach, Blue Wren is a modern property that sleeps up to eight guests and boasts open plan living. It is also a playground for the local native bird species, that can be enjoyed from the properties courtyard. Book Blue Wren here.
Lorne Surfdogz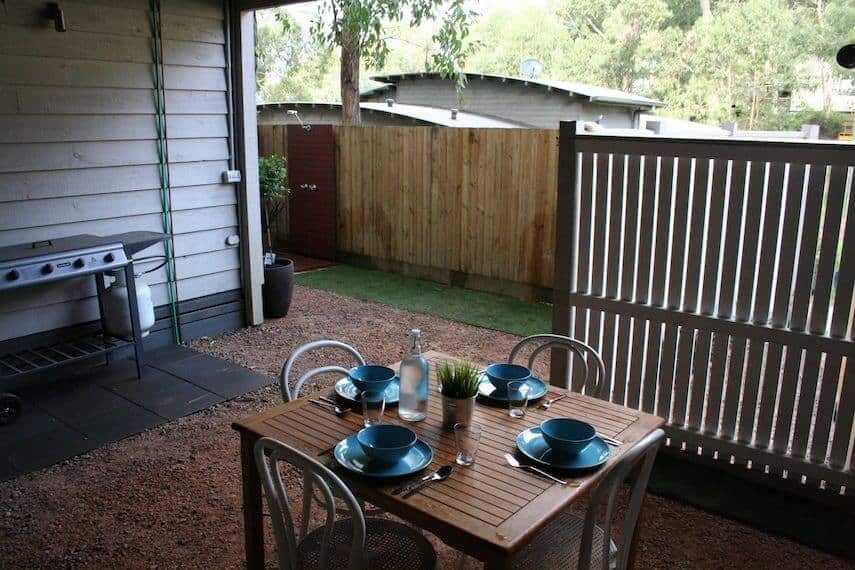 Location: Lorne | Sleeps: 2
Best for: Pet friendly; couples
Facilities: Wifi, Heating & Air-Conditioning, BBQ, Linen & Towels
The Surfdogz one bed apartment is conveniently located within a 10 minute walk of both the beach and the centre of Lorne. Facilities include a kitchenette, BBQ and spacious living area, this is an ideal accommodation choice for dog lovers with a fully enclosed outdoor space for you to enjoy and relax in. Book Lorne Surfdogz here.
Beach Box 20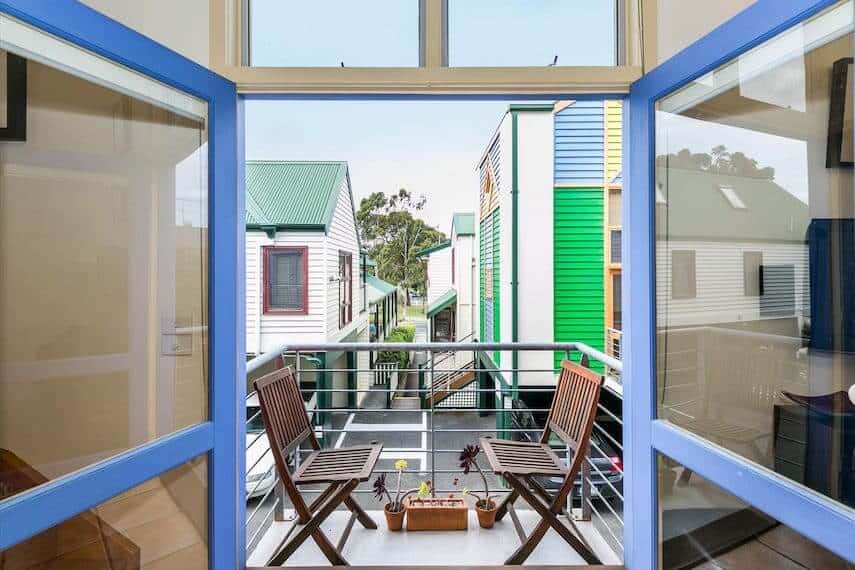 Location: Lorne | Sleeps: 4
Best for: Family friendly; romantic; unique stay
Facilities: Kitchen, Heating, Linen & Pet-friendly
You cannot miss the colourful beach boxes in the heart of Lorne and at Beach Box 20 you have the opportunity to enjoy your very own little townhouse. Whether it's a romantic break or a family holiday you are organising, this modern property / entire apartment rental even has a private balcony for you to enjoy the views of this historic town. Book Beach Box 20 here.
Little Ivy Cottage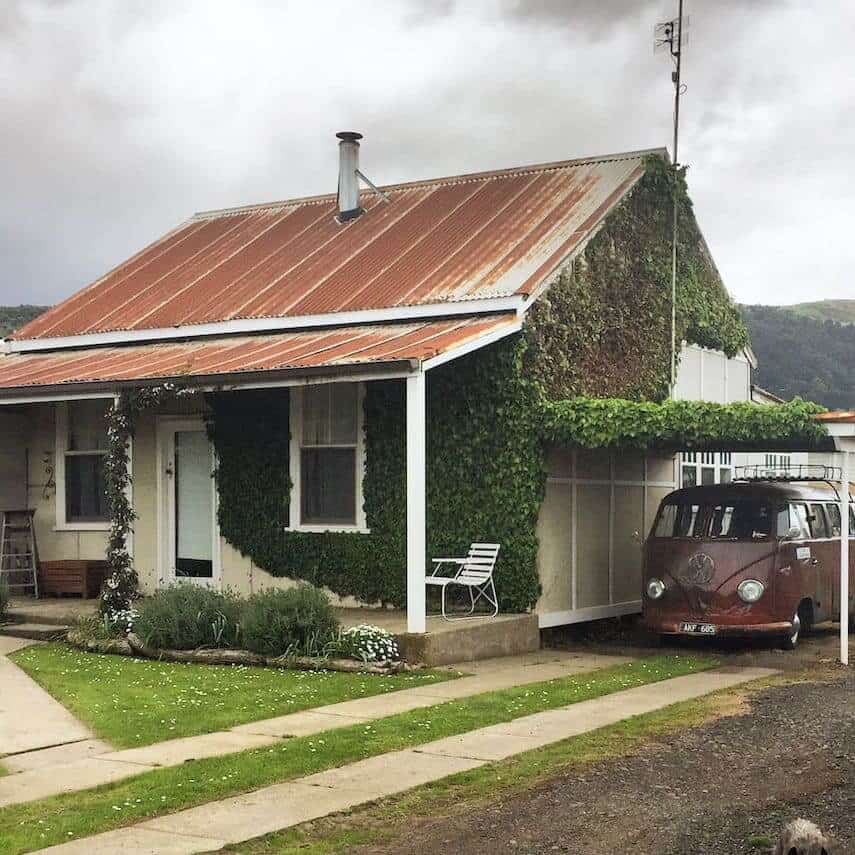 Location: Apollo Bay | Sleeps: 2
Best for: Romantic; history lovers
Facilities: Wifi, Linen, Kitchen
This charming cottage in Apollo Bay embraces its history with carefully selected interiors making it a stylish accommodation choice. Couples will love staying here for its log burning stove and convenient location to Apollo Bay beach and centre of town with its cafes and shops. Space is also not an issue with parking and a large backyard for you to enjoy. Book Little Ivy Cottage here.
Captain's Quarters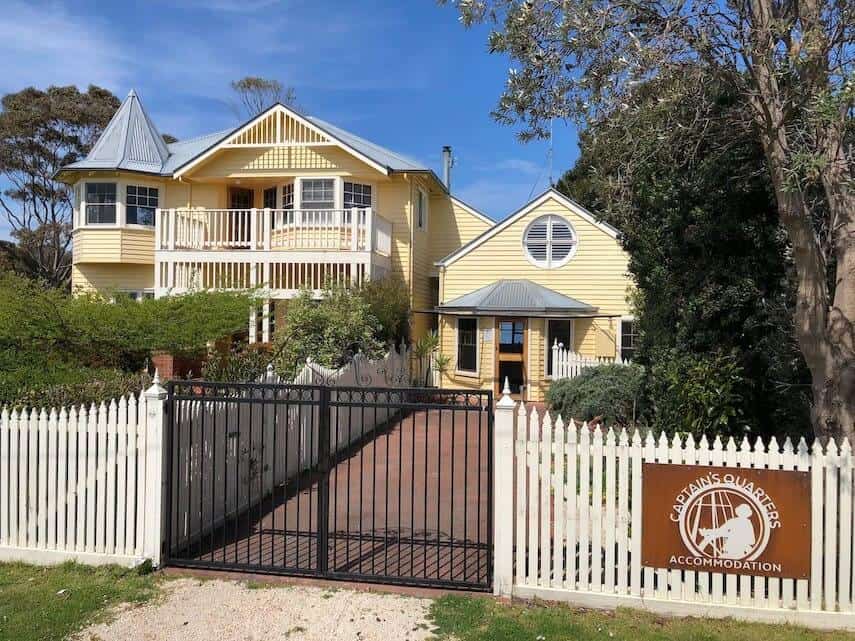 Location: Apollo Bay | Sleeps: 4
Best for: Couples; family-friendly
Facilities: Kitchenette, BBQ, Microwave, Wifi
You won't miss this stand out property, within easy reach of Apollo Bay's main street and close to shopping and some of Apollo Bay's Best Restaurants. Luxury at its finest, up to four guests can enjoy this holiday home with two bedrooms and a fully-equipped kitchenette for a carefree break exploring the local area, and which is just a short walk from the beach. Book Captain's Quarters here.
Cypress Hill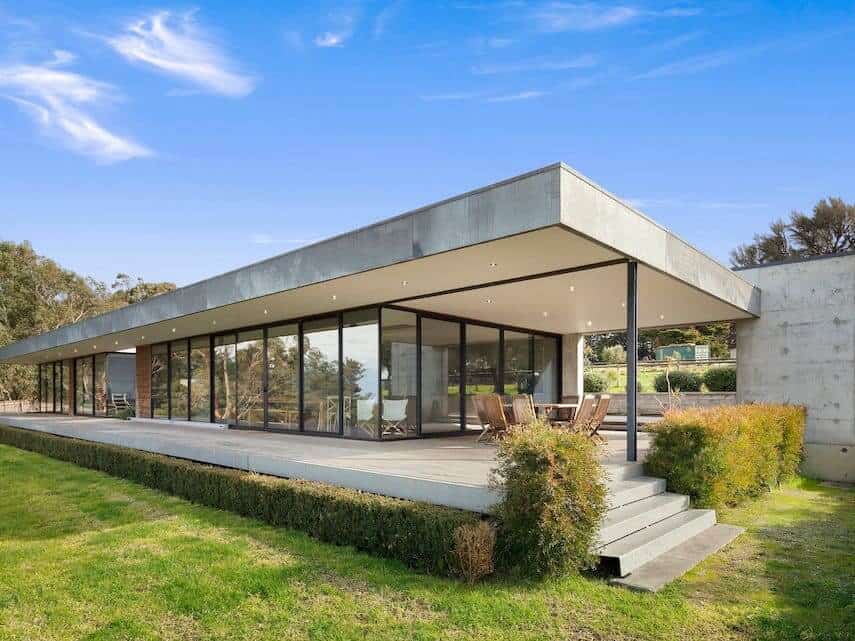 Location: Marengo | Sleeps: 8
Best for: Luxury; groups; family-friendly
Facilities: Kitchen, Air Conditioning & Heating, Indoor Fireplace, Linen
Prepare to be wowed during your stay at Cypress Hill in Marengo (5km from Apollo Bay and approx 80 minutes driving to the Twelve Apostles). This spacious entire guesthouse property sleeps up to 8 guests, making it the ideal choice for large groups; and is one of the most visually beautiful AirBnBs on our list.
Cypress Hill also boasts its very own pool table and southern ocean views for you to enjoy, along with floor to ceiling windows throughout providing amazing natural light inside and epic views of the surrounding natural landscape outside.
Treetops Terrace 10 @ C-Air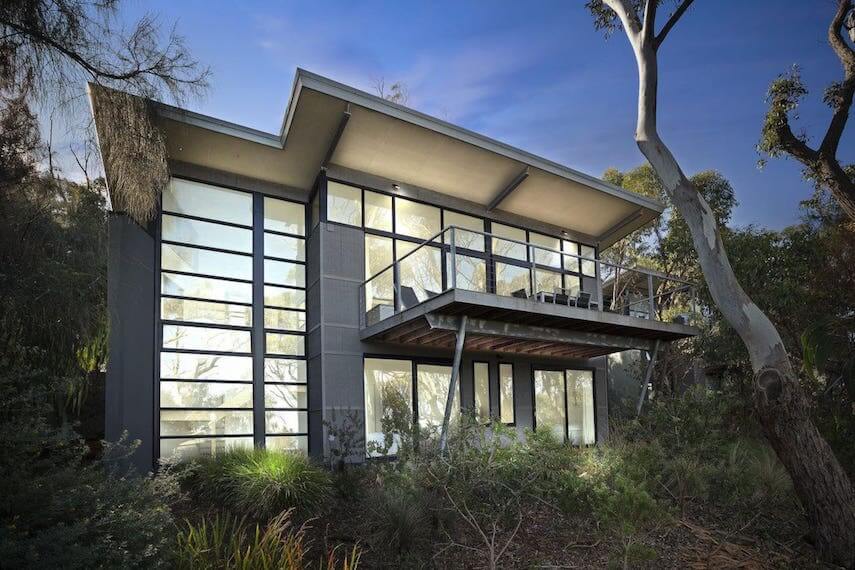 Location: Skenes Creek | Sleeps: 8
Best for: Luxury; Groups; Family-Friendly
Facilities: Kitchen, Sound System, Gas BBQ
Floor to ceiling windows with sliding doors leads onto an entertainment deck (with gas BBQ) that captures the views of the rolling Otways and the southern ocean. Grab your friends (and your bedding!) and enjoy the tranquillity of this luxurious treehouse. Book Treetops Terrace here.
Sea Glimpse Farm Stay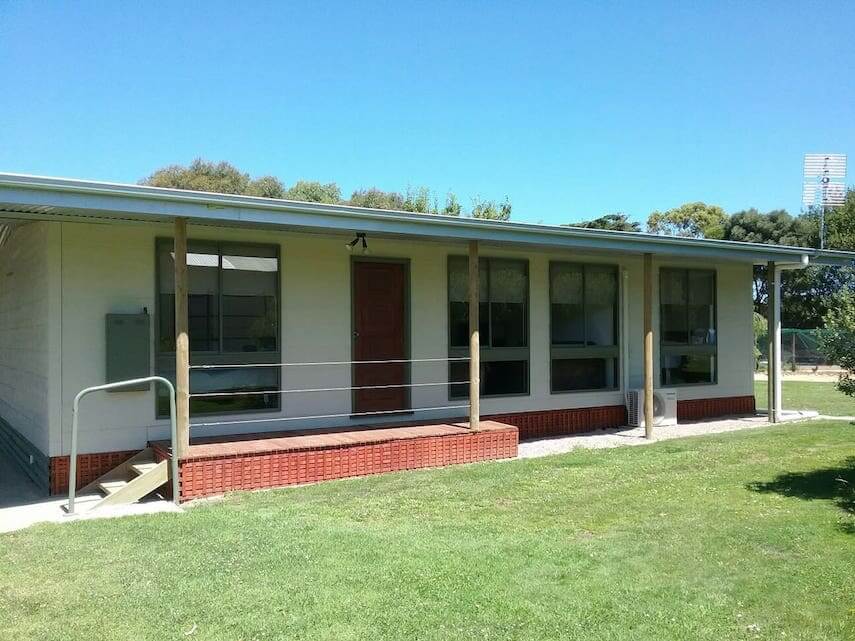 Location: Port Campbell | Sleeps: 6
Best for: Family-friendly; groups; unique stay
Facilities: Kitchen, Washing Machine, BBQ, Free Parking, Wi-Fi
Surrounded by 200 acres of farmland you and your family can enjoy the friendly alpaca's and goats as neighbours, along with the opportunity to enjoy a camel ride. Sleeping up to 10 guests, this large property has plenty of space and a fully-equipped kitchen and spacious dining area to enjoy a fun-filled get together.
This AirBnB is also a great place for large groups to base themselves for the attractions of Port Campbell National Park (inc. Gibsons Steps, Loch Ard Gorge and the Twelve Apostles) – which are some of most iconic sights on the Great Ocean Road Australia. Book your stay at this working farm here.
Overland Train Carriage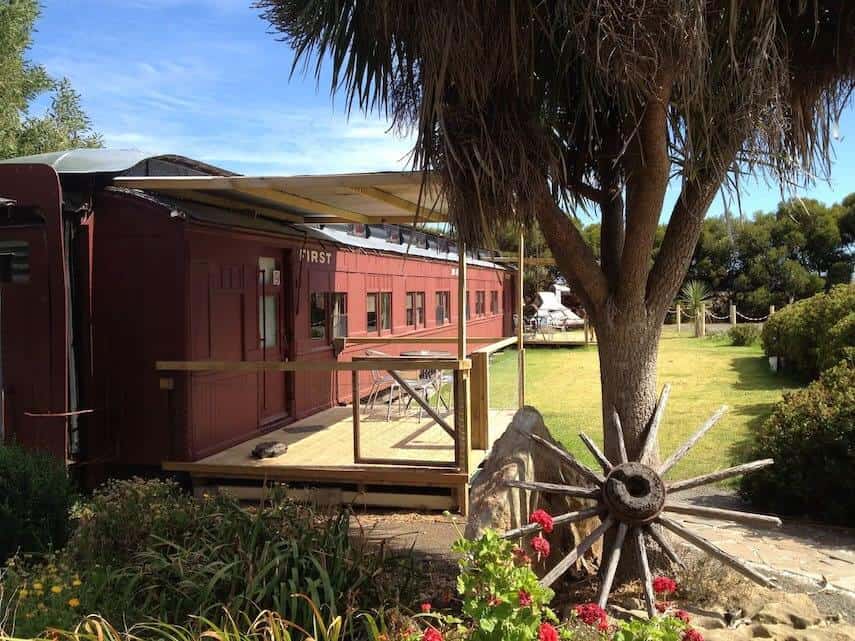 Location: Codrington | Sleeps: 2
Best for: Unique stay; romantic, pet-friendly
Facilities: Kitchen, Free Parking, Heating, Linen
Truly unique, this lovingly restored train carriage dating from 1904 makes for a beautiful stay in the picturesque area of Codrington. With an abundance of ambience, couples can enjoy their own cozy bedroom with an en-suite bathroom, kitchenette and outdoor deck area. Book your stay in the vintage Train Carriage here.
Dusting Cottage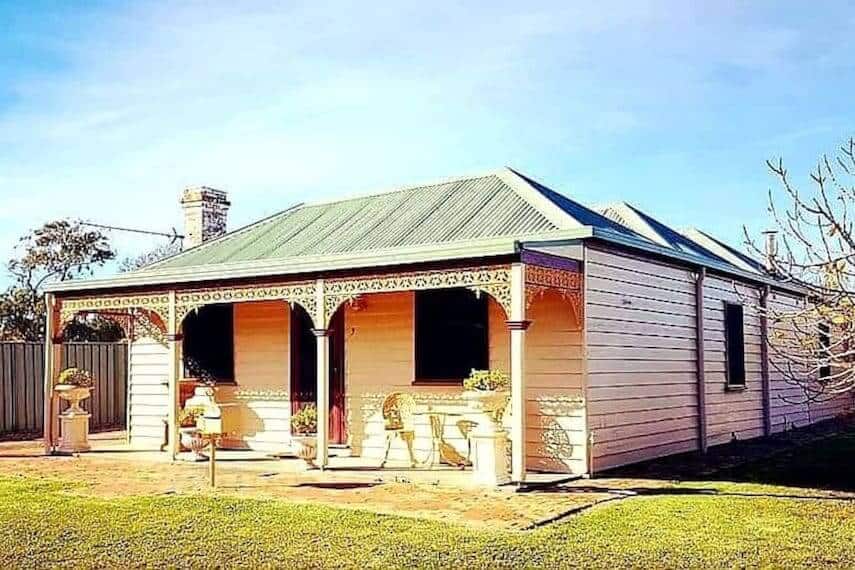 Location: Portland | Sleeps: 6
Best for: most unique stay; groups
Facilities: Kitchen, Linens, Laundry, Simple Breakfast, Free Parking (Car & Boat)
Take a step back in time at the Dusting Cottage, a fully restored spacious home dating from the 1850s. With three bedrooms, a large garden and complimentary breakfast. This property is a wonderful opportunity to experience old-world charm, alongside modern conveniences and Portland's vibrant history. Book Dusting Cottage here.
Sea Joy Studio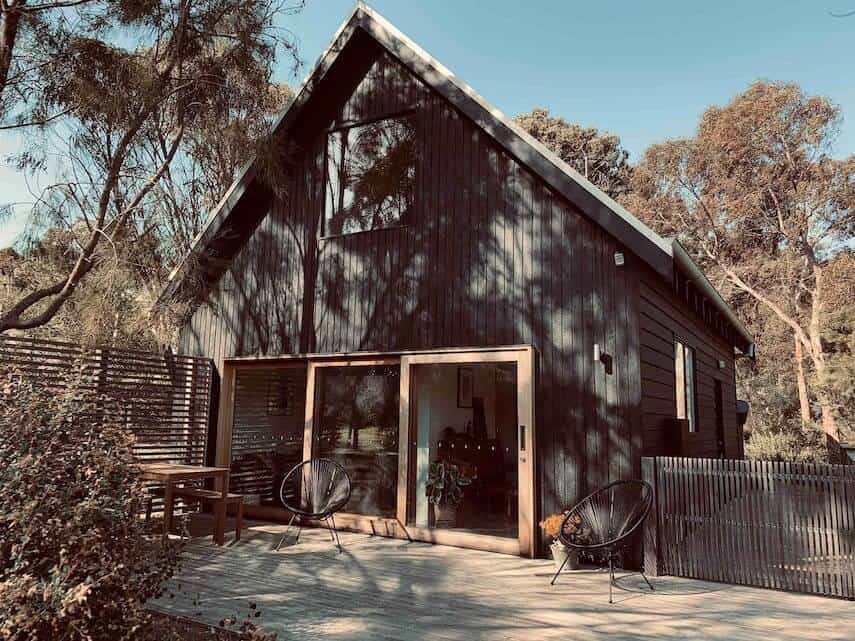 Location: Jan Juc | Sleeps: 2
Best for: Surf-lovers, Nature Lovers
Facilities: Kitchen, A/C heating, Wifi, linen.
This light and airy A-frame beach shack is what Aussie Summers are made of. Surrounded by a native garden complete with Rosellas and King Parrots (Aussie native birds if you were wondering!) this private bungalow is just a stone's throw from the iconic Bells Beach for the wave-hunters, and the start of the Surf Coast Walking Track for the wanderers.
Add in the onsite veggie garden and close proximity to nearby shops and cafes and guests have everything for the perfect Great Ocean Road getaway. Book Sea Joy Studio here.
Iluka Blue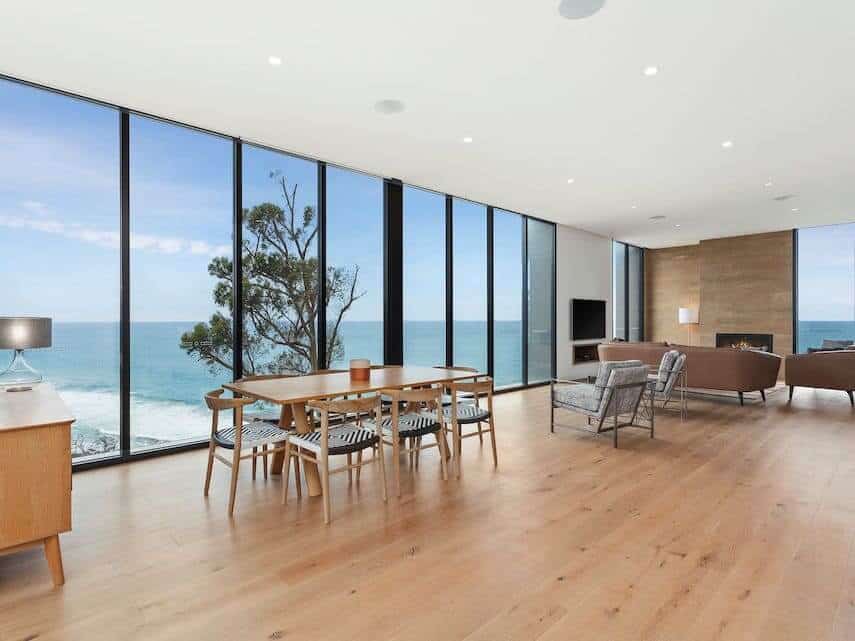 Location: Wye River | Sleeps: 8
Best for: Families, Groups
Facilities: Kitchen, Wifi, Indoor Fireplace, Air Conditioning & Heating, Linen
Sitting high on Iluka Avenue, this house was one of the first re-built after the devastating fire that ripped through the region at Christmas 2015. It is a stunning modern design home, with a homely welcoming warmth in the choice of fit out and furniture and enjoys spectacular views of Separation Creek beach, the ocean of Bass Strait and the Great Ocean Road, as well as views towards Wye River and Sturt Point. Book Iluka Blue here.
Bay Retreat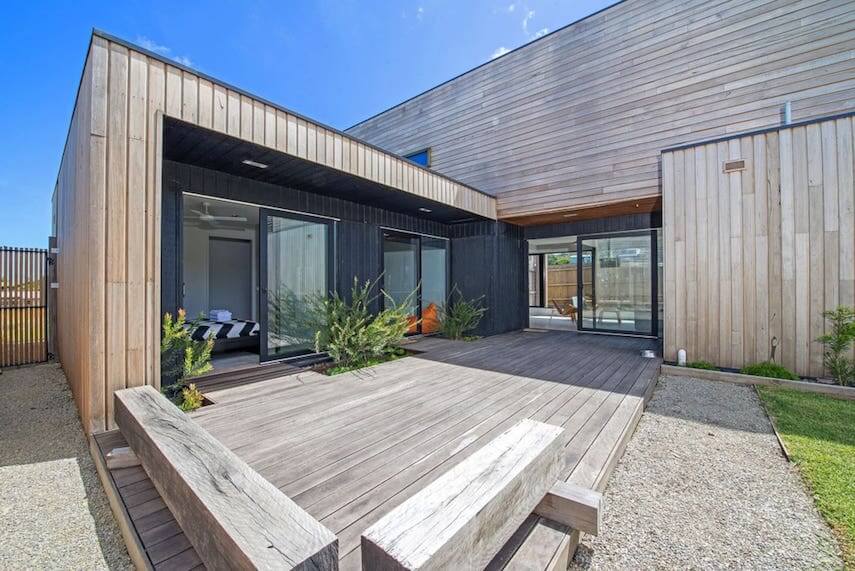 Location: Apollo Bay | Sleeps: 6
Best for: Groups, Large Families
Facilities: Kitchen, Air Conditioning & Heating, Washing Machine, Free Parking, Towels & Linen
This architecturally designed incredible AirBnB exudes modern luxury, whilst being surrounded by nature. Just a short distance from Apollo Bay, at the foothills of the Otway National Park and about an hour drive from the impressive Hopetoun Falls + Californian Redwoods, with 3 bedrooms and 3 bathrooms, it is perfect for groups of couples or large families. Book Bay Retreat on the AirBnB website here.
Didn't we say these Great Ocean Road AirBnB homes were special? We had a pretty hard time choosing which of these places is our favourite and we would love to know what you think!? Let us know in the comments below and if you have been lucky enough to try any of these little gems out, don't forget to tell us what you thought of them too.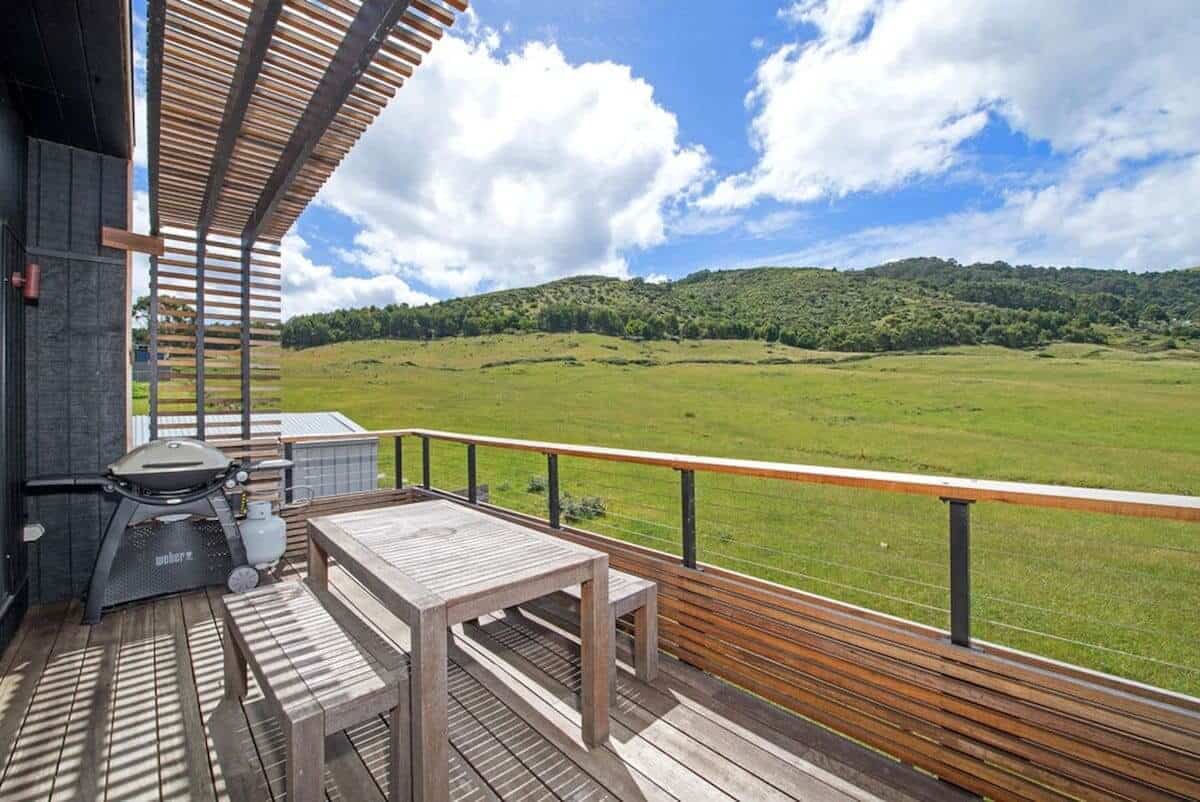 READY MORE GREAT OCEAN ROAD VICTORIA AUSTRALIA TRAVEL INSPIRATION? YOU MIGHT BE INTERESTED IN THESE TRAVEL TIPS, TRAVEL ARTICLES, TRAVEL STORIES AND RELATED POSTS ABOUT OUR AMAZING SOUTHERN TOURING ROUTE:
Hi There! Thanks for reading our travel guide to The 20 BEST Great Ocean Road AirBnB Stays. I just wanted to let you know that this post may contain affiliate links, which means if you purchase something after clicking a link, I may get a small commission – which is at absolutely no cost to you. If you enjoyed this article and are going to be searching for some of the things I mention anyway, I would love it if you could click through from the links above & thank you in advance! Read my full disclosure here.